Scroll down for English version
De 5e van zeven blogs over het Northsea Jazz Festival 2017, dat plaatsvindt op 7,8 en 9 juli in Ahoy, Rotterdam. Hierna volgen nog blogs over pianist Robert Glasper (USA) en pianist McCoy Tyner (USA).
Dinosaur
Zaterdag 8 juli Volga     19:00
Modern Creative
De Britse trompettiste Laura Jurd kreeg laaiende kritieken voor haar album Together as One in 2016!
Haar band Dinosaur scoorde in 2016 met dit album en ook met hun performances. Jurd wordt geprezen om haar krachtige trompetspel en ook haar uitdagende composities vol met jazz, impro, rock, folk en elektronica.
Het gaat muzikaal alle kanten uit, is expressief en levendig, maar het blijft tegelijkertijd ook beheerst en onder controle.
In een recensie in The Guardian werd de muziek op het album als volgt beschreven: "…Denk aan de impressioistische electro jazz en de fonkelende keyboardpatronen van Miles Davis's In A Silent Way, naadloos aansluitend bij Keltische volksmelodieën, Django Bates-achtige wisselingen van idioom, verweven met Schotse en Noord-Afrikaanse drums – dan heb je een idee van de fantatische set die Laura Jurd maakt ….  Haar medemusici spelen moeiteloos een zelfbewuste collage van hedendaagse stijlen…."
Laura Jurd (trumpet); Elliot Galvin (keyboards); Conor Chaplin (bass); Corrie Dick (drums).
Het zijn vier jonge musici, behorend tot die nieuwe generatie moderne jazzformaties voor wie het heel natuurlijk is om eclectisch om te springen met de jazztraditie.
De groep bestaat al zeven jaar (eerder onder de naam Laura Jurd Quartet) en speelt hecht. Zeker sinds het nieuwe album worden ze gezien als een van de meest creatieve en onderscheidende Britse jazz-ensembles in de afgelopen jaren.
All About Jazz noemde Laura Jurd een musicus die 'net zo vaak melodie, harmonie en groove omarmt als dat ze dissonante explosies en lefgozerige hoekigheid laat horen. Ze is in staat om het zachte te combineren met het schurende, de kalmte met het vurige. Dat maakt haar muziek zo overtuigend. '
Jurd is bekroond als BBC New Generation Artist voor 2015-2017. Ze is heel actief in de Britse scène en heeft in de afgelopen jaren een flinke reputatie ontwikkeld als een van de meest creatieve jonge muzikanten.
Haar debuutalbum 'Landing Ground' in 2012 met het Ligeti Quartet werd juichend ontvangen. daarna bracht ze twee CD's uit als componist en bandleider.
Laura Jurd schreef muziek voor een reeks ensembles, waaronder het BBC Concert Orchestra, het Ligeti Quartet en de Northern Sinfonia met opdrachten van BBC Radio 3 en het EFG London Jazz Festival. Ook werkt ze bij de faculteit van het Trinity Laban Conservatorium als docent compositie. Ze ontving meerdere jazzprijzen.
Laura Jurd spel is krachtig èn subtiel, en haar notenkeus is spannend.
ENGLISH
The 5th of seven blogs about the Northsea Jazz Festival 2017, on July 7, 8 and 9 in Ahoy, Rotterdam. Upcoming are blogs about pianists Robert Glasper (USA) and McCoy Tyner (USA).
Dinosaur
Saturday, July 8th    Volga 19:00
Modern Creative
British trumpetplayer Laura Jurd was overcharged with praise for her album Together as One. Dinosaur, the band around her, scored in 2016 with this album and also with their performances. Jurd is praised for her powerful trumpet play and her challenging compositions full of jazz, impro, rock, folk and electronics.
It goes in all directions, musically speaking, it's expressive and vibrant, and remains at the same time controlled.
In a review in The Guardian, the music on the album was described as follows: "… Remember the imposing electro jazz and the sparkling keyboard patterns of Miles Davis's In A Silent Way, seamlessly accompanying Celtic folk melodies, Django Bates-like changes of Idiom, intertwined with Scottish and North African drums – then you have an idea of the fantasy set Laura Jurd makes …. She's joined by regular sidekicks Elliot Galvin (keys), Conor Chaplin (bass guitar) and Corrie Dick (drums) on this beautifully played and effortlessly confident collage of contemporary styles.Her fellow musicians effortlessly play a self-conscious collage of contemporary styles …. "
Laura Jurd (trumpet); Elliot Galvin (keyboards); Conor Chaplin (bass); Corrie Dick (drums).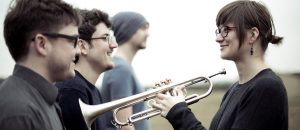 They are four young musicians, belonging to that new generation of modern jazz formations for whom it is very natural to eclectically deal with the jazz tradition.
The group has been in existence for seven years (previously called Laura Jurd Quartet). Since the new album, they are seen as one of the most creative and distinctive British jazz ensembles in recent years.
Described by All About Jazz as a musician who 'embraces melody, harmony and groove as much as she provokes with blasts of dissonance and gutsy angularity', it is her ability to combine the soft with the abrasive, the calm with the fiery, that makes her music-making so compelling.'
Jurd has been awarded the BBC New Generation Artist for 2015-2017. She has been very active in the British scene and has developed a reputation as one of the most creative young musicians in recent years.
Her debut album Landing Ground in 2012 with the Ligeti Quartet was received with great praise. She released two CDs as composer and band leader.
Laura Jurd wrote music for a series of ensembles, including the BBC Concert Orchestra, the Ligeti Quartet and Northern Sinfonia with commissions from BBC Radio 3 and the EFG London Jazz Festival. She also works at the faculty of the Trinity Laban Conservatory as a teacher in composition. She received several jazz prizes.
Laura Jurd's playing is powerful and subtle, and her choice of notes is exciting.