Scroll down for English Version
November Music gaat dwars door genres heen met muziek van nu door de makers van nu. Het festival bestaat al sinds 1993 en laat de laatste muzikale ontwikkelingen zien waarbij makers en componisten putten uit hedendaags gecomponeerde muziek, jazz, new world music, muziektheater, visual music, electronics & soundscapes en geluidsinstallaties.
Dit jaar van 4 t/m 13 november 2016 op diverse locaties in Den Bosch
Colours of Improvisation is een belangrijk onderdeel van November Music.
Het muzikale spectrum van hedendaagse jazz en impro is groot, en November Music wil daar niet alleen veel van laten zien, maar ook nieuwe ontmoetingen en samenwerkingen tot stand brengen. Daarom stappen ook dit jaar Nederlandse musici het podium op met grootheden uit andere windstreken, die opereren op het snijvlak van jazz en wereldmuziek. Dit keer met uitgestrekte Noorse trompetklanken, opzwepende Arabische ritmes, lyrisch pianospel en indringende tenorsax melodieën.
Op vrijdag 11 november in De Verkadefabriek:
19.30 – 20.15 uur Jeroen van Vliet & Colin Vallon (ZWI)
21.00 – 21.45 uur Yuri Honing Quartet ft. Mathias Eick (NO)
22.30 – 23.45 uur Rabih Abou-Khalil Trio (LIB/IT/USA)
Yuri Honing Acoustic Quartet ft. Mathias Eick

Tenorsaxofonist Yuri Honing neemt met zijn akoestische kwartet een heel eigen plaats in het Nederlandse jazzlandschap in. Honing – winnaar van de VPRO/Boy Edgar Prijs in 2012 – heeft al van alles op zijn naam staan: eigen bands zoals het Trio met bassist Tony Overwater en drummer Joost Lijbaart, en ook Wired Paradise met oa de Duitse gitarist Frank Möbus. Jarenlang organiseerde hij tussen Kerst en Nieuwjaar het muziekevenement Winterreise. Ook werkte hij met veel musici uit het Midden Oosten, zoals zangeres Rhima Kcheich en Indiase musici uit Rajasthan. 

Zijn muziek ging van jazz tot klassiek, van Arabisch tot pop en rock en van improvisatie tot singer songwriter. Hij speelde met Nederlandse musici uit die verschillende richtingen: improvisator Misha Mengelberg, popzangeresssen Ellen ten Damme en Roosbeef. En met buitenlandse musici als Ibrahim Malouf, Kurt Rosenwinkel, Gary Peacock, Paul Motian en Pat Metheny.
Over zijn laatste album Desire werd geschreven: 'Dit zeventiende album van Honing is delicaat, kalmerend en om van te zuchten. Van oerbegeerte tot fantasie is de jazz met subtiel slagwerk, zachte bas en kietelend pianowerk in al zijn eenvoud doordacht' (NRC).
Yuri Honing – tenorsax, Wolfert Brederode – piano, Gulli Gudmundsson – bas, Joost Lijbaart – drums
De Noorse trompettist Mathias Eick groeide de laatste jaren uit tot een van de prominente Europese jazzmusici op ECM Records. Zoals veel Noorse musici is ook hij goed in het beeldend vertellen van verhalen, met de spreekwoordelijke Scandinavische rust en ruimtelijkheid. Zijn langgerekte lijnen lijken voorbestemd voor de muziek van het Yuri Honing Quartet. Tijdens November Music ontmoeten de musici elkaar voor het eerst. 

Mathias Eick speelt verschillende instrumenten, maar vooral trompet. Hij speelt o.a. in Jaga Jazzist, het orkest waar 'Avantgarde meets Toegankelijk', met nu-jazz, experimentele rock en electronica. Verder speelt hij met Motif, Trondheim Jazz Orchestra, Lars Danielsson en Manu Katché. Hij bracht inmiddels drie prachtige CD's uit op ECM Records.
Rabih Abou-Khalil Trio
De fans zullen blij zijn met de komst van het Rabih Abou-Khalil Trio naar het festival. Khalils' optredens in Nederland zijn schaars. Zijn muziek is een mengeling van Midden-Oosten-muziek en jazz. De Libanese ud-speler/componist kan als geen ander muziekwerelden laten samensmelten. Van de Europese klassieke muziektraditie die hij leerde kennen tijdens zijn muziekstudie in München tot de verfijnde Arabische lyriek die hij tot in de vingertoppen beheerst. In zijn furieuze improvisaties is de stuwende kracht van moderne jazz en rock nooit ver weg. Hij komt naar November Music met zijn trio met accordeonist Luciano Biondini en slagwerker Jarrod Cagwin.
Rabih Abou-Khalil groeide op in Beiroet in de 60-er en 70-er jaren. Door de burgeroorlog in Libanon gedwongen, verhuisde hij in 1978 naar München. Samen met Anouar Brahem wordt hij gezien als de musici die de ud terug hebben gebracht in de hedendaagse muziek. Daarbij speelt behalve techniek ook improvisatie een grote rol. 
Rabih Abou-Khalil heeft in de loop der jaren met een heleboel musici uit de moderne jazz gespeeld, waaronder Kenny Wheeler en Charlie Mariano.
Jeroen van Vliet & Colin Vallon
De Nederlandse pianist Jeroen van Vliet en zijn Zwitserse collega Colin Vallon worden allebei geroemd om hun combinatie van lyriek en avontuur. Op November Music ontmoeten zij elkaar voor het eerst. Van Vliet won in 2014 de Buma Boy Edgarprijs en nam diverse albums op als bandleider.
Colin Vallon maakt sferische moderne jazz met een soort post-bop improvisaties. Hij
nam meerdere albums op voor ECM Records, zowel als bandleider als met zangeres Elina Duni. Verder werkte hij met internationale namen als Tom Harrell, Tyshawn Sorey en Kenny Wheeler.
Jeroen van Vliet's muziek is eigenlijk altijd persoonlijk, intiem en sterk.
 Hij kan zowel heel mooi als veel rauwer spelen. Op fender rhodes in Gatecrash bijvorbeeld. Ook speelt hij met overtuiging volledig vrije improvisatiemuziek, oa met Trio OGU (met Bram Stadhouders- gitaar en Etienne Nillesen – slagwerk).
Verder speelt hij in Estafest (met Anton Goudsmit, Mete Erker en Oene van Geel; in trio OGU; en oa in de bands van Michiel Stekelenburg en Simin Tander.
Vorig jaar bracht hij een Zeeland Suite Revisited, opgedragen aan en vaak live uitgevoerd buiten in de provincie Zeeland. Met uiteraard referenties aan de Zeeland Suite die Leo Cuypers schreef in de 70-ies.
ENGLISH
November Music 2016: Colours of Improvisation
November Music is an international music festival founded in 1993 and based in 's-Hertogenbosch The Netherlands. It gives the audience a bird's-eye view of what's happening in with new music. The festival focuses on more than one genre. The emphasis is on contemporary composed music. Especially in recent years we have also featured jazz, improvised and electronic music, musical installations, and music theatre. The festival is attuned to the present moment. The range is very wide.
November 4-13, 2016 at various locations in Den Bosch
Colours of Improvisation is an important part of November Music.
The musical spectrum of contemporary jazz and improvisation is wide, and November Music wants to show a lot of it, but also create new encounters and collaborations. Therefore again this year Dutch musicians go on stage with great musicians from other corners of the world, operating on the cutting edge of jazz and world music. This year you can expect Norwegian trumpet sounds, rousing Arab rhythms, lyrical piano playing and penetrating tenor melodies.
On Friday, November 11 in the Verkadefabriek: 

19:30 to 20:15 pm Jeroen van Vliet & Colin Vallon (SUI)
21:00 to 21:45 pm Yuri Honing Quartet ft. Mathias Eick (NO)
22:30 to 23:45 pm Rabih Abou-Khalil Trio (LIB / IT / USA)
Yuri Honing Acoustic Quartet ft. Mathias Eick
Tenorsaxophonist Yuri Honing Acoustic Quartet has his own specific spot in the Dutch jazz landscape. Honing – winner of the VPRO/Boy Edgar Award in 2012 – has a lo to his credit: his own bands such as the trio with bassist Tony Overwater and drummer Joost Lijbaart, and Wired Paradise with ao the German guitarist Frank Möbus. For years he organized the music event Winterreise between Christmas and New Year. He also worked with many musicians from the Middle East, such as singer Rhima Kcheich and Indian musicians from Rajasthan. His music goes from jazz to classical, from Arabic to pop and rock and from improvisation to singer songwriter. He played with Dutch musicians from these different directions: improviser Misha Mengelberg, popvocalists Ellen ten Damme and Roosbeef. And foreign musicians like Ibrahim Malouf, Kurt Rosenwinkel, Gary Peacock, Paul Motian and Pat Metheny. About his last album Desire was written: "This seventeenth album of Honing is delicate, calming and eliciting a sigh. This jazz with subtle percussion, bass and gentle tickling piano work is very thought through in all its simplicity. (NRC).
Yuri Honing – tenor saxophone, Wolfert Brederode – piano, Gulli Gudmundsson – bass, Joost Lijbaart – drums
The Norwegian trumpeter Mathias Eick in recent years has become one of the prominent European jazz musicians on ECM Records. Like many Norwegian musicians he good at musical storytelling, with the proverbial Scandinavian tranquility and spaciousness. His elongated lines seem destined for the music of the Yuri Honing Quartet. At November Music the musicians together meet for the first time. 
Mathias Eick plays various instruments, but mainly trumpet. He plays among others in Jaga Jazzist, the orchestra where 'Avantgarde meets Accessible "with nu-jazz, experimental rock and electronica. He also plays with Motif, Trondheim Jazz Orchestra, Lars Danielsson and Manu Katché.
Rabih Abou-Khalil fans will be delighted with the presence of Rabih Abou-Khalil Trio at the festival. Khalil rarely performs in the Netherlands. His music is a mix of Middle Eastern music and jazz. The Lebanese ud player/composer can merge musical worlds like no other: from European classical music tradition that he learned during his musical studies in Munich to the sophisticated Arabic lyricism that he masters so well. In his furious improvisations the driving force is never far away from modern jazz and rock. He performs at November Music with his trio with accordionist Luciano Biondini and drummer Jarrod Cagwin.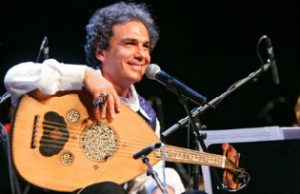 Rabih Abou-Khalil grew up in Beirut in the 60s and 70s. Forced by the civil war in Lebanon, he moved to Munich in 1978. Along with Anouar Brahem he is seen as the musicians who brought back the ud in contemporary music. Along with  a high level of technique, improvisation plays a major role. Over the years Rabih Abou-Khalil has played with a lot of musicians from the modern jazz world, including Kenny Wheeler and Charlie Mariano.
Jeroen van Vliet & Colin Vallon

Dutch pianist Jeroen van Vliet and his Swiss colleague Colin Vallon are both known for their combination of lyricism and adventure. 2014 Van Vliet won the Buma Boy Edgar Prize and took several albums as a bandleader.
Colin Vallon creates spherical modern jazz with a kind of post-bop improvisations. He
recorded several albums for ECM Records, as band leader and also with singer Elina Duni. He also worked with international names such as Tom Harrell, Tyshawn Sorey and Kenny Wheeler.

Jeroen van Vliet's music is always personal, intimate and strong. But he can also play much rawer. On fender rhodes in the band Gatecrash for instance. He also plays completely free improvised music, ao with Trio OGU (Bram Stadhouders- guitar and Etienne Nillesen – percussion).
In addition he plays in Estafest (with Anton Goudsmit, Mete Erker and Oene van Geel) and in the bands of Michiel Stekelenburg and Simin Tander.
Last year he created Zealand Suite Revisited, dedicated to and often performed in the province of Zeeland. With references to the Zealand Suite that Leo Cuypers wrote in the 70-ies.