Scroll down for English version
Met een aanstekelijke mix van afrobeat en jazz grooves veroverde SHAKE STEW in 2016 het publiek op festival Saalfelden. Het Oostenrijkse septet heeft een opvallende bezetting met twee bassisten, twee drummers en drie blazers.
De muziek varieert van dansbaar tot ingetogen, van rustig tot opzwepend.
De band neemt gerust de tijd om langzame, soms zelfs kale improvisaties op te bouwen, zoals bijvoorbeeld in een duet van de twee bassen.
Maar geswingd moet er ook worden. In deze video zingt het publiek een deel van een liedje mee. Wanneer gebeurt dat nou in jazz & impro?
Hun eerste album raakte snel uitverkocht.
Nu brengen ze hun 2e album uit Rise And Rise Again, waarop ook de engelse blazer Shabaka Hutchings (oa sons of Kemet) meedoet in twee stukken.
Shake Stew put – met andere woorden – uit verschillende vaatjes en dat gaat ze heel goed af.
 Lekker energiek en ondertussen ook een strakke en geschoolde band, die toch ook vrij improviseert.
Lukas Kranzelbinder – bas, bandleider, Clemens Salesny – Altsax, Johannes Schleiermacher – Tenorsax, Mario Rom – trompet, Christian Wendt – bas, Herbert Pirker en Niki Dolp – drums
Bandleider en bassist Lukas Kranzelbinder werd als jongste muzikant tot nu toe uitgekozen om een nieuw project samen te stellen voor het openingsconcert in 2016 van het prestigieuze Jazzfestival Saalfelden. Hij stelde een septet samen en bereidde een heel jaar lang de festivalshow voor. 1 dag van te voren nam het septet het debuutalbum "The Golden Fang" open speelde de dag daarna een memorabel concert dat overal lovend werd ontvangen en beschreven.
ENGLISH
With a catchy mix of afrobeat and jazz grooves, SHAKE STEW captured the audience at the Saalfelden festival in 2016. The Austrian septet has a striking line-up with two bass players, two drummers and three horns.
The music goes from danceable to subdued, from quiet to excitng upbeat.
The band takes time to build up their music with slow, sometimes even bare improvisations, for instancce in a duet of the two basses.
But there has to be swing too. In one of the videos, the audience joins in, singing part of a song. When does that happen in jazz & impro?
Their first album quickly sold out. Now they release their 2nd album Rise And Rise Again, on which the English reedplayer Shabaka Hutchings (ao Sons of Kemet) participates in two pieces.
Shake Stew draws – in other words – from different kegs and that goes very well. Nice and energetic and meanwhile a tight and skilled band, that also improvises freely.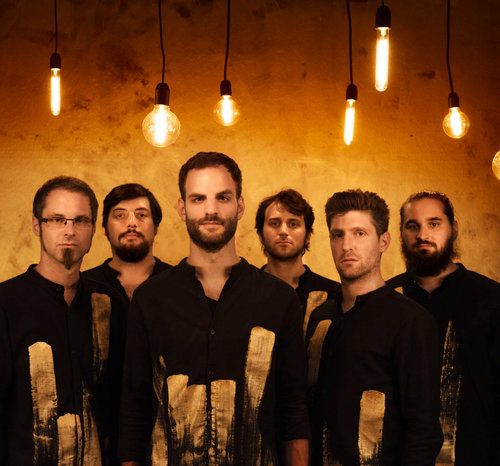 Lukas Kranzelbinder – bass, bandleader, Clemens Salesny – Alto saxophone, Johannes Schleiermacher – Tenor sax, Mario Rom – trumpet, Christian Wendt – bass, Herbert Pirker and Niki Dolp – drums
Band leader and bassist Lukas Kranzelbinder was chosen as the youngest musician to design a new project for the opening concert in 2016 of the prestigious Jazzfestival Saalfelden. He put together a septet and prepared the festival show for a whole year. 1 day in advance the septet recorded the debut album "The Golden Fang". The next day they layed a memorable concert that was praised everywhere.