In Londen is er sinds een tijd een nieuwe, hechte jazz & impro- scene in opkomst.
Het Bimhuis begint met een serie onder de noemer UK Now! Opvallend talent uit de huidige Britse jazz en impro. Op 4 april de eerste aflevering met twee energieke bands uit Londen: Ivo Neame Quintet  en Dice Factory.

Ivo Neame is een bijzonder geval in de UK jazz, omdat hij als pianist én saxofonist actief is. In Engeland een veelgevraagd muzikant, die zijn stempel al op veel Britse jazzgroepen heeft gedrukt. In zijn eigen quintet speelt hij piano. 
Tori Freestone – sax/fluit, Ivo Neame – piano, Jim Hart – vibrafoon, Tom Farmer – bas, Dave Hamblett – drums
Ivo stond eerder in het Bimhuis met de veelgeprezen formaties Kairos 4tet en Phronesis, en zijn eigen bands hebben een al even energieke uitstraling. Phronesis is het trio van de in Londen gevestigde Deense contrabassist Jasper Høiby – een soort jonge versie van Dave Holland: vingervlug, krachtig en met een talent voor het schrijven van hedendaagse jazz die je bijblijft. Het trio raast met groot gemak langs duizelingwekkende ritmische kronkelwegen. 
Jasper Høiby en Ivo Neame spelen ook allebei in het kwartet van de Deense ADHD saxofonist Marius Neset.
Hier speelt hij een lange solo bij Marius Neset:

Ivo's muziek is een soort levende contradictie – complex maar toegankelijk, weloverwogen maar spontaan, traditioneel maar toch vooruit denkend. Dat alles resulteert in muziek die fris is, compromisloos en vol energie.
Zijn carrière is een van de grotere succesverhalen in de Britse jazzwereld. In 2013 speelde hij met zijn octet op het North Sea Jazz Festival. Met die groep bracht hij vorig jaar de cd Yatra uit. 'Yatra' betekent reis in Hindu. Neame wil zijn toehoorders dan ook meenemen op expeditie en dat doet hij afwisselend met broeierige stukken, energieke werken en intens langzame passages.
Duizelingwekkend en indrukwekkend, menen recensenten, en voer voor de liefhebber die in is voor avontuur.
Dice Factory ontleent zijn naam aan Luke Reinhardt's roman The Dice Man, waar beslissingen over situaties in het echte leven worden genomen op basis van toeval en risico. De muziek van Dice Factory is daarentegen wel degelijk goed georganiseerd.

Het ensemble navigeert door lastige, oneven maatsoorten, hier en daar refererend aan muzikale concepten van musici als Henry Threadgill en Steve Coleman en ook aan de harmonische complexiteit van Ornette Coleman.
Drummer Jon Scott is op dit moment populair omdat hij die 'broken beats', oneven maatsoorten en onverwachte wendingen aankan die zo kenmerkend zijn voor de hedendaagse UK Jazz.
De band hanteert allerlei improvisatietechnieken en concepten: numerieke structuren, chaos, orkestratie en toeval, hetgeen resulteert in complexe muziek. toch is die ook melodieus en wordt er dramatisch en met brutale energie gespeeld. Julian Siegel – tenorsax, Dan Nicholls – piano, Tom Farmer – bas, Jon Scott – drums

Dice Factory is een echte allstar-groep, met leden van drie toonaangevende bands uit de jonge Britse jazz: Kairos 4tet, Ma en Empirical.
ENGLISH VERSION
In London there is a new and strong upcoming jazz and improv scene for some time now.
Bimhuis starts a series under the title ''UK Now!' Remarkable talent from the current British jazz and improvisations-cene . On April 4, the first episode with two energetic bands from London: Ivo Neame Quintet and Dice Factory.
Ivo Neame is active as a pianist and saxophonist. In England a much sought after musician who left his mark in many British jazz groups. In his own quintet he plays the piano. Tori Freestone – sax/flute, Ivo Neame – piano, Jim Hart – vibraphone, Tom Farmer – bass, Dave Hamblett – drums.
Ivo previously played in the Bimhuis with the acclaimed formations Kairos 4tet and Phronesis.
His own bands have an equally energetic appearance. Phronesis is the trio of London-based Danish bassist Jasper Høiby – a kind of young version of Dave Holland: dexterity, powerful and with a talent for writing contemporary jazz that stays with you. The trio rages with great ease through dizzying rhythmic winding road . Jasper Høiby and Ivo Neame also both play in the quartet of (ADHD) Danish saxophonist Marius Neset.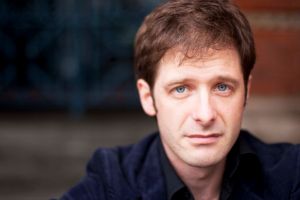 Ivo's music is a kind of living contradiction – complex yet accessible, deliberate but spontaneous, traditional yet forward thinking. All this results in music that is fresh, uncompromising and full of energy. His career is a big success storie in the British jazz scene. In 2013 he played with his octet at the North Sea Jazz Festival. With this group he released the CD Yatra last year. 'Yatra'means travel in Hindu. Neame wants to take is listeners on an expedition and he does that with alternately brooding pieces, energetic works and intense slow passages.
Dizzying and impressive, so reviewers consider, and feed for the fans who are adventurous .
Dice Factory is named after Luke Reinhardt 's novel The Dice Man, where decisions about situations in real life are taken on the basis of chance and risk. But the music of Dice Factory is indeed well organized.  The ensemble navigates through odd time signatures, occasionally referring to musical concepts from musicians like Henry Threadgill and Steve Coleman and the harmonic complexity of Ornette Coleman.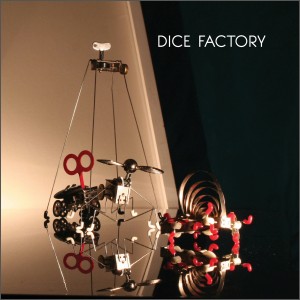 Drummer Jon Scott is currently popular because he can handle those 'broken beats', odd time signatures and unexpected twists that are so characteristic of contemporary UK jazz.
The band uses all kinds of improvisation techniques and concepts: numerical structures, chaos, orchestration and chance, resulting in complex music. Yet it's also melodic and is performed dramaticly and daring. Julian Siegel – tenor sax , Dan Nicholls – piano, Tom Farmer – bass, Jon Scott – drums. Dice Factory is a true all-star group , with members of three leading bands of the British jazz : Kairos 4tet, Ma and Empirical.