Zijn naam wordt al in één adem genoemd met die van Chick Corea, Keith Jarrett, Herbie Hancock, Stefano Bollani
CD Weltentraum (ACT) van Michael Wollny Trio.
Michael Wollny-piano en clavecimbel; Tim Lefebvre-contrabas; Eric Schaefer-drums

De Duitse jazzpianist Michael Wollny  (1978) heeft de afgelopen tien jaar een indrukwekkende carrière gemaakt in de Duitse en internationale jazzscene. Zijn muziek is krachtig, intelligent, open, emotioneel en als pianist is hij buitengewoon talentvol en inderdaad schatplichtig aan grote voorbeelden als Corea, Jarrett en Hancock.
'Weltentraum' (ACT) is zijn nieuwe trio-cd met daarop bewerkte, heel verschillende liederen van de 14e tot de 21ste eeuw. Van Guillaume de Machaut (14e eeuw) tot Alban Berg, Paul Hindemith, Edgar Varèse, tot aan David Lynch, en een eigenzinnige herinterpretatie van 'God is a DJ' van Pink. Ook twee composities van hem zelf. Wollny is eigenlijk op zoek naar nieuwe standards en die vindt hij in allerlei muziek uit alle tijden.

Het trio is hecht; de sound is af en toe breekbaar en subtiel, maar soms juist krachtig en rockachtig. De eigenzinnig bewerkte stukken zijn melodisch sterk en sfeervol.
 Met dit album kwam het trio als eerste groep met een jazz album in de Duitse pop top 50 binnen! Hij kreeg er de  'Preis der deutschen Schallplattenkritik' voor, de belangrijkste muziekprijs voor duitstalige landen.

De amerikaanse kei-van-een-bassist Tim Lefebvre kennen we van de Tedeschi Trucks Band, en voorheen ook van de Amerikaanse instrumentale rockband Rudder. Hij is thuis is rock, jazz, fusion, electronische muziek, R&B en werkte met jazzmusici uit de moderne generatie zoals Donnie McCaslin, Chuck Loeb, Wayne Krantz, Mark Guiliana, Jamie Cullum.
Eric Schaefer is de sensitieve drummer die ook al jarenlang meespeelde in trio [em], waarmee Wollny bekend werd.

Wollny kreeg diverse jazzprijzen en bracht 12 cd's onder eigen naam uit. In de pers wordt hij keer op keer bejubeld.
Zijn handelsmerk is het onvoorspelbare; hij blijft steeds op zoek naar nieuwe muziek, een nieuwe aanpak, een nieuw geluid. Zo wil hij zichzelf als het ware opnieuw uitvinden, zowel in termen van sound als van compositie. Inspiratie en invloeden komen ook uit de (hedendaagse) klassieke muziek van grote componisten als Alban Berg, Schoenberg, Hindemith, Varèse.
Vanaf het begin van zijn carrière was zijn trio [em] het middelpunt van zijn aktiviteiten, met Eva Kruse op de bas en drummer Eric Schaefer. Het succesverhaal van dit trio begon met de CD 'call it [em]' in 2005. Het trio combineerde uitstekende techniek en individuele vaardigheden met veel creativiteit en interactie. "Wollny, Kruse en Schaefer redden Duitse jazz", aldus de Süddeutsche Zeitung toen, en Die Zeit sprak zelfs van de 's werelds meest opwindende pianotrio ". Later volgden [em] II and [em] 3 en in 2012 'Wasted & Wanted'. Een soloplaat verscheen in 2007: Hexentanz.
Andere projecten zijn o.a. een  duo met claveciniste Tamar Halperin; als sideman in Thrill Box van de jonge franse accordeonist Vincent Peirani en op de plaat 'The Moon, The Stars And You' van trombonist en vocalist Nils Landgren


Interview in het duits

Interview engels ondertiteld

ENGLISH
CD Weltentraum (ACT) by Michael Wollny Trio.
Michael Wollny – piano and harpsichord; Tim Lefebvre-bass; Eric Schaefer-drums
His name is already mentioned in one breath with those of Chick Corea, Keith Jarrett, Herbie Hancock, Stefano Bollani
The German jazz pianist Michael Wollny (1978), has made an impressive career in the German and international jazz scene in the last decade. His music is powerful, intelligent, open, emotional and as a pianist he is extremelytalented and indebted togreat examples as Corea, Jarrett and Hancock.
"Weltentraum '(ACT) is his new trio CD: very different edited songs coming from the 14th to the 21st century. From Guillaume de Machaut (14th century) to Alban Berg, Paul Hindemith, Edgar Varèse, to David Lynch, and a quirky reinterpretation of "God is a DJ" by Pink. Also two compositions of his own. Wollny is actually looking for new standards and he finds them in all kinds of music from all times.
The trio is committed; the sound is occasionally fragile and subtle, but then again sometimes powerful and rock-like. The pieces are highly melodic and atmospheric. With this album the trio was the first group with a jazz album to get into the German pop top 50 in! It was awarded the 'Preis der deutschen Schallplattenkritik' ,the most important music award for german-speaking countries.
The American awesome bassist Tim Lefebvre we know from the Tedeschi Trucks Band, and formerly the American instrumental rock band Rudder. He's good at rock, jazz, fusion, electronic music, R & B and worked with jazz musicians from the modern generation as Donnie McCaslin, Chuck Loeb, Wayne Krantz, Mark Guiliana, Jamie Cullum. 

Eric Schaefer is the sensitive drummer who also starred for years in trio [em], with which Wollny became well known.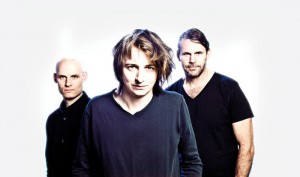 Wollny received several jazz prices and released 12 CDs under his own name. In the press he's been praised repeatedly. His trademark is the unpredictable; he is always looking for new music, a new approach, a new sound. He wants to keep re-inventing himself again, both in terms of sound as composition. Inspiration and influences also come from the (contemporary) classical music by great composers such as Alban Berg, Schoenberg, Hindemith, Varèse.
From the beginning of his career his trio [em]  with Eva Kruse on bass Eric Schaefer on drums was the center of his activities. The success story of this trio began with the CD "call it [em]" in 2005. The trio combined excellent technique and individual skills with creativity and interaction. "Wollny, Kruse and Schaefer rescue German jazz," the Süddeutsche Zeitung wrote at the time, and Die Zeit even spoke of the world's most exciting piano trio. "Later [em] II and [em] III followed and in 2012 'Wasted & Wanted".A solo album was released in 2007 Hexentanz. Other projects include a duo with harpsichordist Tamar Halperin; working as a sideman in Thrill Box of the young french accordeonist Vincent Peirani and at the album The Moon, The Stars and You" of trombonist and vocalist Nils Landgren