Lyrisch en dynamisch
Er zijn meerdere jonge 'nieuwe' jazzpianisten, die met opvallend talent aan de weg timmeren: Shai Maestro is er één van. Naast bijvoorbeeld Aaron Parks, Bobby Avey, Jason Lindner en in Nederland Gideon van Gelder, Kaja Draksler, Sebastiaan van Bavel.
De Israëlische en in New York wonende pianist Shai Maestro is 28 jaar oud en nu al een veelbesproken talent. Hij raakte vooral bekend als de vaste pianist van bassist Avishai Cohen, en inmiddels ook als pianist in het jazzquartet van drummer Mark Giuliana en met zijn eigen trio.
In zijn composities mengt hij jazz met invloeden uit de Oosterse muziek, onder meer uit zijn geboorteland.

Shai Maestro maakt lyrische en melodieuze jazz, die tegelijkertijd een duidelijk ritmische kant heeft. Dynamische muziek, waarin bas en drums nadrukkelijk aanwezig zijn. Soms met een romantische aanpak, soms met een oosterse sound of met drukke moderne jazz in uptempo, maar nergens gaat het erom persé virtuositeit ten toon te spreiden.
" Ik begrijp steeds meer, dat muziek alles kan omvatten: de schoonheid van ons bestaan, ons wezen, maar ook onze lelijke kanten. Ik wil graag een volledig beeld geven van de musicus die ik ben, ongefilterd. Ik ben helemaal niet uit op een carrière waar ik alleen mooie, vooraf bedachte muziek aan het publiek laat horen om er succes mee te hebben.Wij zijn er in het trio meer geïnteresseerd in een rauwe, ongemonteerde versie van onszelf te laten zien."
 Toch vindt Maestro het niet erg om er een tijdje over te doen om een goed muzikaal resultaat te bereiken. Beter zelfs, als je er een tijdje voor hebt moeten worstelen, dan zijn de muzikale keuzes in elk geval doordacht, en dat levert betere muziek op.

Hij is dit najaar op tournee in West Europa en presenteert materiaal van zijn nieuwe album Untold Stories. Shai Maestro – piano, Jorge Roeder – bas, Ziv Ravitz – drums.
12-10 Gent Jazz Club, 17-10 LantarenVenster Rotterdam,18-10 Bimhuis Amsterdam; 19-10 Lux Nijmegen; 21-10 Muziekpodium Zeeland, Middelburg; 14-11 Paradox Tilburg

Shai Maestro begon op zijn vijfde met klassiek piano en raakte verslingerd aan jazz nadat hij op zijn achtste de muziek van Oscar Peterson hoorde. Hij werd op zijn 19e pianist bij de beroemde contrabassist Avishai Cohen.

Vijf jaar lang vierde hij successen op de bekendste jazzfestivals en podia in het trio met Cohen en drummer Mark Guiliana. 
In 2011 verhuisde hij naar New York waar hij sinds 2011 zijn eigen band vormt met de Peruaanse bassist Jorge Roeder en drummer Ziv Ravitz, bekend uit de band van Lee Konitz.
Shai Maestro speelde verder oa met gerenommeerde musici als John Patitucci, Jorge Rossy, Keith Carlock, Nate Smith en Kendrick Scott.
Met Kurt Rosenwinkel en trompettist Avishai Cohen

Over de vorige cd

ENGLISH
Lyrical and dynamic music
There are several young "new" talented jazz pianists who are building their careers: Shai Maestro is one of them. Next to for instance Aaron Parks, Bobby Avey, Jason Lindner and in the Netherlands Gideon van Gelder, Kaja Draksler, Sebastiaan van Bavel.
The Israel born and New York-based pianist Shai Maestro is 28 years old and already an acknowledged rising talent. He became best known as the pianist of bassist Avishai Cohen, and now also as a pianist in the jazz quartet of drummer Mark Giuliana and with his own trio.
In his compositions he mixes jazz with influences from Eastern music, including from his homeland.
Shai Maestro makes lyrical and melodic jazz, which also has a distinct rhythmic side. Dynamic music, where bass and drums are distinctly present. Sometimes with a romantic approach, sometimes with an oriental sound or with modern up tempo jazz, but never meant to display 'virtuosity only'.
"I keep learning that music can contain everything:  the beauty of our being, but also our "ugly" side. For me, it's about presenting a full picture of the musician, unfiltered. I don't wish to develop a career of presenting only beautiful pre-meditated music to the audience on the way to success. The three of us, Ziv, Jorge and myself are more interested in exploring the essence of our being, and to present that. Unedited, raw". says Maestro. Still, Maestro does not mind if it takes a while to achieve a good musical result. Better even if you have to struggle for a while; when the musical choices are thought through.
This fall he is on tour in Western Europe and presents material from his new album Untold Stories. Shai Maestro – piano, Jorge Roeder – bass, Ziv Ravitz – drums.
12-10 Gent Jazz Club, 17-10 LantarenVenster Rotterdam, 18-10 Bimhuis Amsterdam; 19-10 Lux Nijmegen; 21-10 Muziekpodium Zealand, Middelburg; 14-11 Paradox Tilburg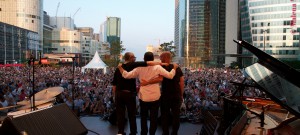 Shai Maestro started with classical piano when he was five years old and got hooked on jazz after hearing the music of Oscar Peterson. He became the regualr pianist with  double bassist Avishai Cohen when he was 9 years old. For five years he celebrated success at the famous jazz festivals and venues in the trio with Cohen and drummer Mark Guiliana. In 2011 he moved to New York, where he formed his own band in 2011 with bassist Jorge Roeder and the Peruvian drummer Ziv Ravitz, known from the band of Lee Konitz.
Shai Maestro also played with renowned musicians such as John Patitucci, Jorge Rossy, Keith Carlock, Nate Smith and Kendrick Scott.