English translation below

Eenvoud en expressiviteit van Argentijnse volksmuziek blijken wonderwel te passen bij complexere jazz harmonieën en ritmes. Althans – als Natalio Sued dat doet.
De Argentijnse rietblazer Natalio Sued kwam in 2001 in Amsterdam wonen en is sinds die tijd heel aktief. Hij speelt met eigen groepen, maar ook in ensembles van anderen, met name op het gebied van de vrijere improvisatiemuziek.
Sued heeft een mooie toon op zowel tenorsax als clarinet, rond en warm. De combi van Argentijnse volksmuziek met eigentijdse gecomponeerde en geïmproviseerde muziek wordt door hem subtiel toegepast. Hij heeft daarmee een behoorlijk unieke stijl te pakken. In dit blog een soort portret-in-beeld van Natalio Sued.
Zijn nieuwste project heet Native Speaker. Hier geen Argentijnse folkroots, maar opgewekte jazz, impro & soms poppy beats. Een trio dat een prettige oneerbiedigheid ten toon spreidt voor de grenzen tussen genres en tussen vooraf bepaalde noten en improvisatie. Spontaniteit in het muziek maken staat voorop. Melodieuze thema's worden gespeeld en vervolgens ook weer afgebroken (gedeconstrueerd) door middel van allerlei variaties en improvisaties. 
Het trio bracht net een EP uit.
Natalio Sued – Tenor sax, Matt Adomeit – Bas en Tristan Renfrow – Drums
Natalio Sued is te horen in veel verschillende groepen, maar bewaart daarin steeds zijn eigen geluid.
Wereldmuziek met Ko Azul
https://youtu.be/3ow2ZH8HRAo
Antimufa,  New Ways of Argentinian Music – 4 Argentijnse musici
Opositor: heftige noise impro met Gerri Jaeger en Raphael Vanoli
Winther Storm,  Håkon Storm guitar, Thomas Winther Andersen bass,
Mark Coehoorn drums, Natalio Sued tenorsax
Met trompettist Garvie
Tiltan – wereldjazz
The Ambush Party – Oscar Jan Hoogland – piano, Harald Austbo – cello, Natalio Sued clarinet, Marcos Baggiani – drums
En verder: Tetzepi – big band, All Ellington. Natalio werkte en werkt met velen: musici als Michael Moore, Paul Berner, Guus Jansen, Lars Dietrich, Thomas.W. Anderson, Der Rote Bereich e.a.
ENGLISH
Simplicity and expressiveness of Argentine folksongs seem to fit perfectly with complex jazz harmonies and rhythms. At least – when Natalio Sued does that.
The Argentine saxophonist Natalio Sued came to in Amsterdam in 2001 and has since been very active. He plays with his own groups, but also in ensembles of others, particularly in the area of freer improvisational music.
Sued has a beautiful tone on both tenor sax and clarinet, round and warm. The combination of Argentinean folk music with contemporary composed and improvised music is subtly applied by him. He thus created quite a unique style. In this blog a kind of portrait-in-video of Natalio Sued.
His latest project is called Native Speaker. No Argentinian folkroots, but cheerful  jazz, impro & sometimes poppy beats. A trio that shows a pleasant irreverence for the boundaries between genres and between predetermined notes and improvisation. Spontaneity in making music is indispensible. Melodic themes are played and subsequently deconstructed by means of all kinds of variations and improvisations. The trio just released an EP.
Natalio Sued – tenor sax, Matt Adomeit – Bass and Tristan Renfrow – Drums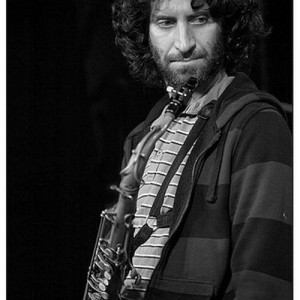 Natalio Sued can be heard in many different groups, but always still keeps his own sound.
Antimufa, New Ways of Argentinian Music
Opositor: violent noise improv with Gerri Jaeger and Raphael Vanoli
Winther Storm: Håkon Storm – guitar, bass Thomas Winther Andersen – bass, Mark Coehoorn –  drums, Natalio Sued – tenorsax
Duo with trumpeter Garvie
Tiltan – worldjazz
The Ambush Party – Oscar Jan Hoogland – piano, Harald Austbo – cello, Natalio Sued – clarinet, Marcos Baggiani – drums
And furthermore: Tetzepi – big band, All Ellington. Natalio worked and works with many: musicians like Michael Moore, Paul Berner, Guus Jansen, Lars Dietrich, Thomas.W. Anderson, Der Rote Bereich et al