"Country Boy' mooi, melodieus en sfeervol
De Amerikaanse contrabassist Paul Berner bracht met zijn kwartet een nieuwe Cd uit: 'Country Boy, The Devil and Elvis Prelsey' (Twister Records)
. De 2e plaat van dit kwartet met een drumloze bezetting van gitaristen Peter Tiehuis en Ed Verhoeff, rietblazer Michael Moore en bandleider Berner op bas.

Open en transparante muziek, een mix van country, Bill Frisell-achtige klanken (gitarist BF  stopt immers ook veel country in zijn muziek), bluesy en open sfeermuziek. Melodieus, af en toe weemoedig, persoonlijk. 
Met eigen werk van Berner, maar ook een paar Elvis Presley-covers op. Op een country-jazzplaat? Ja, dat kan heel goed, blijkt hier. Tiehuis en Verhoeff zijn beiden gitaristen die hun instrument helemaal beheersen, maar hun virtuositeit altijd in dienst stellen van de muziek. Geen noot teveel! En de noten die wél gespeeld worden, zijn allemaal raak. Dat geldt trouwens net zo goed voor Michael Moore en Berner zelf.
Hieronder de enigszins duistere track The Colonel – geïnspireerd op de Kolonel die manager was van Elvis, maar daar ook een flink deel van de centen aan heeft overgehouden….
De vorige CD (Back Porch) is trouwens met ongeveer datzelfde oordeel ontvangen.
Herman te Loo schreef in Jazzflits van 5-11-2007 daarover iets waarmee ik het roerend eens kan zijn – ook als we het over deze nieuwe plaat hebben.
"Met z'n vieren spelen ze liedjes van weemoed en verlangen. (…) laat Berner horen hoe mooi en vergankelijk de schoonheid van het Amerikaanse platteland van z'n jeugd was. (…) De klarinet van Moore doet wat hij altijd doet: ontroeren met z'n waanzinnig mooie klank en feilloze gevoel voor melodie. (…)  Zo leveren de vier mannen met 'Back Porch' een zoen van een plaat af met een groepsgeluid dat voor Nederland volstrekt uniek is, en zelfs jazzhaters tot de improvisatie kan bekeren."
De Paul Berner Band speelt op 9 november op Jazzfest Amsterdam (Studio K) 18.00
Op 16 -11 in de Regentenkamer, Den Haag   20.00
en op 17 november in Studio Helmbreker in Haarlem    17.00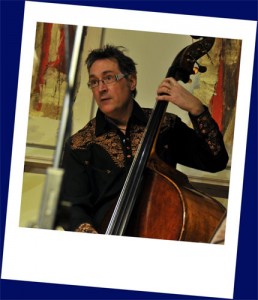 Paul Berner was ooit begeleider van cracks als Lionel Hampton en Monty Alexander, maar woont al sinds de jaren 90  in Nederland. Hij speelde met grootheden als Stan Getz, Freddie Hubbard, Kenny Werner en Art Farmer. Vanaf 1983 begon hij ook eigen muziek te maken.. Speelde verv olgens ook als (bas)gitarist in de popmuziek. In Nederland speelde hij vanaf 1990 met veel musici, waaronder Toon Roos, Toots Thielemans, Dré Pallemaerts, Jesse van Ruller, Michael Moore .
ENGLISH VERSION
"Country Boy' beautiful, melodic, atmospheric

The American bassplayer Paul Berner recently released a new album with his quartet: "Country Boy" (Twister Records)
The 2nd album of this quartet-without-drums with guitarists Peter Tiehuis and Ed Verhoeff , reed player Michael Moore and bandleader Berner on bass.
Open and transparent music, a mix of country, Bill Frisell – like sounds (guitarist BF After all,  has a lot of 'country' in his music), bluesy and atmospheric . Melodic, sometimes melancholic, personal .
With Berner's own pieces, but also a few Elvis Presley covers. On a country-jazz record? Yes, tha's very well possible, as it turns out here.
Tiehuis and Verhoeff are both guitarists who master their instrument very well , but their virtuosity always stays at the service of the music. Not one note too many ! And the notes that are played are all spot on. This goes for Michael Moore and Berner himself as well.
The previous CD (Back Porch ) received approximately the same judgment. Herman te Loo wrote in JazzFlits 5-11-2007 some things I can totally agree with – even if we apply this to this new record .
" The four of them play songs of melancholy and longing. ( … ) Bernes shows us how beautiful and evanescent the American countryside of his childhood was . ( … ) Michael Moore's clarinet does what it always does: it moves you with its incredibly beautiful sound and unerring feel for melody.  ( … ) With 'Back Porch' these four gentlemen have produced an absolutely delightful record with a group sound that is, in the Netherlands, absolutely unique, and that can even convert jazz haters to a love of improvisation