Genre-defying en dansbaar
In London kun je verschillende stijlen als jazz, punk, electronica, dub en ambient makkelijk binnen één band aantreffen. Het mixen van genres is er heel gewoon. Een Engelse term ervoor is 'genre-defying'. Wij zeggen meestal 'grensoverschrijdend', maar de term 'genre-defying' is nog wat sterker: stijlen worden 'getrotseerd' of 'uitgedaagd'.
Dat geldt ook voor de dansbare mix-muziek van Sons Of Kemet, die in december in Nederland zijn, maar bij mijn weten hier nog niet echt bekend. De band heeft een aparte bezetting met 2 drummers, een rietblazer en een tubaïst. Jazz, impro, Caribische muziek, Afrikaanse ritmes, met vleugjes fanfaremuziek uit New Orleans, Arabische toonladders en Albert Ayler-achtige crying-out solo's.

Bandleider is saxofonist en klarinettist Shabaka Hutchings, bekend van the Heliocentrics en verkozen tot BBC Radio 3 New Generation Artist. Naast de excentrieke tubaspeler Oren Marshall (met zijn zelf verbouwde instrument) bevat de groep twee drummers: Seb Rochford (Polar Bear, Brian Eno) en Tom Skinner (Mulatu Astatke).
12-12-13 Bimhuis, Amsterdam
14-12-13 Podium van Grounds in het World Music & Dance Centre, Rotterdam

Shabaka Hutchings komt uit Barbados, waar hij speelde in calypso bands, klassieke ensembles en verschillende jazzgroepen .
Zijn belangrijkste eigen project is Sons of Kemet, met Seb Rochford en Tom Skinner op drums , en Oren Marshall op tuba. De groep bracht in 2013 het debuut album ' Burn' uit.Shabaka maakt deel uit van de Londense jonge jazz- en impromusici en speelde verder met o.a. Courtney Pine 's Jazz Warriors , Polar Bear, Jack DeJohnette , Charlie Haden, Evan Parker, Lol Coxhill en de Zuid-Afrikaanse legende Louis Moholo.
Ook een eigen groep van hem was Zed -U, een genre-overschrijdend trio  In 2009 werd Shabaka gevraagd inThe Heliocentrics met Ethiopische vibrafonist en percussionist Mulatu Astatke.
In 2010 werd Shabaka BBC Radio 3's New Generation Artist. In 2012 kreeg hij de opdracht om een stuk voor het BBC Concert Orchestra schrijven.
BBC Concert Orchestra, Sons of Kemet, Jason Singh & leafcutter John – electronics. 
Composition & orchestration – Shabaka Hutchings
en hier nog een video van the Amazing Oren Marshall, de tubaïst die alles kan spelen!
interview & spelen  in de radioshow van Jamie Cullum op BBC2
(nog een paar weken on demand terug te horen)
Polar Bear is een bekende Londense band, die sinds 2004 staat garant voor vernieuwende en experimentele muziek met rauwe sounds en break-beat en rockritmes. Een mix van jazz, elektronica en een punk attitude. Polar Bear kreeg al vele prijzen, waaronder een BBC Jazz Award.
ENGLISH VERSION
Genre-defying and danceable
In London mixing different genres like jazz, punk, electronica, dub and ambient is quite common.
An English term for it is "genre-defying". In Dutch we usually call it 'genre-crossing', but the cpncept 'genre-defying' is even stronger: Styles are "defied" or "challenged " .
This also applies to the danceable mix of music made by Sons of Kemet, not really wellknown in the Netherlands untill now, I think.
The band has a unique formula with two drummers, a reed player and a tuba. Jazz, Caribbean music, African rhythms with touches of brass band music from New Orleans, Arabic scales and Albert Ayler-like crying-out solo's .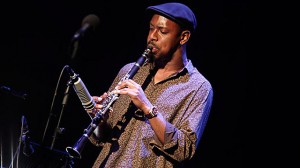 Bandleader, saxophonist and clarinettist is Shabaka Hutchings, known from the Heliocentrics and as BBC Radio 3 New Generation Artist. Besides the eccentric tuba player Oren Marshall (with his rebuild instrument) the group contains two drummers: Seb Rochford (Polar Bear, Brian Eno) and Tom Skinner (Mulatu Astatke).
Shabaka Hutchings was born in England and raised in Barbados, where he played in local calypso bands, classical ensembles and various jazz groups.
Shabaka's primary project is the group Sons of Kemet, which includes Seb Rochford and Tom Skinner on drums, and Oren Marshall on tuba.The group released their debut album 'Burn' in 2013
Shabaka is part of London's community of younger jazz musicians, and improvising music scene and has performed with the likes of Jack DeJohnette, Charlie Haden, Evan Parker, Lol Coxhill and the South African legend Louis Moholo.
In 2008 Shabaka joined Courtney Pine's Jazz Warriors ensemble and also served as a regular guest in the band Polar Bear.
A nother self-led project of Shabaka was the group Zed-U, a genre-defying trio. 
In 2009, Shabaka was invited to join the group The Heliocentrics working with Ethiopian vibraphone and percussion master, Mulatu Astatke.
In 2010 Shabaka was granted the title of BBC Radio 3 New Generation Artist. In 2012 he was commissioned to write a piece for the BBC Concert Orchestra.
In July 2013 Shabaka was commissioned by Leasowes Bank Music Festival to write a piece for clarinet and string quartet. He performed this piece with the Ligeti String Quartet