De laatste in de 10-delige serie over het Northsea Jazz Festival 2015, dat zijn 40e editie beleeft op 10, 11 en 12 juli in Ahoy Rotterdam.
zondag 12-7  Volga 19:45
Dawn of Midi: Minimal ambientjazzgroove

Een Indiase bassist, een Marokkaanse pianist en een drummer uit Pakistan, maar wel alle drie woonachtig in de USA : wat willen we nog meer om muziek uit verschillende culturen te laten samengaan?
Dawn of Midi uit Brooklyn maakt akoestische jazz waarbij de compositie centraal staat. Dit trio verstaat de kunst van het weglaten perfect. Hun muziek slaat een brug tussen minimal, ambient en jazz, met een subtiele en ritmische aanpak. Er wordt dus niet uitgebreid gesoleerd of geïmproviseerd. Eerder moeten we meegaan met de trance opwekkende minimal groove. Een verrassende nieuwe aanpak van een jonge generatie. Amino Belyamani (piano); Aakaash Israni (double bass); Qasim Naqvi (drums).

Het trio leerde elkaar negen jaar terug kennen op het California Institute of the Arts in Los Angeles County. De band wist in 2013 de gehele jazzwereld te verrassen met het album Dysnomia. De quotes in de amerikaanse pers logen er niet om:
" something totally unprecedented " (pitchfork)
" brain-bending, seemingly impossible " (rolling stone)
" an hour flew by in what seemed like minutes " (the new yorker)
" perverse in a good way "  (the new york times)

Overigens speelde Dawn of Midi in mei 2015 al in het Paard van Troje in Den Haag en Doornroosje in Nijmegen in het voorprogramma van de duitse minimal/electronic/ambient pianist Nils Frahm.

ENGLISH
The final episode in a series of 10 blogs about North Sea Jazz Festival in 2015, celebrating its 40th edition on 10, 11 and 12 July in Ahoy Rotterdam.
Sunday 12-7 Volga 19:45    Dawn of Midi: Minimal ambient jazz groove
A bass player from India,  a pianist from Morocco and a drummer from Pakistan, all of them living in the USA: what more do we want to merge music from different cultures?
Dawn of Midi from Brooklyn makes acoustic jazz in which the composition is central. This trio understands the art of omission perfectly. Their music bridges the gap between minimal, ambient and jazz, with a subtle and rhythmic approach. So no songs, no instrumental soloos or improvisations. Rather we must go along with the trance-inducing minimal groove. A surprising new approach from a younger generation.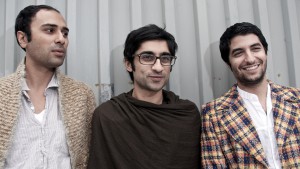 Amino Belyamani (piano); Aakaash Israni (double bass); Qasim Naqvi (drums).
The trio got to know each other again nine years ago at the California Institute of the Arts in Los Angeles County. The band in 2013 surprised the whole world with the jazz album Dysnomia. The American press was extremely impressed: 
"something totally Unprecedented '(pitchfork)
"Brain-bending, Seemingly impossible" (Rolling Stone) 
"an hour flew by in what Seemed like minutes" (The New Yorker) 
"perverse in a good way" (The New York Times)
Dawn of Midi played in May 2015 already in the Trojan Horse in The Hague and Sleeping Beauty in Nijmegen in the support program of the German minimal / electronic / ambient pianist Nils Frahm