English translation below
Een nieuwe aflevering in de serie 1 Track Only met nieuwe CD's van Paul van Kemenade; Michiel Braam; Michiel Stekelenburg; Dominique Pifarely en Glauco Venier.
Met – hoe kan het ook anders – toch weer méér dan 1 track only
CD Checking Out, Paul van Kemenade/Ray Anderson/ Ernst Glerum/ Han Bennink
Intens en bluesy
De altijd zeer produktieve altsaxofonist Paul van Kemenade bracht recent drie nieuwe CD's uit.
Eén daarvan is Checking Out met zijn 'droomkwartet' met Ray Anderson – trombone, Ernst Glerum – bas en Han Bennink – drums.

Drie voormalig winnaars van de Boy Edgarpijs en een veelvoudig Downbeat Critics Poll-winnaar, die allemaal een enorme staat van dienst hebben en in staat zijn om moeiteloos te switchen tussen jazz, vrije improvisatie, en bluesy ballads.
Ray Anderson en Paul van Kemenade hebben met elkaar gemeen dat in hun spel altijd een bluesy rafeltje zit, een soort 'onaf' geluid, dat de intens gespeelde stukken een meerwaarde meegeeft. De negen composities op de CD zijn geschreven door Van Kemenade, Anderson en Glerum.

Paul van Kemenade viert volgend jaar (2017) zijn 40-jarige carriere als profmusicus. Zijn festival Stranger than Paranoia bestaat dan ook 25 jaar.
Bekende groepen en projecten van hem zijn oa three Horns and a Bass; Podiumtrio met Wolter Wierbos en Jan Kuiper; het PvK Quintet met Zuid Afrikaanse gastmusici.  PvK speelt/speelde verder met Jamaladeen Tacuma, Cornell Rochester, David Murray, Sean Bergin, Markus Stockhausen, Eric Vloeimans, Ernst Reijseger, Frank Möbus, Aki Takase, Eric van der Westen, Jeroen van Vliet en ook met dansers, dichters, schilders.
CD Gloomy Sunday van Michiel Braam
"Het album verloopt zoals een soloconcert bij mij gewoonlijk verloopt; een plan heb ik niet en ik zie wel waar alles mij heen brengt, daarbij geregeld gebruik makend van wat ik in mijn overlevingspakket heb zitten: liedjes, ideetjes, hopelijk één of een paar nieuwe dingetjes. maar liefst zoveel mogelijk alles ter plekke over me heen laten komen en dus zeker geen setlijst of stukken waarvan ik op voorhand weet dat ik za ga spelen".

Aldus pianist/componist/improivsator Michiel Braam, die deze maand een solo-cd uitbracht, opgenomen tijdens een concert dat hij eind vorig jaar gaf in Budapest in de Opus Jazz Club.
De hele CD is eigenlijk 1 doorlopend muziekstuk – alles gaat naadloos in elkaar over.
Michiel Braam is altijd op zoek naar muzikale vrijheid. Hij combineert virtuositeit met een speelse hang naar het onvoorspelbare. Hij heeft een dynamische en percussieve manier van spelen en gooit er regelmatig onverwachte, soms humoristische wendingen tegenaan, die nooit abstract zijn of onbegrijpelijk; ze houden steeds verband met het voorafgaande.
Hieronder 3 in elkaar overlopende tracks: Gloomy Sunday – Opus Search – Memories Of You
In de loop der jaren had Michiel Braam vele projecten en groepen, waaronder Trio BraamDeJoodeVatcher, BijmaBraam duo, Nos Otrobanda, Olanda In Due, Bik Bent Braam, eBraam, Flex Bent Braam. Hij bracht vele albums uit op zijn eigen label BBBrecords. Deze soloplaat heeft hij gerelased in co-productie met het label BMC (Budapest Music Center).
Hier nog een ouder blog over hem.
In onderstaande video Braam met cimbalist Miklós Lukàsc, met wie hij ook een set samenspeelde in Budapest.

CD Layers van Michiel Stekelenburg
Stevige groovy jazz met een rock-inslag
Gitarist Michiel Stekelenburg houdt van stevige groovy jazz met een rock-inslag. Dat bewees hij al op zijn debuutplaat Hypnos. En nu opnieuw op het onlangs uitgebrachte Layers. De bezetting van zijn kwintet veranderde enigszins: Efraim Trujillo nu op sax en en Jeroen van Vliet op piano, naast Guus Bakker – bas, Pascal Vermeer – drums en natuurlijk Michiel Stekelenburg – gitaar. Stuk voor stuk musici waar je op kunt bouwen en die het stevige geluid en de rockjazzgrooves van Stekelenburg lekker vet neerzetten.
Festival November Music gaf hem voor dit jaar een carte blanche, die hij gaat invullen met een trio met de Israelische hoboïst Yoram Lachish en bassist Clemens van der Feen. Yoram Lachish speelde recentelijk met Avishai Cohen en is een musicus die vele stijlen beheerst en perfekt kan blenden met collega-muzikanten.


CD Tracé Provisoire (ECM) van Dominique Pifarely Quartet
Gedreven en spannend
Domique Pifarély is een van de weinige violisten die zich wijdt aan avantgarde jazz en improvisatiemuziek. Met zijn huidige kwartet bracht hij op het label van ECM een nieuw album uit.
Er zijn strakke composities, waar vrij over wordt geïmproviseerd, maar er staan ook vrije en abstractere stukken op deze CD. Pifarely is een een gedreven speler, hij is zowel in staat tot uitbundige solo's als tot dienstbaar samenspel met de anderen. Onderzoekende muziek – die het moet hebben van hecht samenspel – uiteraard een vitaal onderdeel van improvisatie. Spannende plaat.
Dominique Pifarély (violin), Antonin Rayon (piano), Bruno Chevillon (double bass), François Merville (drums)
Dit kwartet werd opgericht in 2014, maar Pifarély, bassist Bruno Chevillon en drummer François Merville spelen al veel langer samen. Alle drie de musici zijn belangrijke vertegenwoordigers van de geïmproviseerde muziek in Frankrijk.  Pianist Antonin Rayon speelt voor het eerst bij ECM.

Sinds 1978 wijdt Pifarely zich aan jazz en impro. HIj speelt/speelde met musici met dezelfde ideeën zoals Louis Sclavis, Martial Solal, François Couturier, maar ook speelde hij in een Engels orkest onder leiding van Mike Westbrook en het Vienna Art Orchestra in Oostenrijk. Hij richt zelf ook jazzkwartetten op, onder andere ook weer met Louis Sclavis (Sclavis-Pifarély kwartet) met Bruno Chevillon en Marc Ducret.
Pifarély is eveneens regelmatig betrokken bij muziektheaterprojecten. Bijvoorbeeld Anabasis voor kamerkoor, zes musici en twee sprekers. In 2007 richt hij een trio op met Julien Pasovani (Hammondorgel) en Eric Groleau (slagwerk).
CD Miniatures (ECM)    Glauco Venier

Aandachtig en compact
De Italiaanse pianist/componist Glauco Venier maakte een eerste solo cd voor het label ECM. De 15 miniaturen worden met aandacht en overtuiging gespeeld. Op de CD staan eigen stukken, maar ook werk van Gurdjieff, Komitas, Dufay  e.a. Het is compacte, tamelijk rustige en soms minimale muziek, waarbij Venier ook (zelf) gebruik maakt van gongs en cymbals en nog meer percussie.  Dat geeft de pianostukken wat meer ambiance,  en die ruimte maakt de muziek nog wat reflektiever. Mooie plaat.
Van dit album zijn (nog) geen video's te vinden – daarom hier wat ander materiaal

Glauco Venier is van oorsprong organist, maar studeerde ook piano in Berklee.
Met zijn eerste trio met Salvatore Majore (bas) en Roberto Dani (drums)nam hij een aantal cd's op tussen 1994 en 1997.
Vanaf 2003 vormt hij een trio met de Britse jazzvocaliste Norma Winstone. Eerst met trompettist Kenny Wheeler, die later vervangen werd door rietblazer Klaus Gesing. Met hen maakte hij meerdere CD's voor het ECM label.
Een andere opmerkelijke samenwerking was in duo met Lee Konitz op het album Ides of March.

Hij speelde verder met oa Steve Swallow, Marc Johnson, Enrico Rava, Paolo Fresu, Joey Baron, Nguyên Lê, Gabriele Mirabassi, Stefano Di Battista
ENGLISH
A new episode in the series 1 Track Only with new CDs by Paul van Kemenade; Michiel Braam; Michiel Stekelenburg; Dominique Pifarely and Glauco Venier.

CD Checking Out, Paul van Kemenade/Ray Anderson/Ernst Glerum/Han Bennink
Intense and bluesy
The always very productive alto saxophonist Paul van Kemenade recently released three new CDs. On Checking Out he plays with his 'dream quartet' with Ray Anderson – trombone, Ernst Glerum – bass and Han Bennink – drums.
Three former winners of the Boy Edgarpijs and a multiple Downbeat Critics Poll winner, all with tremendous track records and able to switch effortlessly between jazz, free improvisation and bluesy ballads anytime.
In playing music Ray Anderson and Paul van Kemenade have in common that there always is a bluesy cutting edge, a kind of "unfinished" sound that gives an added value to the intensely played pieces. The nine songs on the CD are written by Van Kemenade, Anderson and Glerum.
Paul van Kemenade celebrates his 40-year career as a professional musician next year (2017). His festival Stranger than Paranoia then celebrates 25 years.
Major groups and projects of his include Three Horns and a Bass; Podium Trio with Wolter Wierbos and Jan Kuiper; the PvK Quintet with South African guest musicians. 
PvK plays/played with the likes of Jamaladeen Tacuma, Cornell Rochester, David Murray, Sean Bergin, Markus Stockhausen, Eric Vloeimans, Ernst Reijseger, Frank Möbus, Aki Takase, Eric van der Westen, Jeroen van Vliet and also with dancers, poets, painters.
CD Gloomy Sunday Michiel Braam
"The album represents how a solo concert usually goes with me; I have no plan, I simply start and see where everything leads me to, while using what I have in my survival kit: songs, ideas, hopefully one or a few new things. I prefer to let everything come over me on the spot. For me, a solo concert doesn't involve any preparation in terms of a set-list or anything concrete about pieces I will be playing."
Says pianist/composer/improivsator Michiel Braam, who released a solo album this month, recorded during a concert he gave last year in Budapest in the Opus Jazz Club.
Michiel Braam is always looking for more freedom in music. He combines virtuosity with a playful penchant for the unpredictable. He has a dynamic and percussive style of playing and regularly makes unexpected, sometimes humorous twists, which are never abstract or unintelligible; they are always connected with the foregoing .
Over the years, Michiel Braam had many projects and groups, including Trio BraamDeJoodeVatcher, Bijma Braam duo, Nos Otrobanda, Olanda in Due, Bik Bent Braam, eBraam, Flex Bent Braam. He released many albums on his own label BBBrecords. This solo album was relased in co-production with the BMC (Budapest Music Center) label.
Here an older blog about him.
CD Layers Michiel Stekelenburg
Solid groovy jazz with a rock touch
Guitarist Michiel Stekelenburg loves firm groovy jazz with a rock touch. He already proved this on his debut album Hypnos. And now once more on the recently released Layers. The cast of his quintet changed slightly: Efraim Trujillo now on sax and Jeroen van Vliet on piano, in addition to Guus Bakker – bass, Pascal Vermeer – drums and of course Michiel Stekelenburg – guitar. All of them musicians that you can rely upon, setting up the solid sound and jazz rock grooves Stekelenburg quite nicely .
November Music Festival gave him carte blanche this year, which he will fill in with a trio with the Israeli oboist Yoram Lachish and bassist Clemens van der Feen. Yoram Lachish played recently with Avishai Cohen and is a musician who has mastered many styles and can blend perfectly with fellow musicians.
CD Route Provisoire (ECM) by Dominique Pifarely Quartet
Passionate and exciting
Domique Pifarély is one of the few violinists dedicated to avant-garde jazz and improvised music. With his current quartet, he released a new album on the ECM label.
There are tight compositions with free improvising, but also free and abstract pieces to be found on this CD. Pifarely is a passionate player, he is both able to play exuberant solos and to serve in interaction with others. Experimental music that needs tight interplay – obviously a vital part of improvisation. Exciting album. Dominique Pifarély (violin), Antonin Rayon (piano), Bruno Chevillon (double bass), François Merville (drums)
This quartet was founded in 2014, but Pifarély, bassist Bruno Chevillon and drummer François Merville have been playing together for a long time. All three musicians are important representatives of the improvised music in France. Pianist Antonin Rayon Playing for the first time in ECM.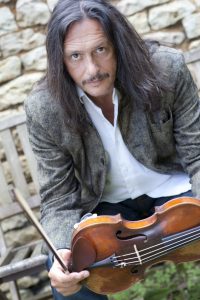 Since 1978 Pifarely is dedicated to jazz and improvisation. He plays/played with likeminded musicians as Louis Sclavis, Martial Solal, François Couturier, but also in an English band led by Mike Westbrook and the Vienna Art Orchestra in Austria. He himself also focuses on jazz quartets, a.o. with Louis Sclavis (Sclavis-Pifarély quartet) with Bruno Chevillon and Marc Ducret. Pifarély is also regularly involved in musical/theater projects. For example Anabasis for chamber choir, six musicians and two speakers. In 2007 he founded a trio with Julien Pasovani (Hammond organ) and Eric Groleau (percussion).
CD Miniatures (ECM), Glauco Venier
Intent and compact
The Italian pianist/composer Glauco Venier made his first solo CD for the ECM label. 15 miniatures, played with care and conviction. The CD contains original pieces, but also works of Gurdjieff, Komitas, Dufay. It is compact, fairly quiet and sometimes minimal music, and Venier himself also plays gongs and cymbals and more percussion. This gives the piano pieces some more ambiance, and this wideness makes the music a little more reflective. Beautiful album.
Of this album are no videos to be found- therefore here some other stuff
Glauco Venier originally was an organist, but also studied piano at Berklee.
With his first trio with Salvatore Majore (bass) and Roberto Dani (drums) recorded some CDs between 1994 and 1997.
From 2003, he formed a trio with the British jazz vocalist Norma Winstone. First with trumpeter Kenny Wheeler, who was later replaced by saxophonist Klaus Gesing. With them he made several CDs on the ECM label. Another notable collaboration was a duet with Lee Konitz on the album Ides of March.
He also played with ao Steve Swallow, Marc Johnson, Enrico Rava, Paolo Fresu, Joey Baron, Nguyên Lê, Gabriele Mirabassi, Stefano Di Battista