Scroll down for English version
Organic beat music
Allerlei muzikale genres worden omgebogen in deze eclectische tijd: jazz verbindt met hiphop, wereldmuziek verbindt met vrije impro, klassiek verbindt met jazz. Alles kan, alles mag.
Eigenlijk ligt het voor jongere musici nog anders: zij zijn opgegroeid met verschillende genres als hiphop en jazz. Het is niet persé zo, dat ze die verschillende genres bewust mengen; voor hen zijn die twee per definitie onafscheidelijk met elkaar verbonden. Dat levert andere muziek op.
Drummer Makaya McCraven is zo iemand die de grenzen ook verlegt en zijn eigen(sub)genres creëert. Hij is één van de voorlopers van de jazzscene in Chicago en brengt met zijn roots in de jazz- en wereldmuziek een uniek en krachtig geluid de jazzscene binnen.
Hij speelde heel veel met allerlei musici en in verschillende stijlen. Door die uitgebreide ervaring is hij in staat om zijn jazz verschillen lagen mee te geven uit hiphop, Afrikaanse dansbands, Hongaars volksmuziek, indie rock, improvisatie, beats, sampling en electronische muziek.
12-1-2017 Bimhuis
Makaya McCraven drums, Greg Spero toetsen, Dustin Lorenzi tenorxsax, Matt Gold gitaar, Junius Paul bas
Makaya McCraven noemt zichzelf 'beat scientist': voor zijn spraakmakende 2e album In the Moment putte hij uit 48 uur live-opnames die in de studio geknipt, geplakt en geremixt werden tot een aaneengesloten set. Het resultaat werd al omschreven als 'organic beat music': een heel groove-georienteerde mix van acid-jazz, post-bop, post-rock en hiphop. 
Drums, beats en grooves verbinden de improvisaties met bekende namen uit de Chicago-scene, onder wie Marquis Hill, Jeff Parker (Tortoise) en Joshua Abrams.
Ook bij live optredens is er veel muzikale vrijheid, enigszins als ware het een jamsessie. Er zijn veel soloos en improvisaties, de lengte van de stukken ligt niet vast, hoewel er wel binnen een vorm wordt gespeeld.
Hij wordt beschouwd als "een van de meest veelzijdige en veelgevraagde drummers in Chicago" (Chicago Reader). Nog een lovend citaat: 'Hypnotic groove alchemy from a close-knit Chicago crew led by Mr. McCraven, a precisely intuitive drummer' (New York Times)
Hoe goed McCraven is, kun je zien in deze video met tips & tricks voor drummen!

McCraven speelt ook nog steeds moderne jazz, bijvoorbeeld met het quintet van trompettist Marquis Hill

ENGLISH
Organic beat music
Musical genres bend in this eclectical era: jazz connects with hip hop, world music connects with free improvisation, classical connects with jazz. Everything is possible, anything goes.
In fact, for younger musicians it's different: they grew up with genres such as hip-hop and jazz. It is not necessarily so that they mix these different genres consciously; for them these are inseparably connected to each other by definition. This creates new music. 

Drummer Makaya McCraven is someone who pushes the boundaries and creates his own (sub) genres. He is one of the pioneers of the jazz scene in Chicago and with his roots in jazz and world music brings a unique and powerful sound into the jazz scene.
He played a lot with all kinds of musicians and in different styles. Through this extensive experience he is able to layer his jazz with hip hop, African dance bands, Hungarian folk music, indie rock, improvisation, beats, sampling and electronic music.
12-1-2017 Bimhuis
Makaya McCraven drums, Greg Spero keys, Dustin Lorenzi tenorxsax, Matt Gold guitar, bass Junius Paul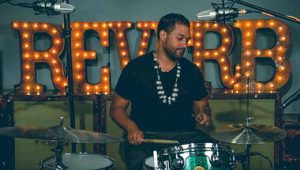 Makaya McCraven calls himself 'beat scientist'; for his acclaimed 2nd album In the Moment he drew from 48 hours of live recordings; in the studio they were cut, pasted and remixed into a compact set. The result has been described as 'organic beat music': a very groove-oriented blend of acid jazz, post-bop, post-rock and hip-hop.
Drums, beats and grooves connect the improvisations, with famous names from the Chicago scene such as Marquis Hill, Jeff Parker (Tortoise) and Joshua Abrams. 
Also at live shows there is plenty of musical freedom, somewhat as if it were a jam session. There are many soloos and improvisations, the length of the pieces is not fixed, although played inside a form.
He is considered "one of the most versatile and much sought after drummers in Chicago" (Chicago Reader). Another laudatory quote: "Hypnotic groove alchemy from a close-knit crew Chicago led by Mr. McCraven, a precisely intuitive drummer '(New York Times)