Scroll down for English version
SCHNTZL, De Beren Gieren en BRZZVLL
En weer is er een nieuwe lichting jonge bands uit de Vlaamse jazzscene met een 'brutale, conventieloze attitude, waarin hiphop, klassiek en rock naast jazzmuziek staan' (zoals de Volkskrant schreef over de Beren Gieren).
De Vlaamse jazz bloeit op dankzij het succes van bands als STUFF. en Dans Dans, die vanuit hun jazzachtergrond experimenteren met onder meer dance, dub, hiphop en filmmuziek.
Op 3 november spelen drie bands op één avond in het Bimhuis in Amsterdam.
Maar ook afzonderlijk zijn ze veel te zien, vooral in Vlaanderen: SCHNTZL, De Beren Gieren en BRZZVLL.
SCHNTZL is een duo van pianist Hendrik Lasure en drummer Casper Van De Velde, die al sinds hun pubertijd samenspelen. Ze weven hun improvisaties door uitgeschreven composities heen.
Acoustische en electronische sounds worden gemengd in een minimalistische aanpak. Ook singer-songwriters als Bon Iver en Nick Drake zijn inspiratiebronnen voor hun muziek. 
Hendrik Lasure – toetsen, Casper Van De Velde – drums
3-11 Bimhuis Amsterdam, en meerdere concerten in Belgie. Zie hun website
De Beren Gieren
Avontuurlijk & energieke indie jazz
In een eerder blog op deze site schreef ik al eens over hen: 'Klassiek, jazz en hedendaags worden door het trio uit hun vaste grenzen losgeweekt. Het resultaat is een mix van jazz, klassiek en soms rock-geïnspireerde improvisaties die fris en spannend klinkt, zonder de roots in de jazztraditie te vergeten. En die grote muzikaliteit verraadt, in combinatie met veel gevoel voor humor en relativering.

'
Het regende onlangs positieve recensies voor het recente vijfde album van DBG "Dug Out Skyscrapers'.
'De toekomst van het verleden' is het 'Leitmotif' van dit album. Maar ja – wat betekent dat eigenlijk? De sound op dit album is ruimtelijker dan voorheen: veel galm op de piano en ook op de drums, meerdere lagen slagwerk, diepere klank van de bas. Die ruimtelijke sound zet de luisteraar meer op afstand van de muziek.
Maar De Beren Gieren houden wel steeds de vaart erin, dat moet gezegd. Muzikaal gaat het van hoekige energie naar dromerig of melancholiek. Er wordt nog steeds energiek gespeeld met verrassende muzikale lijnen en onverwachte afslagen.
Fulco Ottervanger – piano, Lieven van Pée – bas, Simon Segers – drums
De Beren Gieren hebben sinds hun oprichting in 2009 hebben niet stilgezeten. Hun tweede album a raveling (2013) zorgde voor de internationale doorbraak. The Detour Fish, een live-opname met de Portugese trompettiste Susana Santos Silva, werd eind 2014 uitgebracht op het toonaangevende platenlabel Clean Feed en overal lovend ontvangen. In 2015 verscheen hun derde trio album One Mirrors Many. In september 2017 bracht DBG een vijfde trio plaat uit bij Sdban, "Dug Out Skyscrapers".
Het trio tourde al door vele landen en stonden op vele festivals.
Ze waren Artist in Residence van het Gentse Kunstencentrum Vooruit en ontvingen drie prijzen op Jazz Hoeilaart, waaronder de hoofdprijs. Naast hun samenwerking met Susana Santos Silva, speelden De Beren Gieren samen met andere internationale grootheden als Jan Klare, Jean-Yves Evrard, Ernst Reijseger, Joachim Badenhorst, Marc Ribot en Louis Sclavis.

BRZZVLL
Het Antwerpse collectief BRZZVLL is een zevenkoppige formatie met twee drummers
en speelt geïmproviseerde dance muziek met een sound uit de jaren 70: een soort fusion-funk.
Bas en drums spelen strak en funky, blazers, gitaar en keyboards spelen daar ongehinderd lekker overheen. Maar het is niet zomaar een vintage band, modernere toevoegingen in hun muziek zijn er ook: spoken word, afro beat, en – met een knipoog naar Sun Ra – 'kosmische jazz'.
Saxofonist Vincent Brijs richtte BRZZVLL op in 2006. De band viel op door samenwerkingen met opvallende spoken word frontmen als de amerikaanse activist en dichter Amir Sulaiman en de Britse dichter, schrijver, vocalist en performer Anthony Joseph.
Maar het laatste album is opnieuw geheel instrumentaal. De naam ervan is Waiho, Maori voor 'weggaan'. Zelf zien ze het als een reis naar een nieuwe wereld, waarin tegenstellingen en verschillen wegvallen, zonder dat het monotoon wordt.
Vincent Brijs sax, Andrew Claes sax, EWI, darbuka, Jan Willems toetsen, Geert Hellings gitaar, Dries Laheye bas, Stijn Cools drums, Maarten Moesen drums
Veel concerten in Belgie, in Nederland 3-11 Bimhuis
Zie hun site
ENGLISH
And again there is a new draft of young bands from the Flemish jazz scene with a "cheeky, unconventional attitude, in which hip hop, classical and rock stand next to jazz music" (as the Volkskrant wrote about De Beren Gieren).
Flemish jazz flourishes thanks to the success of bands like STUFF. and Dance Dance, who, from a jazz background experiment with dance, dub, hip hop and film music.
On November 3, three bands will play at the Bimhuis in Amsterdam. But they can be heard in concert seperately as well, especially in Flanders: SCHNTZL, The Bears Gieren and BRZZVLL.
SCHNTZL is a duo of pianist Hendrik Lasure and drummer Casper Van De Velde, who have been playing together since their puberty. They weave their improvisations through written compositions. Acoustic and electronic sounds are mixed in a minimalist approach. Also singer songwriters like Bon Iver and Nick Drake are an inspiration for their music. 
Hendrik Lasure – Tests, Casper Van De Velde – drums
3-11 Bimhuis Amsterdam, and several concerts in Belgium.  Find them on their website
De Beren Gieren
Adventurous & Energetic Indie Jazz
In a previous blog on this site I wrote about them: 'Classic, jazz and contemporary are unleashed from their fixed limits by this trio. The result is a mix of jazz, classical and sometimes rock-inspired improvisations that sound cool and exciting without neglecting the roots of the jazz tradition. Also showing great musicality, combined with great sense of humor.
A lot of positive reviews were written for the recent fifth album of DBG "Dug Out Skyscrapers". 'The future of the past' is the 'Leitmotif' of this album. But then- what does that mean? 
The sound on this album is more spacious than before: a lot of echo and reverb on the piano and drums, multiple layers of percussion, a deeper bass. That spatial sound sets the listener apart from the music a little bit.
But De Beren Gieren are always keep up the pace, this has to be said. Musically, it varies from angular energy to dreamy or melancholy. It is all still energetically played with surprising musical lines and unexpected turns.
Fulco Ottervanger – piano, Lieven van Pée – bass, Simon Segers – drums
De Beren Gieren haven't been resting since their founding in 2009. Their second album, 'a raveling' (2013), created an international breakthrough. The Detour Fish, a live recording with Portuguese trumpeter Susana Santos Silva, was released at the end of 2014 on label Clean Feed and was critically acclaimed everywhere. In 2015 their third trio album One Mirrors Many appeared. In September 2017, DBG released a fifth trio album at Sdban, "Dug Out Skyscrapers".
The trio toured in many countries and performed at many festivals. They were Artist in Residence of the Ghent Kunstencentrum Vooruit and received three prizes on Jazz Hoeilaart, including the main prize. In addition to their collaboration with Susana Santos Silva, De Beren Gieren worked together with other international greats such as Jan Klare, Jean-Yves Evrard, Ernst Reijseger, Joachim Badenhorst, Marc Ribot and Louis Sclavis.
BRZZVLL
The Antwerp collective BRZZVLL is a band of seven, with two drummers, playing improvised dance music with a 70's sound: a kind of fusion-funk. Bass and drums play tight and funky, horns, guitar and keyboards play smoothly over it. But it's not just a vintage band, more modern additions to their music are: spoken word, afro beat, and – with a wink to Sun Ra – 'cosmic jazz'.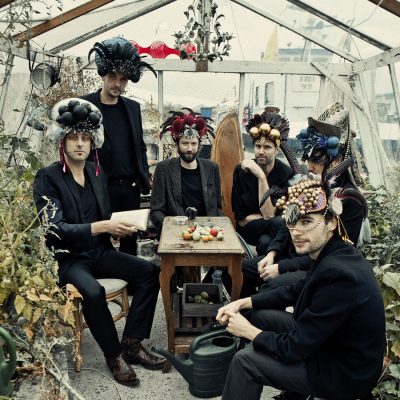 Saxophonist Vincent Brijs set up BRZZVLL in 2006. The band became known as collaborating with prominent ghosts as American activist and poet Amir Sulaiman and British poet, writer, vocalist and performer Anthony Joseph.
The most recent album is completely instrumental. Its name is Waiho, Maori for 'leaving'. They themselves see it as a journey to a new world in which opposites and differences disappear without becoming monotonous.
Vincent Brijs sax, Andrew Claes sax, EWI, darbuka, Jan Willem's tests, Geert Hellings guitar, Dries Laheye bass, Stijn Cools drums, Maarten Moesen drums
Concerts in Belgium, one in the Netherlands 3-11 Bimhuis