Scroll down for english version
Alles is mogelijk op de marimba.
Tatiana Koleva is een enorm veelzijdige, virtuoos en begeesterd marimba speelster. Afkomstig uit Bulgarije, wonend in Nederland, en een hele druk bezette duizendpoot.
Ook een ondernemende marimba-vrouw met een missie: op 4, 5 en 6 maart in Amsterdam vindt de 2e editie plaats van het Amsterdam Marimba Weekend, waarvan zij initiatiefnemer is.
Dwars door genres heen presenteert het Amsterdam Marimba Weekend muziek van nu door makers van nu. Het instrument wordt steeds populairder: de warme en volle klank van het instrument met de houten toetsen spreekt iedereen aan. Het AMW laat de nieuwste muzikale ontwikkelingen zien op Marimba gebied, met workshops en masterclasses van internationale marimba-beroemdheden. De makers en componisten putten daarbij uit hedendaags gecomponeerde muziek, jazz, wereldmuziek, electronics & soundscapes.
 De 2e editie start met masterclasses in Studio De Generator. Het uitgebreide slotconcert is op zondag 6 maart om 14.00 uur in het Bimhuis. Alle gasten zullen in verschillende combinaties samen optreden.
Er komen verschillende beroemde internationale gasten uit de marimba wereld: Gordon Stout (USA) – componist en één van de pioniers als solist en docent voor marimba.

Hugo Candelario (Colombia)- marimbero- met traditionele muziek uit Zuid Amerika.
Hij zal spelen met een gelegenheids-latinformatie.

Van de nieuwe generatie de Nederlandse Frank Wienk, bekend van 'Binkbeats' & Slagwerk Den Haag. Hij gaat de marimba in een heel ander licht zetten in combinatie met electronica en Koleva's Youth Percussion Pool.
Frank Wienk is ook bekend van zijn slagwerk/percussie in het Kyteman Orchestra en de band van Eefje de Visser, maar hij heeft nog een andere favoriete bezigheid: als zijn alias Bink/Binkbeats maakte hij 'Beats Unraveled' video's, die een hit werden op YouTube. Met akoestische instrumenten en 'loopen' maakt Bink in zijn eentje een elektronische productie.
Tijdens het A'dam Marimba Weekend zal Frank Wienk zal speciaal geschreven en gearrangeerde stukken laten horen.

Eric Sammut (Frankrijk) die een unieke stijl op de marimba heeft ontwikkeld zowel als speler als componist. Hij maakte veel adaptaties van bestaande muziek, in verschillende stijlen.

De Duitse Kai Strobel heeft net één van de belangrijkste prijzen ontvangen tijdens de International Marimba Competition in Linz, Oostenrijk. Een speler die alles kan.

Koleva's Youth Percussion Pool is ook aanwezig met Balkan beats en speciale arrangementen. In die YPP vraagt Tatiana jonge spelers, die erin meedoen als op een soort stageplek.

Tatiana Koleva zelf speelt ook nog solo. Ze is thuis in hedendaagse en klassieke muziek, maar ook in rock en in improvisatie.

De marimba is één van de oudste instrumenten maar staat tegenwoordig volop in de belangstelling bij spelers en componisten uit heel uiteenlopende genres. Prototypes van de marimba vind je in Afrika, Azië en later in Zuid Amerika. Begin 20ste eeuw werd de marimba ontdekt door componisten en klassieke musici in het Westen (bijv. Darius Milhaud). De laatste 50 jaar heeft de marimba een enorme ontwikkeling doorgemaakt als solo instrument en wordt meer en meer gebruikt in kamermuziek.
Tatiana Koleva geeft veel concerten, doceert aan het Conservatorium in Groningen, is oprichter en artistiek directeur van de Youth Percussion Pool (educatie- en performanceplatform voor jong professionals) en initiator van het Amsterdam Marimba Weekend.
Koleva inspireerde vele componisten om nieuw werk voor marimba en slagwerkinstrumenten te schrijven. Ze bracht meer dan 90 speciaal voor haar gecomponeerde stukken uit, zowel solo als met ensemble. Ze werkte onder andere met Louis Andriessen, Klaas de Vries, Jacob TV, Martin Padding, Yannis Kyriakides, Florian Magnus Maier en David Lang.
Koleva geeft workshops en masterclasses en trad op in vele grote concertzalen over de hele wereld. Ze heeft haar eigen platenlabel NovaLinia Records, maar bracht ook veel werk uit op andere labels.

Het Amsterdam Marimba Weekend is een initiatief van Tatiana Koleva en Henny van den Abbeelen van de firma Pustjens Percussion Products. Tijdens het weekend worden masterclasses en workshops gegeven over de geschiedenis van de marimba en nieuw repertoire, speel- en improvisatie technieken. Elk van de gastspelers zal een masterclass of een clinic geven. Daarnaast wordt een nieuwe lijn signature mallets "Concorde – Tatiana Koleva" van het Amerikaanse merk 'Innovative Percussion' gepresenteerd.
ENGLISH
Anything is possible on the marimba
Tatiana Koleva is a tremendously versatile and enthusiastic virtuoso marimba player. From Bulgaria, living in the Netherlands, and a very busy millipede. Also an enterprising marimba- woman with a mission: she's initiator of the Amsterdam Marimba Weekend, of which the 2nd edition takes place 4, 5 and 6 March in Amsterdam.
Amsterdam Marimba Weekend crosses all genres presenting music of today by makers of today. The instrument is becoming increasingly popular: the warm and full sound of the instrument with wooden keys appeals to everyone. The AMW shows the latest musical developments in the Marimba field, workshops and master classes with international marimba celebrities. The creators and composers draw on contemporary music, jazz, world music, electronics and soundscapes. The 2nd edition starts with master classes at Studio Generator. The extensive final concert is on Sunday, March 6th at 14:00 at the Bimhuis. All guests will play together in different combinations.

Several famous international guests from the world marimba will be there: 

Gordon Stout (USA) – composer and one of the pioneers as a soloist and teacher for marimba.

Hugo Candelario (Colombia) – marimbero- with traditional music from South America. He will play with a  latinband
 for the occasion.

From the new generation the Dutch Frank Wienk, known for "Bink Beats' and Percussion The Hague. He's going to show the marimba from a different angle in combination with electronics and Koleva's Youth Percussion Pool.
Frank Wienk is also known for his drums / percussion in Kyteman Orchestra as welll as the band of Eefje de Visser, but he has another favorite activity: as his alias Bink / Bink Beats he creates 'Beats Unraveled' videos, which became a hit on YouTube. With acoustic instruments and 'looping' Bink makes his own electronic production.
During the Amsterdam Marimba Weekend will Frank Wienk will perform specifically written and arranged pieces.
Eric Sammut (France) has developed a unique style for the marimba, both as a player and composer.
 He made many adaptations of existing music in different styles.
German Kai Strobel has just received one of the main prizes at the International Marimba Competition in Linz, Austria. Somenone who can play anything.

Koleva's Youth Percussion Pool is also present with Balkan beats and special packages.
In this YPP Tatiana asks young players who participate in it as a kind of internship.
Tatiana Koleva herself will play solo as well. She's familiar withh contemporary and classical music, but also with rock and improvisation.
The marimba is one of the oldest instruments but is in the spotlight again with players and composers from very different genres. Prototypes of the marimba can be found in Africa, Asia, and later in South America. Early 20th century, the marimba was discovered by composers and classical musicians in the West (eg. Darius Milhaud). The last 50 years, the marimba has gone through an enormous development as a solo instrument and is increasingly used in chamber music.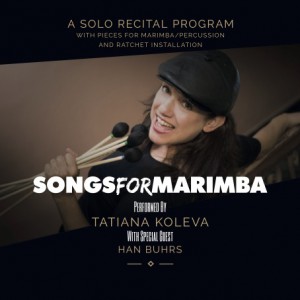 Tatiana Koleva gives many concerts, teaches at the Conservatory in Groningen, is founder and artistic director of the Youth Percussion Pool (education and performance platform for young professionals) and initiator of the Marimba Weekend Amsterdam. Koleva inspired many composers to write new works for marimba and percussion instruments. She released more than 90 especially for her composed pieces, both solo and in ensemble. She has worked with Louis Andriessen, Klaas de Vries, Jacob TV, Martin Padding, Yannis Kyriakides, Florian Magnus Maier and David Lang. Koleva gives workshops and master classes and performed in many major concert halls around the world. She has her own record label NovaLinia Records, but also released music on other labels.

The Amsterdam Marimba Weekend is an initiative of Tatiana Koleva and Henny van den Abbeelen (Pustjens Percussion Products). During the weekend masterclasses and workshops are taught about the history of the marimba and new repertoire, playing and improvisation techniques. Each of the guest players will give a master class or clinic. In addition, a new line of signature mallets "Concorde – Tatiana Koleva" of the American brand 'Innovative Percussion' will be presented.