Lyrisch, heftig, rustig
Het is raak deze maanden! Na Fullduplex, Artvark, Dick de Graaf, Jeroen van Vliet, Kapok, Rembrandt Frerichs en Windkracht 7 is er alweer een CD- release van een groep jonge Nederlandse, dan wel in Nederland wonende jazzmusici.
Vaak zijn het de 'frontmen/women' die een eigen band oprichten: saxofonisten, zangeressen, pianisten. Bands onder leiding van een componerende drummer komen iets minder vaak voor.
Felix Schlarmann – drummer in meerdere jazzgroepen en een van de drijvende krachten achter Jazzfest Amsterdam – richtte wel zijn eigen ensemble op en presenteert daarmee deze week de CD Counterlife. 15 februari Bimhuis, Amsterdam.

De groep bestaat uit jonge musici, die vrijwel allemaal ook hun eigen groepen hebben (en dus bandleider zijn). Een bezetting met twee saxofonisten: Lars Dietrich – altsax
, Floris van der Vlugt – alt en sopraansax, basclarinet, Franz von Chossy – piano, Pat Cleaver bas, Felix Schlarmann – drums, composities

Energie en melodie zijn belangrijke kenmerken van de muziek van Schlarmann: veel contrast tussen fragiele, emotionele passages en energieke uitbarstingen. Het zijn veelal geen 'songs', maar stukken die zich met een soort lyriek ontwikkelen zonder specifiek van A-naar-B te moeten gaan. Meerdere stukken op de CD beginnen rustig, maar worden allengs voller, dynamischer en kunnen uitlopen op heftige ontladingen.

Felix Schlarmann  – Amsterdammer, maar oorspronkelijk afkomstig uit Duitsland – volgde het Conservatorium van Amsterdam en de Manhattan School of Music. Behalve met zijn eigen groep speelt hij o.a. ook met groovejazz kwartet BRUUT!, Mechanical Duck (met o.a. Jasper Blom). Hij is ook drijvende kracht achter Jazzfest Amsterdam en de maandelijkse sessies in Studio/K.
ENGLISH VERSION
Lyrical, impetuous, tranquil
There's a lot going on these months! First Fullduplex, Artvakr, Dick de Graaf, Jeroen van Vliet, Kapok, Rembrandt Frerichs, Windkracht 7  and now yet another CD of a group of young Dutch jazz musicians is being released.
Often it is the 'frontmen/women' who set up their own band: saxophonists, singers, pianists. Bands led by a composing drummer come less often.
Felix Schlarmann – drummer in several jazz groups and one of the driving forces behind Jazz Fest Amsterdam – did start his own ensemble, and presents the CD Life Counterlife this week: February 15 Bimhuis , Amsterdam .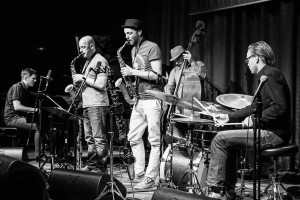 The group consists of young musicians , most of which also have their own groups (and thus are bandleaders) . A quintet with two saxophonists: Lars Dietrich – alto sax; Floris van der Vlugt – alto and soprano saxophone, bass clarinet, Franz von Chossy – piano, Pat Cleaver – double bass, Felix Schlarmann – drums , composition
Energy and melody are important features of the music of Schlarmann: high contrast between fragile, emotional passages and energetic outbursts . There are no real "songs", but pieces that develop a kind of lyricism without having to go specifically from A-to-B. Multiple pieces on the CD start quietly but gradually become fuller, more dynamic and may result in severe discharges.
Felix Schlarmann – living in Amsterdam but originally from Germany – followed the Amsterdam Conservatory and the Manhattan School of Music. Except with his own group, he also plays with a.o. groove jazz quartet BRUUT!, Mechanical Duck (with Jasper Blom ). He is also the driving force behind Jazz Fest Amsterdam and monthly sessions at Studio/K.