Scroll down for English version
Twee nieuwe releases van Nederlandse bodem: van Mark Lotz en Alan Gunga Purves en Penguins Too (Frank Nielander, Michiel Braam).
Met iets méér dan 1 track.

Crime, Penguins Too
Frank Nielander – alt en tenorsax, viool; Michiel Braam -piano
23 jaar geleden maakten deze twee musici een CD onder de naam Two Penguins in the Desert.
 En nu, als Penguins Too, is er een nieuw album. 
Het is een album geworden met eigen(wijze) versies van een aantal "Crime" stukken uit bekende films en series. Het thema van Narcos, The Taking of Pelham 123, Ennio Morricone's muziek uit "La Piovra, Ellingtons's Anatomy of a Murder en nog meer. Maar ook een stuk van Misha Mengelberg, eigen werk en een improvisatie op een nocturne van Chopin.
De stukken geven aanleiding tot dynamische en vitale interpretaties. Er wordt met power en drive gespeeld. De tenorsax-sound is rauw, de impro een beetje wild. Maar de energie onmiskenbaar.
22 April 2018 – 16:00 BReBL Nijmegen
Michiel Braam is eén van de meest productieve en avontuurlijke bandleiders van de Nederlandse jazzscene.
Braam is altijd op zoek naar muzikale vrijheid. Hij combineert virtuositeit met een speelse hang naar het onvoorspelbare. Hij heeft een dynamische en percussieve manier van spelen en gooit er regelmatig onverwachte, soms humoristische wendingen tegenaan, die nooit abstract zijn of onbegrijpelijk; ze houden steeds verband met het voorafgaande.
Musici als Duke Ellington en Charles Mingus zijn inspiratiebronnen voor Braams streven naar een homogeen en persoonlijk orkestgeluid. In de loop der jaren had Michiel Braam vele projecten en groepen, waaronder Trio BraamDeJoodeVatcher, Bentje Braam, Bik Bent Braam, eBraam, Flex Bent Braam.
Nielander werd arts en werkte heel lang in de gezondheidszorg. 
Maar de liefde voor muziek en de tenorsaxofoon bleef, dus toen het weer ging kriebelen, ging het duo opnieuw met elkaar op pad, nu onder de naam Penguins Too.
Two Penguins In The Desert ontstond in 1987 ter gelegenheid van het afstuderen van beide musici aan het Conservatorium. Het repertoire bestond uit cooljazz en bebop stukken.
 Tussen 2003 en 2017 had het duo een (hele lange) sabbatical.
HIER een ouder blog over Michiel Braam

Mark Lotz en Alan Gunga Purves, Food Foragers.
Waar vind je nu musici die altijd intens bezig zijn met onontdekte en extreme klanken uit hun instrumenten te toveren? Nou – hier om de hoek, zou ik bijna willen zeggen.
 Fluitist-met-100-verschillende-fluiten Mark Alban Lotz en 'Squeekologist', slagwerker Alan Gunga Purves. 
Allebei 'one of a kind' musici.
Ze hebben samen een duo, dat nu een nieuw album uitbrengt: FOOD FORAGERS.
Onconventionele muziek waar steeds wordt gezocht naar extravagante klanken op de instrumenten en beeldend en met gevoel voor humor wordt geïmproviseerd. Met een beetje absurdisme zonder dat het alleen om 'iets geks' moet gaan.
Want – misschien in tegenstelling tot wat je zou denken – rare of bijzondere of nieuwe klanken ontdekken op instrumenten doe je helemaal niet 1-2-3. Het is een serieuze zoektocht, die nooit stopt. Deze twee musici doen dat goed, met veel overtuiging, zonder dat het hun samenspel in de weg zit. Integendeel.
25 maart 2018, Eyemuseum, Amsterdam NL
'Raspen, ploppen, kirren, zingen op de hele fluitfamilie', schreef ik eerder over de kunde van Mark Lotz.
Hij bespeelt zo'n beetje alle fluiten die er zijn: Piccolo, C Fluit, Alt Fluit, basfluit, PVC Contrabas Fluit, Indiase Bamboe Fluiten, Fluitofoon, geprepareerde fluit.
Hij heeft veel eigen bands en projecten, maar speelt ook vaak solo.
Lotz speelt al vele jaren jazz, afrikaanse en cubaanse muziek, klanklandschappen, groove, vrije impro. Hij probeert in zijn eigen muziek steeds een brug te slaan tussen jazz en hedendaagse muziek, waarbij hij vaak ook muziek uit andere landen en culturen mengt.
Gunga's spel is soms subtiel en soms juist uitbundig. Hij heeft een grote verzameling ongebruikelijke instrumenten zoals: piepende rubberen speelgoedbeesten, zoemende plastic buizen, waterflessen, neusfluiten, mondharpen en enkelbellen. Ook zelfgemaakte instrumenten zoals brimbram, rockin' chair en glockenspiel guitar.
Drummer en percussionist Alan Purves (Edinburgh, 1952) kocht zijn eerste drumstel toen hij 18 was. Als kind leerde hij zichzelf al drummen met breinaalden op alles wat los en vast zat. Later bleef hij zijn eigen instrumenten maken en eigen technieken ontwikkelen. Sinds 1975 woont hij in Amsterdam, waar hij speelde met dans- en theatergroepen en verschillende soorten bands. Al improviserend vond hij zijn weg in allerlei genres, van jazz en rock tot Ierse folk en niet-westerse volksmuziek.
Over beide musici blogde ik al eerder. HIER over Lotz en HIER over Gunga
ENGLISH
Two new Dutch releases in the adventurous genre: Mark Lotz and Alan Gunga Purves and Penguins Too (Frank Nielander, Michiel Braam)
Mark Lotz and Alan Gunga Purves, Food Foragers.
Where can you find musicians who are always intensely engaged in creating undiscovered and extreme sounds on their instruments? Well – just around the corner, I would almost say. 
Flutist-with-100-different-flutes Mark Alban Lotz and 'Squeekologist', percussionist Alan Gunga Purves. Both are 'one of a kind' musicians.
As a duo they now released a new album: FOOD FORAGERS. 
Unconventional music in which there is always room for extravagant sounds on the instruments and pictorial improvisations with a sense of humor. With a bit of absurdism without wanting to 'go crazy'. 
Perhaps contrary to what you might think – to discover strange or special or new sounds on instruments is not that easy at all. It is a serious never ending search. These two musicians are good at it, convinced, without letting it interfere with their interplay. On the contrary. 
25.03.18 Eyemuseum, Amsterdam NL

I've been blogging about both musicians before
Speak, flute, squeak, growl, sing on the whole flute family', I wrote earlier about the skills of Mark Lotz.
He plays pretty much all the flutes out there: Piccolo, C Flute, Alto Flute, bass flute, PVC Double Bass Flute, Indian Bamboo Flutes, Flute, flute, prepared flute.
He has many own bands and projects, but also often plays solo. Lotz has been playing jazz, african and cuban music, soundscapes, groove, free improvisation for many years. Mark's music ranges from jazz to African, Cuban, free improvisation, grooves. He allways try to  build a bridge between jazz and classical contemporary music – often crossing boundaries with other musics of the world.
Gunga's play is sometimes subtle and sometimes exuberant. He has a large collection of unusual instruments such as: squeaky rubber toy animals, buzzing plastic tubes, water bottles, nose whistles, mouth harps and ankle bells. Also homemade instruments such as brimbram, rockin 'chair and glockenspiel guitar. 
Drummer and percussionist Alan Purves (Edinburgh, 1952) bought his first drum set when he was 18. As a child, he already taught himself drums with knitting needles on everything that was loose and stuck. Later he continued to make his own instruments and develop his own techniques. Since 1975 he lives in Amsterdam, where he played with dance and theater groups and different kinds of bands. While improvising, he found his way in all kinds of genres, from jazz and rock to Irish folk and non-western folk music.
Crime, Penguins Too
Frank Nielander, Alto Sax Michiel Braam, Piano
23 years ago these two musicians made a CD called Two Penguins in the Desert. And now, as Penguins Too, there is a new album. It has become an album with own (perky) versions of "Crime" pieces from well-known films and series. The theme of Narcos, The Taking of Pelham 123, Ennio Morricone's music from "La Piovra, Ellington's Anatomy of a Murder and more. Also a piece by Misha Mengelberg, own work and an improvisation on a nocturne by Chopin. This results in dynamic and vital interpretations, played with power and drive. The sound of the tenor sax is raw, the improv is somewhat wild, but the energy is unmistakable.
22 April 2018 – 16:00 BReBL Nijmegen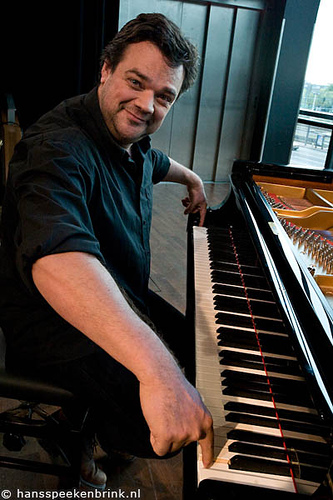 Michiel Braam is one of the most productive and adventurous band leaders of the Dutch jazz scene. Braam is always looking for freedom in music. He combines virtuosity with a playful urge for the unpredictable. He has a dynamic and percussive way of playing and regularly throws in unexpected, sometimes humoristic twists, which are never abstract or incomprehensible; they are always related to the foregoing.
Musicians such as Duke Ellington and Charles Mingus are sources of inspiration for Braam's quest for a homogeneous and personal orchestral sound. Over the years, Michiel Braam had many projects and groups, including Trio BraamDeJoodeVatcher, Bentje Braam, Bik Bent Braam, eBraam, Flex Bent Braam.

Nielander became a medical doctor and worked in health care for a long time. But the love for music and the tenor saxophone remained, so when it started to tickle again, the duo went back together again, now under the name Penguins Too.
Two Penguins In The Desert was created in 1987 on the occasion of the graduation of both musicians at the Conservatory. The repertoire consisted of cool jazz and bebop pieces. Between 2003 and 2017 the duo had a (very long) sabbatical.