Kamerjazz, ambient, folk, minimal: bedachtzaam en sereen

Pianist, componist en harmoniumspeler Christian Wallumrød maakt genuanceerde, met concentratie gespeelde muziek die de vrijheid heeft van jazz, maar die ook elementen bevat van minimal music, Scandinavische folk en oude (klassieke) muziek. Weloverwogen noten, soms verstilde muziek, heel mooi.
https://www.youtube.com/watch?v=gt_uH8GHTkA
Op het gebied van ambient is de laatste tijd veel te melden: eind 2013 blogde ik over de Noorse trompettist Arve Hendriksen en ook over Albert van Veenendaal/Robert van Heumen. Vorige week nog ging het op deze site over Jozef Dumoulin en Dirk Serries. Allemaal musici, die experimenteel in de weer zijn met verschillende vormen van ambient: acoustisch of met electronica, solo of met ensemble, als verstilde kamerjazz, of ontwikkelend vanuit stilte naar heftige erupties.
 Christian Wallumrød is ook zo iemand; hij is een toonaangevende exponent van de hedendaagse Noorse jazzscene. Hij combineert elementen van jazz, Scandinavische folk en minimal music. Zaterdag 22 februari speelt hij met zijn sextet in het Bimhuis in Amsterdam.
https://www.youtube.com/watch?v=15Uzef4U0dU
Zijn groep heeft een bijzondere samenstelling, met een belangrijke rol voor de hardangerviool, een Noors strijkinstrument. Daardoor en ook door de typische klank van het harmonium heeft zijn ensemble een hele aparte klank.
 Christian Wallumrød – piano/harmonium, Eivind Lønning – trompet, Gjermund Larsen – alt-/hardanger-viool, Espen Reinertsen – tenorsax, Tove Törngren -cello, Per Oddvar Johansen – drums/vibrafoon
https://www.youtube.com/watch?v=5HNGRF7iAzc
In Noorwegen is de muziekscene al veel langer bezig met klanklandschappen en Nu Jazz: bijvoorbeeld Nils Petter Molvaer, Jagga Jazzist, Elvind Aarset en pianist/producer Bugge Wesseltoft, die met zijn futuristische jazz in de smaak viel bij liefhebbers van jazz, dance, rock én elektronica.
Wallumrød speelt in overwegend kleine bezettingen, waarvan er verschillende vastgelegd werden door het muzieklabel ECM. Hij werkte ook met de bekende Noorse trompettisten Arve Henriksen, Nils Petter Molvær, zangeres Sidsel Endresen en ambientproducer Jan Bang.
https://www.youtube.com/watch?v=mBv-e8GCjZ8
ENGLISH VERSION
Christian Wallumrød
Ambient, chamber-jazz, folk, minimal: thoughtful and serene

The music of pianist, composer and harmonium player Christian Wallumrød has different shades, played with utmost concentration. It has the freedom of jazz but also contains elements of minimal music, Scandinavian folk and old (classical) music. Thoughtful, sometimes serene music, very beautiful.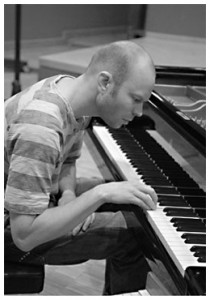 In the field of ambient there's much to report lately: in 2013 I blogged about the Norwegian trumpeter Arve Hendriksen and Albert van Veenendaal/Robert van Heumen. Last week about Jozef Dumoulin and Dirk Serries. All of them musicians that experiment with different forms of ambient: acoustic or electronic, solo or ensemble, as hushed chamber jazz, or evolving from silence to violent eruptions.
Christian Wallumrød is a leading exponent of contemporary Norwegian jazz scene. He combines elements of jazz  Scandinavian folk and minimal music. Saturday, February 22, he plays at the Bimhuis in Amsterdam with his sextet. His group has a special cast, with an important role for the Hardanger fiddle (Norwegian string instrument). As a result, and also by the typical sound of the harmonium his group has a very special ensemble sound. 
Christian Wallumrød – piano / harmonium , Eivind Lønning – trumpet Gjermund Larsen – alt-/hardanger-viool , Espen Reinertsen – tenor sax , Tove Törngren – cello Per Oddvar Johansen – drums/vibraphone
The music scene in Norway is engaged in soundscapes and Nu Jazz for a long time with the likes off Nils Petter Molvaer,  Arve Henriksen, Jagga Jazzist, Elvind Aarset and pianist/producer Bugge Wesseltoft, who with his futuristic jazz appealed to lovers of jazz, dance, rock and electronics.
Wallumrød plays in small ensembles predominantly, several predominantly of which were captured by the record label ECM. He also worked with the famous Norwegian trumpeters Arve Henriksen, Nils Petter Molvær, singer Sidsel Endresen and ambient producer Jan Bang.