Vera Vingerhoeds used to be a musician and composer for more then 25 years (alto- and tenorsax, vocals). She was a bandleader for different ensembles and composed jazz, pop, film and theatre music.
On this page a few of her compositions.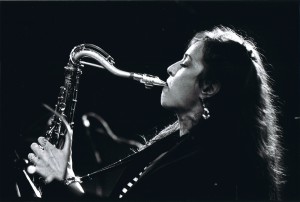 Some of her bands: Vingerhoeds, Van Binsbergen, Niks & Kool; Vera Vingerhoeds Septet; Vera Vingerhoeds & Lazybones; LIST; 5 Slag 1Wijd; I Compani. Furthermore she played with ao Sean Bergin, Martin van Duynhoven, Leo Cuypers, Joost Buis, Corrie van Binsbergen, Arend Niks, Michael Vatcher en Wilbert de Joode.

COMPOSITIONS Jazz    
2005 Strijklicht voor Zapp String quartet:
2004/2005: DO IT, forcelebration 20 years  I Compani
2002: La Bop, for No Can Do, quartet of drummer Arend Niks
1979-2000: over a 100 compositions for all of her own bands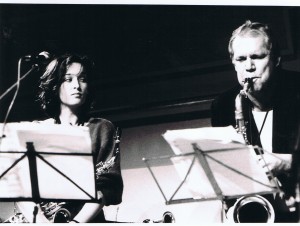 RADIO PLAY MUSIC
2003/2004: 4 compositions for stories by Toon Tellegen, for childrens Radio show 'Oren Wassen' (VPRO). Krekels Gevoel:
FILMMUSIC
2002: VARA TV, music for dramaproduction "Lucht"
1992/93 music for 6 dramafilms, VPRO-TV:
DE SNOBIST; DE STERKE STAM; DE LAATSTE HELD; DE WIJDE BLIK; ZIJN MET EEN DOEL;DE EGMOND – VARIATIES:
1990 HET FOXHOLEFFEKT, VPRO- TV:
1989 BRAINDRAIN, VPRO -TV
1988 DE TONG VAN DE WET, VPRO -TV
MUSIC THEATRE
engaged as a composer and a performing musician in:
2000 Het Mes, by Toneelgroep Wederzijds
1997 CLIP, music theatre for children
1997 PHÈDRE, Theater van het Oosten
1995 HEB JE MIJN KLEINE JONGEN NIET GEZIEN?, music theatre for children by St. Hussaarts & van Lohuizen
1994 ANDROMACHE, Theater De Engelenbak
1990  HET LEVEN VAN GALILEI, Zuidelijk Toneel
1988 KASSANDRA, Southern Comfort
1985 DANTONS DOOD, Toneelgroep BAAL:
1983 GEEN MAN MAAR EEN WOLK IN BROEK, BAAL
THE MUZ  (4 productions ao DE WEDSTRIJD with Martin van Duynhoven Percussie Ensemble)
JAZZ & IMPROV
VINGERHOEDS, VAN BINSBERGEN, NIKS & KOOL:
Arend Niks Projekt (1998)
VERA VINGERHOEDS & LAZYBONES, composition assignment NOS Jazz Festival 1989;
VERA VINGERHOEDS 4 en 2; I  COMPANI; VERA VINGERHOEDS 7; Leo Cuypers 7 en 4; Sean Bergin/Vera Vingerhoeds 5 en 2; LIST; Music & Drums, Martin van Duynhoven Dubbelkwartet; Ig Henneman 10-tet
COMPOSITIONS CONTEMPORARY MUSIC
1996 COLUMBIA en GEEST UIT DE FLES,
2 compositions for voor dance organ The Busy Drone (Stedelijk Museum, Amsterdam)
1987 PRICK UP YOUR EARS, composition assignment Muziekgroep De Ereprijs
1984 SISAFITZ, composition assignment Festival Nieuwe Muziek Zeeland for harpsichordist claveciniste Elisabeth Cheojnacka & jazzquartet
Compositions for several TV broadcasting companies
POP 
GIRLS WANNA HAVE FUN, 8 Dutch popvocalists & band (1995 – 1999)
5 SLAG 1 WIJD; pop, jazz, funk (1984-1988):
F.C. GERANIA, women in pop (1981-1984)
SALSA
Trio Mojito, a capella close harmony salsa for 3 alto voices (2019-present)
Corito, a capella close harmony salsa, led by Titia Bal (2018-present)
El Coro, salsa choir led by Titia Bal (2012- 2019)
LETICIA Y SU RUMBADAMA  (v.h. Perfume de Salsa) 1996 – 1999)
SALJUCO o.l.v. Edsel Juliet (1982-1984)
PERFORMING MUSICIAN
The Mockingbirds, a capella close harmony jazz & pop, led by Sanne Huijbregts (2021 – present)
AMSTERDAMSE BLAAS KOMPAGNIE ; ASKO; SAXO QUARTETTO PANICO
Close-harmonygroep Pico en de Bella's;
Several street orchestra's; leader workshops and masterclasses
DISCOGRAPHY
CLIP, music from the theatre show 1997
GLUTEUS MAXIMUS; I COMPANI; BV HAAST 1997
I COMPANI plays NINO ROTA, BV HAAST, 1995
WALL WORKS; VINGERHOEDS, VAN BINSBERGEN, NIKS & KOOL, BV HAAST, 1994
SOGNI d'ORO; I COMPANI, BV HAAST, 1994
DICKINSON; Ig Henneman 10-tet, WIG 02, 1993
VERA VINGERHOEDS & LAZYBONES LIVE; BHAAST,1992
LUNA TRISTE; I COMPANI, BV HAAST, 1990
NEXT; VERA VINGERHOEDS 4, BV HAAST, 1988
ECCO; I COMPANI, BV HAAST, 1988
GRAND PARADE;HENK HOFSTEDE 1987
ZET 'EM OP; 5 SLAG 1 WIJD, Ice Cold Music, 1987
5 HIT 1 MISS; 5 SLAG 1 WIJD, Flat 5, 1986
GET THE KNACK; F.C. GERANIA, 1984