Straight ahead jazz van hoog niveau
Het Northsea Jazz Festival 2014 vindt plaats op 11, 12 en 13 juli in Ahoy, Rotterdam. In aanloop daar naar toe is hier een serie blogs gewijd aan verschillende artiesten die dit jaar op NSJ spelen. De keuze van de bands & musici in deze serie blogs is zuiver ingegeven door persoonlijke interesse en nieuwsgierigheid.

Christian McBride speelt naar eigen zeggen 'people music', muziek waarmee hij zoveel mogelijk mensen direct wil raken. Zijn spel klinkt altijd krachtig, zowel in zijn solo's als in de rotsvaste begeleiding. Hij speelt virtuoos en straalt daarbij veel plezier uit. Dit zijn goede redenen geweest waarom hij vijf jaar achter elkaar werd gekozen als beste bassist in de toonaangevende Downbeat Critics (in 2013 voor het laatst).
Christian McBride is dit jaar Artist in Residence op het NSJF omdat hij geldt als een van de steunpilaren in de hedendaagse jazz. Hij speelde de afgelopen twintig jaar regelmatig op North Sea Jazz, maar slechts één keer met zijn eigen groep. Als een van de beste en meest gevraagde bassisten was hij altijd op pad met musici als Chick Corea, Herbie Hancock, Chaka Khan, The Roots en Sting. Van jazzlegendes als Sonny Rollins en Pat Metheny tot popsterren als James Brown en The Roots; Christian McBride ondersteunde ze op contrabas en basgitaar.
Op vrijdag (Hudson 00:00) speelt hij straight-ahead jazz van het hoogste niveau met zijn kwintet Inside Straight, met daarin het veelbelovende talent Warren Wolf (vibrafoon).

McBride heeft in de VS een eigen radioprogramma, The Lowdown: Conversations With Christian McBride, waarin hij gesprekken voert met musici van zijn keuze. Op het festival voert hij dergelijke gesprekken ook; zij worden elke dag afgesloten met een klein duo-optreden.
Op zaterdag treedt hij op met zijn big band: Darling 19:30

Op zondag (Hudson 22:00) treedt McBride op met zijn trio, met Rodney Green op drums in plaats van Ulysses Owens Jr. Wederom straight-ahead jazz. McBride brengt jonge musici de kunst bij van het échte jazz spelen in de praktijk door ze onder zijn hoede te nemen en hen in zijn bands langzaam te laten groeien. Dat doet hij bijvoorbeeld in zijn trio  met de veelbelovende jonge talenten Christian Sands op piano en Ulysses Owens Jr. op drums. Daarmee zet hij een traditie voort waarmee hele generaties jazzmusici het vak leerden; zelf speelde McBride als 17-jarige bassist in de band van Bobby Watson.
Toen hij zelf jong was: Blue Monk met 3 bassisten. leuk!

ENGLISH VERSION
straight ahead jazz at the highest level
Christian McBride plays (in his own words) makes 'people music', music he wants to touch as many people as possible. His playing always sounds strong, both in his solos as in his rock-solid accompaniment. He plays virtuoso and radiates a sense of pleasure. These have been good reasons why he was consecutively selected as the best bassist in the leading Downbeat Critics for five years in a row (in 2013 for the last time).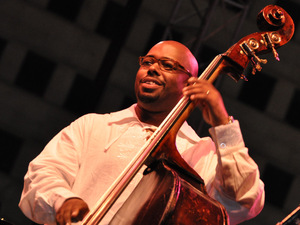 Christian McBride is Artist in Residence at the NSJF this year because he is one of the mainstays in contemporary jazz. In the past two years he played regularly at North Sea Jazz, but only once with his own group. As one of the best bass players he was always out there with musicians such as Chick Corea, Herbie Hancock, Chaka Khan, The Roots and Sting. From jazz legends like Sonny Rollins and Pat Metheny to pop stars like James Brown and The Roots; Christian McBride accompanied them on bass and bass guitar .
On Friday (Hudson 00:00), he wil be playing straight-ahead jazz of the highest level with his quintet Inside Straight, containing the promising talent Warren Wolf on vibes. 
McBride has his own radio show in the US:'The Lowdown : Conversations With Christian McBride', where he conducts interviews with musicians of his choice. At the festival, he will also have such conversations at the end of which there will be with a small duo performance every day.
On Saturday, he performs with his big band: Darling 19:30
On Sunday (Hudson 22:00) McBride will perform with his trio, with Rodney Green on drums instead of Ulysses Owens Jr.. Again, straight-ahead jazz. McBride gives young musicians the opportunity to learn how to play jazz in real life  by taking them under his wing and giving them the chance to grow slowly. He does in his trio for example with the promising young talents Christian Sands on piano and Ulysses Owens Jr. on drums. Thus he continues a tradition in which generations of jazz musicians learned the profession; McBride himself played as a 17 -year-old bass player in the band of Bobby Watson.