Scroll down for English version
Gypsy Jazz
Dutch jazz-icoon Benjamin Herman waagt zich aan de gypsy jazz met het trio van meestergitarist Robin Nolan.
Benjamin Herman is echt 100% muzikant: spelen, spelen, spelen – dat is wat hij het liefste doet.
Of het nou in grote concertzalen is, in clubs of in kleine cafeetjes: als er maar gespeeld kan worden. 
Met New Cool Collective, met zijn kwartet; met zanger Daniel von Piekartz of gastoptredens bij Typhoon. Etcetera etcetera. 
Sinds vorig jaar werkt hij samen met gitarist Robin Nolan en dat betekent 'gypsy swing'. Die muziek stelt andere eisen dan hij gewend was, dus daarvoor moest hij heel wat oefenen, want: "Ik moest opnieuw leren improviseren. De timing is niet zo lui als in de jazz. Hier moet ik echt óp de beat spelen. En ook geen aparte jazznoten spelen, want die passen niet in deze muziek"
Eind vorig jaar brachten ze samen een EP uit: Swing De Paris.
 Akoestische songs in de stijl van Django Reinhardt en Stéphane Grappelli en hun legendarische Hot Club de France Quintette.
De plaat overtuigt, en ook live overtuigen ze, zoals bijvoorbeeld op het Northsea Jazz Festival afgelopen zomer.
Benjamin Herman – sax, Robin Nolan, Kevin Nolan – gitaar, Arnoud van den Berg – bas
Bimhuis 2-12-2016
Gitarist Robin Nolan werd geboren in Vietnam en trok vervolgens met zijn ouders de wereld over.
In Hongkong liet zijn vader hem kennismaken met de gitaar; daarna kreeg hij nog een opleiding in Londen.
Nolan reist veel de wereld rond met zijn gitaar over zijn schouder, maar Amsterdam is zijn thuisbasis. Overal wordt hij gezien als een autoriteit op het gebied van gypsy jazz. Hij was goed bevriend met George Harrison en speelde regelmatig met Bill Wyman. In zijn trio speelt hij met broer Kevin Nolan op gitaar en Arnoud van den Berg op bas.
Nolan leerde eerst traditionele jazz spelen. Maar tijdens een reis in 1991 naar het jaarlijkse Django Reinhardt Festival (in Frankrijk) met zijn vader werd zijn kijk op muziek voor altijd veranderd.
"Ik werd gewoon omver geblazen door de muziek en ook door hoe iedereen buiten rond kampvuren gitaar zat te spelen. Ik viel als een blok voor die romantiek," legt hij uit. "Terug in Londen begon ik ook met gypsy jazz."
Nu bleek de zigeuner lifestyle niet iets dat in het Londen van de vroege jaren '90 goed aansloeg.
Nolan moest vechten om plekken te vinden waar hij op straat kon spelen; zonder te worden weggestuurd door de politie. Uiteindelijk vertrok hij naar Amsterdam, waar op dat gebied een
liberaler klimaat heerste.
 Inmiddels is hij een van de belangrijkste vertolkers van gypsy jazz sinds Django Reinhardt.
Met de amerikaanse mandoline speler David Grisma

Benjamin Herman speelt sax vanaf zijn 12e; een jaar later stond hij al op het podium. Hij werd bekend met zijn New Cool Collective, maar speelt ook veel met een eigen trio of kwartet. Daarnaast werkte hij met de meest uiteenlopende musici, van Misha Mengelberg tot Candy Dulfer.
Hij kruidt zijn jazz graag met surf, punk, afrobeat, en maakt er op die manier 'dance floor jazz' van.
Aan de andere kant verdiepte hij zich ook in het repertoire van jazzcomponisten als Thelonious Monk, Jackie Byard en Misha Mengelberg.
Benjamin Herman is enorm produktief, bracht vele CD en vinyl uit; tourde over de hele wereld.
Ook kreeg hij meerdere malen een Edison en won hij de VPRO/Boy Edgar Prijs in 2005.
Bovendien werd hij  in 2008 door Esquire uitverkozen tot 'Best Geklede Nederlander"!
ENGLISH
Gypsy Jazz
Dutch jazz icon Benjamin Herman ventures to the gypsy jazz with the trio of master guitarist Robin Nolan.

Benjamin Herman is really a 100% musician: play, play, play – that's what he loves most. In large concert halls, clubs or in small cafes: anything as long as he can play music. With New Cool Collective, with his quartet; with singer Daniel von Piekartz or in a guest appearance with Typhoon. Etcetera etcetera. 
Since last year he has been working with guitarist Robin Nolan, which means "gypsy swing". 
That music has different requirements than he was used to, so he had to practice a lot, because: "I had to learn how to improvise again. The timing is not as layback as in jazz. I really have to play ón the beat. And no weird jazznotes, because they just don't fit in this music".
Late last year they released an EP: Swing De Paris. Acoustic songs in the style of Django Reinhardt and Stéphane Grappelli and their legendary Hot Club de France Quintet.
The album is convincing, and they convince live too, for instance at the North Sea Jazz Festival last summer.
Benjamin Herman – sax, Robin Nolan, Kevin Nolan – guitar, Arnoud van den Berg – bass 
Bimhuis 2-12-2016
Guitarist Robin Nolan was born in Vietnam and then traveled over the world with his parents.
In Hong Kong, his father introduced him to the guitar. Lsrter on he got a degree in London.
Nolan travels extensively around the world with his guitar over his shoulder, but Amsterdam is his home base. Everywhere he is considered an authority in the field of gypsy jazz. He was good friends with George Harrison and played regularly with Bill Wyman. In his trio he plays with brother Kevin Nolan on guitar and Arnoud van den Berg on bass.
Nolan first learned to play traditional jazz. But during a trip in 1991 to the annual Django Reinhardt Festival (France) with his father his view of music changed forever.
"I was just blown away by the music and by how everyone was playing guitar out around campfires. I fell in love with the romance," he explains. "Back in London I started to play gypsy jazz."
Now the gypsy lifestyle was not something that was valued very much in London in the early 90s. Nolan had to fight to find places where he could play in the streets; without being sent away by the police. Eventually he moved to Amsterdam, where a more permissive environment prevailed at that time. Now he is one of the main exponents of gypsy jazz since Django Reinhardt.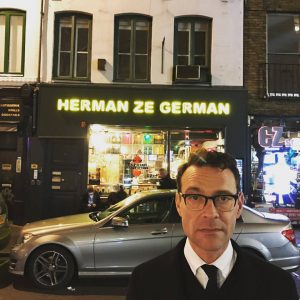 (photo Cathelijne Beijn)
Benjamin Herman started playing sax at 12; a year later he was already plahyinbg on stage.
He became famous with his New Cool Collective, but also plays a lot with his own trio or quartet.
In addition, he worked with a wide variety of musicians, from Misha Mengelberg to Candy Dulfer.
He flavors his jazz with surf, punk, afrobeat, and makes it 'dance floor jazz that way. On the other hand, he also delved into the repertoire of jazz composers Thelonious Monk, Jackie Byard and Misha Mengelberg.
Benjamin Herman is very productive, released many CD's and vinyl; is touring worldwide.
He received an Edison several times and he won the VPRO/Boy Edgar Award in 2005.
And last but not least he was chosen 'Best Dressed Dutchman " by Esquire in 2008!