Identikit: free-indie-jazz-rock?
Gitarist Marzio Scholten brengt deze week een eerste CD uit van zijn nieuwste groep Identikit: Garage Moi. Identikit is een kwintet dat – naar eigen zeggen –  moderne jazz combineert met indie-rock en een klein beetje avant-garde. Maar ook de term (free)jazzrock is er wel op van toepassing.
https://soundcloud.com/marzioscholten/garage-moi
De sound is stevig; de saxen passen heel goed bij elkaar, en de beide saxofonisten spelen (solistisch) véél noten. De stukken zijn 'modern complex'; er wordt gedreven gespeeld – niet in de laatste plaats door de ritmesektie. Scholten zelf brengt met zijn gitaar (het enige akkoord-instrument in de band) als het ware de 'kit' aan tussen de 'identi's' van de 5 musici.
Mijn favoriete twee stukken van de plaat zijn: Contragamma en The Architect I. Nog niet te vinden op Soundcloud! Maar misschien komt dat nog…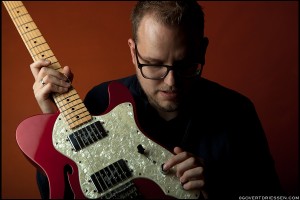 De band concentreert zich op het collectief (bijvoorbeeld het groepsgeluid) en de composities, en niet zozeer op individuele solisten. Het is vergelijkbaar met de aanpak van pop- en rockbands. Maar de groep, het samenspel, improvisatie en de ritmische drive zijn toch onmiskenbaar geworteld in de jazz, net als de individuele bandleden.
Lars Dietrich – altsax; Jasper Blom – tenorsax; Marzio Scholten – gitaar; Sean Fasciani – bas en Kristijan Krajncan op drums.
https://soundcloud.com/marzioscholten/we-are-all-bankers
English Version
Guitarist Marzio Scholten released the first CD of his latest group Identikit: Garage Moi
A quintet that combines modern jazz with indie-rock (and a little avant – garde) – in their own words . I also think of it as (free) jazzrock .
The sound is solid, the saxes fit very well together, and the two saxophonists play (yet also solo) a whole lot of notes. The pieces are 'modern complex'; the band plays with a real 'drive', especially the rhythm section  Scholten itself brings with his guitar (the only chord-instrument in the band ), as it were the glue (in Dutch 'kit') in between the 'identities ' of the 5 musicians.
The band concentrates on the collective (ensemble textures and group sound) and songs, rather than on individual soloists, similar to pop and rock bands. But the band's interplay, improvisation and rhythmic drive are unmistakably rooted in jazz, as are the individual band members.
Lars Dietrich – alto sax , Jasper Blom – tenor sax ; Marzio Scholten – guitar , Sean Fasciani – bass and Kristijan Krajncan – drums .