Intieme kamerjazz met subtiele interactie
Ongeveer een maand geleden kreeg ik een mail van altsaxofonist Ben Sluijs, met wat informatie over op handen zijnde concerten in België van zijn 3/4 Peace-trio en de vraag of ik daar wat aandacht aan kon besteden. Het trio speelt – voor zover ik weet – niet in Nederland dit najaar. 
Toch wil ik er hier een blog aan wijden, want Ben stuurde me ook muziek mee van de CD van dit trio 
 (3/4 Peace, W.E.R.F records). En die is mooi!!
Kamerjazz in de ware betekenis van het woord: mooie muziek, subtiel spel, intiem, beheerst, sferisch, rust uitstralend.
Het zijn de handelsmerken van Ben Sluijs en de musici waarmee hij speelt.
 Eigen werk, standards en vrije improvisaties in een vooral rustige sfeer, met soms ook wat energieke uithalen. Subtiele interactie en een bijzondere groepskleur typeert dit drumloos trio.
Het "3/4 Peace" trio bestaat uit de Franse bassist Brice Soniano, de Peruviaanse-Belg Christian Mendoza op piano en Ben Sluijs op altsax en fluit.
"Sluijs hanteert een romige klank waar net een beetje ruis op zit, het soort geluid waarmee al cd's vol behangjazz zijn volgespeeld. Zijn melodische vindingrijkheid en vooral de nuances in zijn spel verheffen hem echter ver boven eender welk muzikaal decor. Zonder in extremen te vervallen, speelt hij een even aanlokkelijk als vervaarlijk spel met dynamiek dat uitblinkt in balans en finesse" schreef Koen van Meel in een lang artikel over hem in 2011 (klik hier)
De belgische altsaxofonist/fluitist Ben Sluijs (1967) kreeg eerst een klassieke saxofoonopleiding aan de Vilvoordse muziekacademie. Nadat hij zijn klassieke opleiding voltooid had, begon hij een een 4-jarige opleiding aan de Jazzstudio in Antwerpen, waar hij les kreeg van John Ruocco. Na nog 1 extra jaar aan het conservatorium te Brussel – bij Steve Houben – studeerde Ben af aan het conservatorium van Tilburg als "docerend-uitvoerend musicus". In 2004 trok hij naar de VS voor lessen met saxofonist David Liebman.
Ben geeft inmiddels zelf les aan het conservatorium en de muziekacademie van Antwerpen.
 Hij heeft ook een jazztrio in de meer klassieke bezetting met sax-bas-drums. Verder een duo met pianist Erik Vermeulen en een quintet onder de naam The Unplayables (!).
Hij speelde bij veel groepen, waaronder: Octurn, BRT Big Band, Brussels Jazz-Orchestra, Myriam Alter Quintet, Ivan Paduart Septet en speelde (speelt) verder met o.a.: Philip Catherine en Toots Thielemans.
https://soundcloud.com/bensluijs/truth-is-a-dangerous-matter-b
English Version
Ben Sluijs : intimate chamber jazz with subtle interaction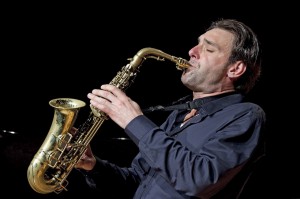 About a month ago I received an email from alto saxophonist Ben Sluijs, with some information about upcoming concerts in Belgium are 3/4 PEACE trio and the question whether I could pay some attention. The trio is not playing in the Netherlands this fall – as far as I know. Yet, I want to dedicate a blog to it , because Ben also sent me with music of the CD of this trio (3/4 Peace, W.E.R.F records). And beautiful that is!
Chamber Jazz in the true sense of the word: beautiful music, subtle playing, intimate.
These are the trademarks of Ben Sluijs and the musicians with whom he plays. Pieces of Sluijs as well as standards and free improvisations in a particularly quiet atmosphere, with some energetic passages as well. Subtle interaction and special group color and sound characterizes this drumless trio .
The " 3/4 Peace " trio consists of the French bassist Brice Soniano , the Peruvian – Belgian Christian Mendoza on piano and Ben Sluijs on alto saxophone and flute .
" Sluijs uses a creamy tone with just a little noise on it , the kind of sound you can hear  a lot in  background music.
But his melodic inventiveness and especially the nuances in his game make him rise far above that. Without falling into extremes he plays an equally alluring as frightfully game with dynamics that excels in balance and finesse " , Koen van Meel wrote in a long article about him in 2011.

The Belgian alto saxophonist/flutist Ben Sluijs (1967) first received a classical education on the saxophone at the Music Academy in Vilvoorde. After he completed that, he began a four – year course at the Jazz Studio in Antwerp , where he was taught by John Ruocco . After one additional year at the conservatory in Brussels – with Steve Houben – Ben graduated from the Conservatory of Tilburg as "Teacher – performer " . In 2004 he moved to the U.S. for extra lessons with saxophonist David Liebman . Ben now teaches at the Conservatory and the Music Academy of Antwerp himself. He also has a jazz trio in the more classic line with sax – bass – drums . Furthermore, a duo with pianist Erik Vermeulen and a quintet called The Unplayables ( ! ) . He played with many groups, including : Octurn , BRT Big Band , Brussels Jazz Orchestra , Myriam Alter Quintet , Ivan Paduart Septet and also played/plays with a.o. Philip Catherine and Toots Thielemans .
foto above: Cees van der Ven