Onbekende soundcapes? Ontregelende ambient? Vervreemdende muziek? Rustgevende klanklandschappen?
Het is het allemaal: Money for Your Whale van Robert van Heumen en Albert van Veenendaal,
Money for Your Whale is een project van Robert van Heumen en Albert van Veenendaal, waarin een acoustische geprepareerde piano en laptop-elektronica een spannende en wonderbaarlijke ontmoeting aangaan.
Soms in eenheid, dan weer in contrast. Uitgangspunt voor hun composities is een aantal richtinggevende spel- opdrachten die zij zich bij aanvang stellen. Deze uitgangspunten bepalen het karakter van het stuk, maar bieden tegelijkertijd alle vrijheid aan de twee spelers. De uiteindelijke composities worden afgemaakt in de montageruimte.
Onlangs brachten ze een eerste album uit Twelve-Twelve-Twelve, bestaande uit 12 tracks opgenomen op 12 december 2012.
Pianist Albert van Veenendaal noemt zichzelf ook wel 'beeldend musicus', vanwege het epische en filmische karakter van zijn muziek. Improvisatie en compositie gaan bij hem naadloos in elkaar over.
Hij speelt solo-concerten met geprepareerde piano (zie ook verder hieronder), en speelt in vele verschillende groepen, w.o. zijn trio met Yonga Sun en Meinrad Kneer en het Wisselend Toon Kwintet van Corrie van Binsbergen; Spoon 3 + 1 Fork
Hij componeert ook voor en speelt met theater- en dansgezelschappen
Over de geprepareerde piano:
Door voorwerpen, zoals rubbertjes, wasknijpers, schroeven, papier of tape tussen de snaren te steken of op de snaren van de vleugel te leggen wordt de klankkleur van de piano wezenlijk anders. Het instrument wordt hierdoor als het ware een eenpersoons-slagwerkensemble met een grote variatie aan klanken en leent zich uitstekend voor (bijvoorbeeld) percussieve muziek. Maar ook dromerige en lyrische composities en improvisaties komen goed uit de verf. Pionier van de geprepareerde piano was de Amerikaanse componist John Cage die een groot aantal stukken voor het instrument heeft geschreven. In de afgelopen jaren heeft Albert van Veenendaal  zich verschillende speelwijzen eigen gemaakt en technieken ontwikkeld, die hij toepast in composities en improvisaties.
Robert van Heumen is een musicus-componist die met behulp van electronica en een laptop-dynamische electro-acoustische muziek maakt. Live-sampling is zijn belangrijkste instrument. Live opgenomen geluid manipuleert en vertaalt hij ter plekke naar andere klanken.
Ook Van Heumen is voortdurend op zoek naar de perfecte balans tussen vrije improvisatie en gestructureerde muziek. Onder de naam Shackle heeft hij een duo met fluitiste en electronica musicus Anne la Berge
ENGLISH VERSION
Alienating ambient?
Soothing calming soundscapes?
Unknown sounds?
Unsettling disordering music
All of it
Money for Your Whale is Albert van Veenendaal and Robert van Heumen. They perform improvised music with prepared piano and lap top instrument. Recently they released a first album named 'Twelve-Twelve-Twelve': 12 tracks recorded on December 12, 2012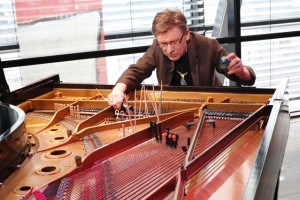 Pianist Albert van Veenendaal refers to himself as 'pictorial musician' because of the epical and cinematic character of his music. Improvisation and composition merge seamlessly with him
He plays solo concerts on the prepared piano (see above), and plays in many different groups, such as his trio with Yonga Sun and Meinrad Kneer; the Wisselend Toon Kwintet with Corrie van Binsbergen, and  Spoon 3 + 1 Fork. He also composes for and plays with theater and dance companies
His fascination for the prepared piano started several years ago by hearing John Cage's Sonata's & Interludes. This astonishing and beautiful music opened up a completely new and unlimited perspective. Cage's music inspired him to start experimenting himself and over the years he developed various ways of altering the sound of the piano by positioning various objects and gadgets on and between the strings, transforming it into some kind of one-person percussion ensemble.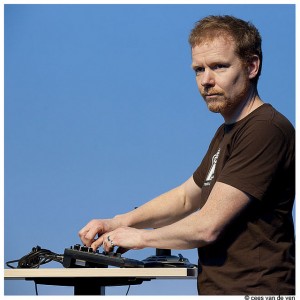 Robert van Heumen is skilled laptop producer and performer. Live sampling is his main instrument. He manipulates and translates live and recorded sound on the spot in different soundscapes.
Van Heumen is constantly looking for the perfect balance between free improvisation and structured music. Under the name Shackle he has a duo with flutist and electronics-musician Anne La Berge