Scroll down for English version
De eerste dansorgelgitarist ter wereld
Het afgelopen jaar kon je gitarist Bram Stadhouders regelmatig voor een heel groot dansorgel zien staan. Op festivals als Cross Linx en Northsea Jazz bijvoorbeeld.
Wat doet een gitarist met een dansorgel? Hij bespeelt het!
Bram Stadhouders bespeelt het enorme orgel via midi via zijn gitaar en laptop, waarmee hij het orgel aanstuurt. Hij is met zijn project de eerste ter wereld ooit die live muziek maakt op een dansorgel en je kunt hem dus met recht 'de eerste dansorgelgitarist ter wereld' noemen.
Bram voelde zich voor dit project gemaakt en ziet het als iets waarop hij zijn leven lang heeft gewacht.
De Rhapsody heet dit grootste mobiele dansorgel ter wereld. 
Bram componeerde voor dit project 8 nieuwe stukken die nu op CD worden uitgebracht: Bram Stadhouders & Big Barrel Organ (Buzz/Challenge Records). 
Het album verschijnt 5 november en wordt gepresenteerd op de festivals So What's Next (5 november in Eindhoven) en November Music (12 november in Den Bosch).
De geschiedenis van het dansorgel gaat terug tot 1850, toen de eerste dansorgels werden gemaakt. Vooral in België en het zuiden van Nederland werd het orgel ongekend populair, eigenlijk als voorloper op de jukebox. In cafés en op kermissen werden de orgels gebruikt om de nieuwste hits te laten horen, ook waren ze vaak te zien in danszalen of balzalen. De dansorgels zijn behalve met orgelpijpen vaak voorzien van extra instrumenten zoals accordeons, percussie en saxofoons. Tussen 1910 en 1930 zijn er duizenden gebouwd, in vrijwel elk café of danszaal was er één te vinden. Maar ja, met de komst van de luidspreker zijn na 1950 bijna al deze orgels in musea of bij verzamelaars beland.
Stadhouders vond dat doodzonde en ging daarom op onderzoek uit. Hij ontdekte dat dansorgel de Rhapsody in een dorpje vlakbij Eindhoven in een loods staat. En dat je door middel van hedendaagse technologie een verbinding kunt maken met het orgel, waardoor je met o.a. midi-gitaar er live op kunt spelen. 

Het Rhapsody-orgel is 7 meter lang en 5 meter hoog, bestaat uit 800 orgelpijpen, 12 percussie-instrumenten, 2 accordeons en weegt meer dan 5 ton.
"Wie er hedendaagse muziek voor componeert, hoort echt nooit eerder gehoorde klanken, een mix tussen traditionele en hedendaagse klanken, de klank van de eerste moderne synthesizer. Hoe je tegenwoordig geluiden kiest op een synthesizer (violen, klarinetten, fluiten, orgel, een hele percussie set) is direct afgeleid van deze voorloper: het draaiorgel", zegt Stadhouders.
Bram Stadhouders is een experimenterend gitarist, die veel met electronica werkt.
Hij wordt beschouwd als een van de meest interessante 'upcoming' improviserende musici van Europa. Zijn muziek zou je experimentele electronische impro-ambient kunnen noemen, waarin atmosferische soundscapes een grote rol spelen, soms minimaal, soms juist heel vol klinkend.
In 2012 kreeg hij een compositie opdracht van het North Sea Jazz Festival. Het werd een groots project met het Nederlands Kamerkoor, ook op deze site in een ander blog gefeatured. HIER
Ook speelt Bram Stadhouders o.a. nog in een impro trio met zangeres Sanne Rambags en drummer Joost Lijbaart.
Daarnaast in duo met gitarist Aart Strootman; in trio OGU met pianist Jeroen van Vliet en slagwerker Etienne Nillesen en met de amerikaanse drummer Jim Black en de noorse zangeres Sidsel Endresen, beiden avantgarde impro-pioniers. Hij deed een project met tenorzanger Sebastian Brouwer en laptopmuzikant David Hoogerheide.
Hij speelde met nog veel meer musici in Nederland, Europa en daarbuiten, o.a. Onno Govaert, Eric Vloeimans, Arve Henriksen, Wolfert Brederode, Gulli Gudmundsson, Theodossi Spassov, Bulgaraars Koor Angelite, Harmen Fraanje, Jeroen van Vliet, Eric van der Westen, Spinvis.
ENGLISH
The first dance organ guitarist in the world

The past year, guitarist Bram Stadhouders could regularly be seen in front of a very big dance organ. Among others at festivals Cross Linx and Northsea Jazz. 
What does a guitarist do with a dance organ? He plays on it!
Bram Stadhouders plays the huge organ through midi through his guitar and laptop, with which he controls the organ. With his project, he is the first in the world to make live music on a dance organ, so you can rightly call him the first dance organ player in the world. 
Bram felt he was made for this project and sees it as something he had been waiting for his life.
This largest mobile dance organ in the world has a name: The Rhapsody. Bram composed 8 new pieces for this project, now released on CD: Bram Stadhouders & Big Barrel Organ (Buzz/Challenge Records). The album will be released November 5th and will be presented at the So What's Next festival (November 5th in Eindhoven) and November Music (November 12th in Den Bosch).
The history of dance organs dates back to 1850, when the first dance organs were made. Especially in Belgium and the south of the Netherlands the organ became very popular, actually as a forerunner to the jukebox. In the cafes and at the venues the organs were used to hear the latest hits, and they were often seen in dance halls or ballrooms. 
In addition to organ pipes, dance organs are often provided with additional instruments such as accordions, percussion and saxophones. There were thousands built between 1910 and 1930, in almost every cafe or dance hall you could find one. 
But, with the arrival of the loudspeaker, almost all of these organs vanished to museums or collectors after 1950.


Guitarist Bram Stadhouders thought that very unfortunate and started research. He discovered dance organ the Rhapsody in a village near Eindhoven in a warehouse. He found out that you can connect to the organ through modern technology, which allows you to play live with, among other things, midi guitar. The Rhapsody organ played by Bram is 7 meters long and 5 meters high, consisting of 800 organ pipes, 12 percussion instruments, 2 accordions and weighing more than 5 tons. 
"Who composes contemporary music really hears new sounds, a mix of traditional and contemporary sounds, the sound of the first modern synthesizer. How to choose sounds today on a synthesizer (violins, clarinet, whistle, organ, whole percussion set) is directly derived from this precursor: the barrel organ, "Stadhouders says.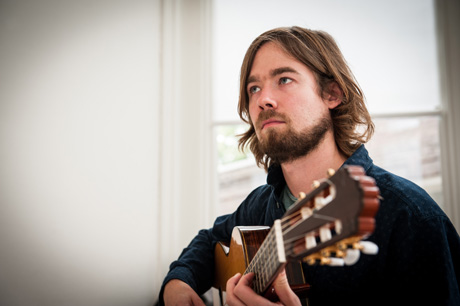 Bram Stadhouders is an experimenting guitarist who works extensively with electronics. He is considered to be one of the most interesting 'upcoming' improv musicians in Europe. His music could be called experimental electronic impro ambient, in which atmospheric soundscapes play a major role, sometimes minimal, sometimes just very full sounding.

In 2012, he received a composition assignment from the North Sea Jazz Festival. It resulted in a big project with the Dutch Chamber Choir, also featured on this site in another blog. HERE
Stadhouders also plays in an improv trio with singer Sanne Rambags and drummer Joost Lijbaart. Furthermore in duo with guitarist Aart Strooman; in trio OGU with pianist Jeroen van Vliet and drummer Etienne Nillesen and with the American drummer Jim Black and the Norwegian singer Sidsel Endresen, both avant-garde improv musicians. He did a project with tenor singer Sebastian Brouwer and laptop musician David Hoogerheide.
He played with many more musicians in the Netherlands, Europe and beyond, including Onno Govaert, Eric Vloeimans, Arve Henriksen, Wolfert Brederode, Gulli Gudmundsson, Theodossi Spassov, Bulgarian Choir Angelite, Harmen Fraanje, Jeroen van Vliet, Eric van der Westen, Spinvis .