Experimentele electronische impro-ambient
Bram Stadhouders is een vrij improviserend gitarist, die veel met electronica werkt. Hij wordt beschouwd als een van de meest interessante 'upcoming' improviserende musici van Europa.  Zijn muziek zou je experimentele electronische impro-ambient kunnen noemen, waarin atmosferische soundscapes een grote rol spelen, soms minimaal, soms juist heel vol klinkend. 
In de lijn van de muziek die we bijvoorbeeld ook kennen van de Noorse trompettist Arve Henriksen. Met gitaar en technologie verkent Stadhouders de grenzen tussen ambient, hedendaagse elektronische muziek en vrije improvisatiemuziek.

Nu krijgt hij carte blanche voor een avondvullend concert in het Bimhuis in Amsterdam op 6 september. Hij komt daar met 2 nieuwe projecten:
Filgamet, een nieuwe compositie voor elektrische nylon ('Godin') gitaar, tenorstem en live elektronica. Gitaar & stem is misschien wel de meest gehoorde combinatie in de popmuziek. Stadhouders wil dit cliché in een nieuw jasje gieten door elektronische manipulatie en vervorming van de gitaar en stem, mysterieuze zanglijnen en vrije improvisatie. De Godin gitaar klinkt als een mix tussen klassiek en versterkt en kan door middel van een MIDI-output ook dienen als synthesizer. Hierdoor klinkt de gitaar soms als piano of pandrum.
Met Bram Stadhouders | gitaar, compositie, Sebastian Brouwer | tenor zang en David Hoogerheide | live elektronica. Brouwer is een klassiek tenorzanger, wiens krachtige stem een mooi contrast vormt met de soms ijle klanken van Bram. Hoogerheide is vooral actief in popbands. Dit project speelt ook nog op 9 november op "November Music Festival" in Den Bosch.
impro van BS met Ousmane Mbengue
Het 2e project is er een van improvisatie/compositie met Afrikaanse percussie, met naast Bram Stadhouders ook de Belgische Wizard on the Fender Rhodes: Jozef Dumoulin; John Dikeman (USA) | Saxofoon, Ousmane Mbengue (Senegal) | Afrikaanse percussie & zang en Mousse Pathe Mbaye (Senegal) | Afrikaanse percussie.
In dit concert zullen veel opzwepende en trance-veroorzakende ritmes te horen zijn, overstemd door scheurende saxofoon, of vervreemd door fender rhodes & effecten, afgewisseld met kabbelende ambient & Afrikaanse zang.
De Belgische Jozef Dumoulin behoeft tegenwoordig weinig introductie meer. Hij deelde het podium met namen als Magic Malik, Aka Moon, Trevor Dunn, Hilmar Jensson, Andrew D'Angelo, Joseph Bowie, Nelson Veras, Marc Ducret.  Over Dumoulin is op deze site ook een blog te vinden: KLIK HIER

John Dikeman is heel actief in de Amsterdamse improscène. Hij speelt veel met Cactus Truck, en deelde laatst het podium met legendes William Parker en Hamid Drake.Bram Stadhouders won op 8- en 9-jarige leeftijd al concoursen voor klassieke gitaar. Hij kreeg in 2012 op 25-jarige leeftijd de compositie-opdracht van het Northsea Jazz Festival, en besteedde die aan een project met het Nederlands Kamerkoor en impro-trio met de titel Henosis, ('eenheid'). De muziek is een complex geheel van over elkaar heen liggende vocale lagen en ritmes, resulterend in een soms bombastische soundwall, met onderwatergeluiden van de gitaar, dreigende drums, kabbelende soundscapes.

Ook speelt Bram Stadhouders o.a. nog in trio OGU, met pianist Jeroen van Vliet en slagwerker Etienne Nillesen en met de amerikaanse drummer Jim Black en de noorse zangeres Sidsel Endresen, beiden avantgarde impro-pioniers. (zie video hierboven). Hij speelde met  nog veel meer musici in Nederland, Europa en daarbuiten, o.a. Onno Govaert, Eric Vloeimans, Arve Henriksen, Wolfert Brederode, Gulli Gudmundsson,, Theodossi Spassov, Bulgaraars Koor Angelite, Harmen Fraanje, Jeroen van Vliet, Eric van der Westen, Spinvis.
Hieronder met de Mongoolse zangeres Urna

BS en klassiek gitarist Aart Strootman
ENGLISH VERSION
Carte blanche for avantgarde guitarist Bram Stadhouders: experimental electronic improv-ambient


Stadhouders is an improvising guitarist, who often works with electronics. He is considered one of the most interesting upcoming improvising musicians in Europe. You might say his music is a kind of experimental electronic improv-ambient, in which atmospheric soundscapes play a major role, sometimes minimal, sometimes very rich sounding. Like, for example, the Norwegian trumpeter Arve Henriksen. With guitar and technology Stadhouders explores the boundaries between ambient, contemporary electronic music and free improvised jazz. 
Now Stadhouders has carte blanche for a concertevening at the Bimhuis in Amsterdam on the 6th of September. He wil bring two new projects:
Filgamet, a new composition for electric nylon ('Goddess') guitar, tenor voice and live electronics. Guitar & voice is perhaps the most common combination in pop music. Stadhouders wants to pour this cliché in a new look through electronic manipulation and distortion of the guitar and voice, mysterious melodies and free improvisation. The 'Goddess' guitar will sound like a mix between classic and amplified and through a MIDI output will also serve as a synthesizer. This will make the guitar sound like a piano or pandrum sometimes.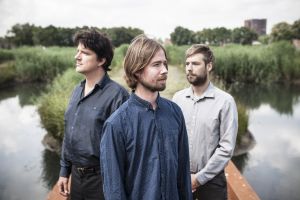 Bram Stadhouders | guitar, composition, Sebastian Brouwer | tenor vocals and David Hoogerheide | live electronics. Brouwer is a classic tenor vocalisst, whose powerful voice makes a nice contrast with the sometimes ethereal sounds of Bram. Hoogerheide is mainly active in pop bands. 
This project also can be heard on the 9th of November on "November Music Festival" in Den Bosch. 

The 2nd project is one of improvisation / composition with African percussion. Next to Bram Stadhouders there will be the Belgian Wizard on the Fender Rhodes: Jozef Dumoulin; John Dikeman (USA) | Saxophone, Ousmane Mbengue (Senegal) | African percussion & vocals and Mousse Pathe Mbaye (Senegal) | African drumming
In this concert many uplifting and trance-inducing rhythms will be heard, drowned by ripping saxophone, or alienated by fender rhodes & effects, interspersed with rippling ambient & African vocals.
The Belgian Jozef Dumoulin needs little introduction. He shared the stage with names like Magic Malik, Aka Moon, Trevor Dunn, Hilmar Jensson, Andrew D'Angelo, Joseph Bowie, Nelson Veras, Marc Ducret. Dumoulin is on this site as a blog to find: …..
John Dikeman is very active in the Amsterdam improv scene. He plays a lot with Cactus Truck, and shared the stage with last legends William Parker and Hamid Drake.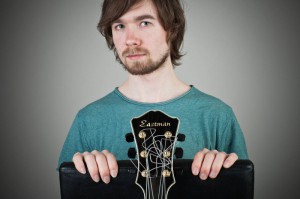 Bram Stadhouders won several competitions for classical guitar at the age of 8 and 9 years. In 2012, at the age of 25, He received the composition assigment commissioned by the North Sea Jazz Festival which resulted in project Henosis ('unit') with the Dutch Chamber Choir and improv trio. The music is a complex set of overlapping vocal layers and rhythms, resulting in a sometimes bombastic sound wall with underwater sounds of the guitar, menacing drums, rippling soundscapes. Bram Stadhouders plays ao in OGU trio with pianist Jeroen van Vliet and percussionist Etienne Nillesen, and with the American drummer Jim Black and singer Sidsel Endresen norwegian, both avantgarde improv pioneers. Next to this he played with a lot of musicians in the Netherlands, Europe and beyond, including Onno Govaert, Eric Vloeimans, Arve Henriksen, Wolfert Brederode, Gulli Gudmundsson, Theodossi Spassov, Bulgarian choir Angelite, Harmen Fraanje, Jeroen van Vliet, Eric van der Westen, Spinvis.