Jonge vindingrijke pianist met raffinement
Bobby Avey is een jonge amerikaanse pianist, die al een paar jaar flink aan de weg timmert en is opgevallen als fris talent. De New Yorker betitelde hem als 'a young pianist of invention and refinement'.  Zijn album Authority Melts From Me, dat eerder dit jaar verscheen, wordt hoog geprezen. Haïtiaanse percussiemuziek vormde de grote inspiratiebron voor de gelijknamige suite, een ode aan de veelbewogen geschiedenis van Haïti. Opzwepende ritmes, ontleend aan voodoo-rituelen, worden uitgevoerd door een all-starband met grote namen uit de hedendaagse jazz.
Miguel Zenón altsax, Ben Monder gitaar, Bobby Avey piano, Michael Janisch bas, Jordan Perlson drums
Hij speelt in zijn tournee maar 1 keer in Nederland: Bimhuis, 3 december 2014

Bobby Avey, die momenteel naam maakt in de band van saxofonist Dave Liebman, won in 2011 de prestigieuze Thelonious Monk International Jazz Composers Competition. In zijn composities benadrukt hij de culturele diversiteit van jazz en het samenkomen van verschillende tradities in de Amerikaanse muziek.

In 2011 kreeg Avey een beurs die hem in staat stelde om naar Haïti te reizen om in een klein dorp een Voodoo ceremonie op te nemen. Avey selecteerde muziek van twee Voodoo drum-ensembles. een tijd lang dompelde hij zich erin onder, maakte transcripties en analyses, en componeerde daarna een suite met concepten en ritmes van die twee drum-ensembles. Het resultaat werd Authority Melts From Me. De 1 uur durende suite is een hommage aan de Haïtiaanse Revolutie en ging in première in november 2012. Avey wil hiermee  zijn respect betuitgen aan de Haïtiaanse bevolking, die hebben volhard in een tragische geschiedenis van kolonialisme, slavernij en buitenlandse bezetting. In 1804 leidde een slavenopstand tot onafhankelijkheid van koloniale bezetter Frankrijk.
In 2010 bracht Avey het album A New Face uit. Hier combineert hij ritmes geïnspireerd door muzikale tradities van over de hele wereld met harmonieën uit de moderne klassieke muziek, samen met zijn hechte trio met bassist Thomson Kneeland en drummer Jordan Perlson. David Liebman speelt mee op vier tracks.
 HIER kun je deze plaat beluisteren.
In 2013 bracht Avey zijn eerste solo piano album uit (Be Not So Long To Speak) met originals, improvisaties, en eigen versies van Hoagy Carmichael's Stardust en Quincy Jones 'PYT.  
Avey speelt inmiddels ook in de David Liebman groep.

ENGLISH
'A young pianist of invention and refinement'
Young American pianist Bobby Avey has been noticed as a new bright talent. The New Yorker called him 'a young pianist of invention and refinement'.  His album Authority Melts From Me, released earlier this year, has been praised highly. Exciting rhythms, inspired by voodoo rituals, are performed with passion by a true all star band with musicians from the contemporary jazzscene.
Miguel Zenón altosax, Ben Monder guitar, Bobby Avey piano, Michael Janisch bass, Jordan Perlson drums
Next to a bunch of concerts in the UK, his quintet plays only once in The Netherlands: Bimhuis, 3 december 2014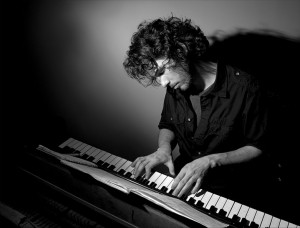 Bobby Avey, who's making name in Dave Liebman's band, won the prestigious Thelonious Monk International Jazz Composers Competition in 2011. In his compositions he emphasizes the cultural diversity of jazz and the coming together of different traditions in American music.
In 2011 Avey received a grant that enabled him to travel to Haiti to record a Voodoo Ceremony in a small village. Avey selected music from two Voodoo drumming ensembles. After a period of immersion, transcription and analysis, he composed a suite of music using rhythms and concepts found in these two drumming ensembles. The result is Authority Melts From Me. The hour-long suite pays homage to the Haitian Revolution and was premiered and recorded in November 2012.  
With this Avey wants to pay respect for the Haitian people, who have persevered through a tragic history of colonialism, slavery, and foreign occupation. This suite focuses particularly on Haiti's slave revolt which led to Haiti's declaration of independence from its colonial master, France, in 1804.
In 2010 Avey released the album A New Face. Here Avey combines rhythms inspired by musical traditions throughout the world with harmonies from modern classical music, together with his tightly connected trio featuring bassist Thomson Kneeland and drummer Jordan Perlson, as well as saxophone legend David Liebman on four tracks.You can listen to it HERE.
Additionally Avey released his first solo piano album (Be Not So Long To Speak, in April 2013) with originals, improvisations, as well as renditions of Hoagy Carmichael's Stardust and Quincy Jones' P.Y.T.
Avey also plays in the David Liebman group.