Virtuoze wereldjazz op contrabas
Renaud Garcia-Fons is een hele atypische bassist: hij voorzag zijn contrabas van een 5e (hoge) snaar, en strijkt daarop loepzuiver de mooiste melodieën. Maar hij gebruikt zijn instrument ook als percussie-instrument. Een muzikale wereldreiziger: zijn muziek 'reist' langs flamenco, barok, jazz, Oosterse, zigeuner en klassieke muziek.
Deze maand is hij artist in residence van de 5e Flamenco Biënnale.

Op een van zijn muzikale reizen ontmoette hij Derya Türkan – virtuoos op het Turkse snaarinstrument vedel – met wie hij in in 2006 de klassieke Ottomaanse hofmuziek bewerkte voor strijkduo. Ze maakten in 2014 een album: Silk Moon. Originele composities gevoed door oosterse en Zuid-Europese invloeden, en geïnspireerd op de zangtraditie van de oosterse maqam en de Andalusische cante jondo.
29-1 TivoliVredenburg: documentaire, daarna Concert Linea del Sur
31-1 Bimhuis Amsterdam: documentaire, daarna concert RGF met Derya Türkan.


Op die avonden is eerst een documentaire over Garcia Fons te zien, gevolgd door een concert .

Tijdens het festival geeft hij masterclasses op het Codarts Rotterdam, Amsterdams Conservatorium en het Koninklijk Conservatorium Den Haag.
Renaud Garcia-Fons (1962) komt uit Parijs; zijn ouders kwamen uit Catalonië (Noord-Oost Spanje). Hij begon op zijn 5e met piano en klassiek gitaar. Op zijn 21e werd hij al 'professor' contrabas. Tien jaar daarna liet hij een 5e snaar aan zijn contrabas toevoegen, waardoor hij opeens veel melodischer kon gaan spelen, vergelijkbaar met een cello of zelfs een altviool. Hij wilde meer deel uit kunnen maken van de improviserende stemmen in een ensemble en niet zozeer alleen een begeleidend instrument zijn. Hij perfectioneerde zich in con arco-spel (met strijkstok) en pizzicato (plukken). "Paganini van de contrabas" werd een bijnaam van hem.
Francois Rabbath was zijn belangrijkste docent.

De bands en projecten waar Renaud Garcia Fons op dit moment aktief in is bevatten veel flamenco, gypsy, mediterrane, en midden-oosten muziek, maar hij opereert ook met een trio 'Revoir Paris, met accordeon en drums samen. Ook speelt hij barok, en geeft hij vaak solo-concerten.
 Altijd in een soort crossover van traditioneel en nieuw. Met ruimte voor jazzinvloeden, maar ook invloeden uit klassiek, Indiase muziek etc.
Linea del Sur

Mix van Mediterrane muziek, flamenco, Latijns Amerikaans en jazz.

Garcia-Fons & Dorantes 

Duo met Andalusische gypsy-musicus Dorantes op piano. Dorantes gebruikt de piano voor muziek waarin de gitaar altijd ht traditionele instrument was, en verbindt flamenco ook met jazz.
Hier samen met de Bulgaarse fluitist Theodosii Spasov

RGF speelde jazz o.a. bij het orkest van trompettist Roger Guérin; maakte deel uit van het Franse Orkest van Contrabassen (met inderdaad alléén maar contrabassen); bracht verschillende albums uit op het label EnjaRecords, zowel solo als met zijn quartet (met daarin accordeonist Jean Louis Matinier). Hij speelde met velen uit de Franse 'wereldjazz' en improvisatiemuziek, zoals tubaist Michel Godard, zanger Dhafer Youssef, zanger Cheb Mami, gitarist Nguen Le.
ENGLISH
Virtuoso worldjazz on the bass
Renaud Garcia-Fons is a very atypical bass player: he added a 5th (high) string to his bass, and playing the most beautiful melodies with his bow. But his bass ia also a percussion instrument. 
He's a musical globetrotter: his music 'travels' through flamenco, baroque, jazz, Oriental, gypsy and classical music. This month he is artist in residence at the 5th Flamenco Biennial.
On one of his musical travels Renaud Garcia-Fons met Derya Türkan – virtuoso on the Turkish violin – with whom he edited classical Ottoman court music edited for stringduo in 2006. They made an album together in 2014: Silk Moon. Original compositions fed by eastern and southern European influences, and inspired by the vocal tradition of the Eastern maqam and the Andalusian cante jondo.
29-1 Tivoli Vredenburg: documentary, then Concert Linea del Sur (mix of Mediterranean music, flamenco, Latin and jazz).
31-1 Bimhuis Amsterdam documentary, then a concert RGF with Derya Türkan.
First you can watch a documentary about Garcia Fons, followed by a concert.
During the festival, RGF gives master classes at the Codarts Rotterdam, Amsterdam Conservatory and the Royal Conservatory of The Hague.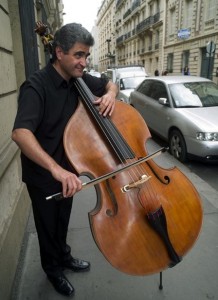 Renaud Garcia-Fons was born in 1962 near Paris to parents from the Catalonia region of northeastern Spain, and was introduced to music at age five, taking up the piano and classical guitar. By age 21, Renaud  was awarded a diploma by the French Cultural Minister as Professor of Double Bass. Ten years into this journey, he decided to add a fifth string to his bass, enabling possibilities well beyond the idea of the double bass as an accompanying instrument and particularly the option to be one of an ensemble's improvising voices. Combining this innovation with his con arco and pizzicato techniques, he reached an unprecedented level of performance. Some began to call him the "Paganini of the double bass."
Garcia-Fons is known for his melodic sense and his viola-like col arco sound; he is sometimes referred to as "the Paganini of double bass." Garcia-Fons has been deeply influenced by his mentor, the bassist François Rabbath, who taught him his special technique of playing arco.
The bands and projects Renaud Garcia Fons is currently active in contain a lot of flamenco, gypsy, Mediterranean, and Middle-Eastern music, but he also operates with a trio Revoir Paris, with accordion and drums. He also plays baroque, and often gives solo concerts. Always with a crossover of traditional and new. With room for jazz, but also influences from classical, Indian music, etc.
He started playing jazz with the band of trumpeter Roger Guérin, and there after had many collaborators, including symphony orchestras, jazz groups, and a trio. In 1987-93, he was part of the French all-double bass ensemble 'L'Orchestre de Contrebasses'. Enja Records released his debut solo album Légendes (1992). Alboreá (1995) was his next album release, featuring his quartet including Jean-Louis Matinier (accordion).
Garcia-Fons has collaborated with jazz musicians like  Nguyên Lê, and Michel Godard, Dhafer Youssef, and Cheb Mami.
Andalucian gypsy DORANTES leans on his own roots to bring piano in a music where the main instrument is since ever the guitarHe works on a more complex music than pure flamenco including improvisation without daring he plays jazz