Bugge Wesseltoft, Henrik Schwarz & Dan Berglund

Electronic jazz    vrijdag 10-7     23:45     Madeira
Deel 5 in een serie van 10 blogs over het Northsea Jazz Festival 2015, dat zijn 40e editie beleeft op 10, 11 en 12 juli in Ahoy Rotterdam.
De noorse jazzpianist Bugge Wesseltoft werd bekend toen hij een brug wist te slaan tussen jazz, techno en dance.
Hij heeft al een tijdje een duo met de Berlijnse deep house- en techno-veteraan Henrik Schwarz. Dat is nu tot een trio uitgebreid met de Zweedse bassist Dan Berglund (die we nog kennen uit trio E.S.T. van Esbjörn Svensson). Samen maken ze een 'trialoog', gebruik makend van piano, keyboards, samples, electronica, computer, bas en percussie. In 2014 brachten ze ook een album uit onder die titel (Trialogue).

Bugge Wesseltoft is allang niet meer alleen pianist, maar heeft zich ontwikkeld tot een een soort geluidentovenaar en een belangrijk vertegenwoordiger van de nu-jazz *.
Hij houdt er een eclectisch postmodern concept op na, waarin hij elektronische stemgeluiden, samples en ritmes vermengt met akoestische piano en jazzcomposities. Hij gaat met zijn werk de hele wereld over en vindt veel aanhang.
Nu er een bassist is toegevoegd aan het duo wordt de muziek warmer, en ook weer iets akoestischer.

* Nu Jazz is de verzamelterm uit de late jaren 90 om muziek te beschrijven die jazzklankstructuren, funk, elektronische muziek en vrije improvisatie met elkaar vermengt. Soms ook electronic jazz of future jazz genoemd.

Henrik Schwarz (Sonar Kollektiv, !K7, Innervisions)  remixte iedereen: van Michael Jackson tot Steve Reich. Zijn werk is geliefd over de hele wereld.

Bugge Wesseltoft is pianist, componist en producer. Hij brengt zijn werk uit op zijn eigen label, Jazzland Records. Na te zijn begonnen als een traditionele Noorse jazzpianist bij het ECM-label, ontwikkelde hij zich in de jaren negentig tot een muzikant in nu jazz. Toen hij succes kreeg toerde hij over de wereld, zowel in jazz als in rock context. Met onder anderen drummer Billy Cobham, zangeres Sidsel Endresen en saxofonist Jan Garbarek
Hij committeerde zich aan electronische muziek, maar wilde zich absoluut niet laten inperken door de bestaande genre-grenzen: bij zijn vorm van jazz werden ook hiphop, dance, techno, DJ's en scratchers betrokken.

Dan Berglund speelde vanaf 1993 het Esbjörn Svensson Trio, een heel succesvol jazzpianotrio waarmee hij veel albums opnam, tv-optredens had en over de hele wereld toerde. Na het overlijden van frontman Esbjörn Svensson in 2008 richtte Berglund in 2009 zijn eigen band Tonbruket op met musici van buiten de jazz, waarmee hij de kant van fusion op is gegaan.
ENGLISH
Bugge Wesseltoft, Henrik Schwarz & Dan Berglund
Electronic jazz     Friday 10-7     23:45     Madeira

Part 5 in a series of 10 blogs about the North Sea Jazz Festival in 2015, celebrating  its 40th edition on 10, 11 and 12 July in Ahoy Rotterdam.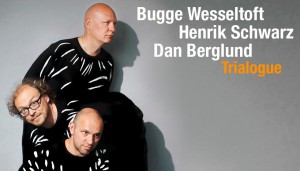 The Norwegian jazz pianist Bugge Wesseltoft became known when he connected jazz, techno and dance. He has a duo with the Berlin deep house and techno veteran Henrik Schwarz. That has now expanded to a trio with the Swedish bassist Dan Berglund (who we know from trio E.S.T. of Esbjörn Svensson). Together they make a "trialogue", using piano, keyboards, samples, electronics, computer, bass and percussion. In 2014 they also released an album under that title (Trialogue).
Bugge Wesseltoft is not just a pianist, but has developed into a kind of a sound magician and an important representative of the nu-jazz *.
He holds an eclectic postmodern concept in which he mixes electronic voice sounds, samples and rhythms with acoustic piano and jazz compositions. He goes around the world with his work and has a huge fanbase.
Now that a bass was added to the duo, the music is warmer, and also a little bit more acoustic.
* Nu Jazz is the collective term from the late 90s to describe music jazz sound structures, funk, electronic music and free improvisation mixed with each other. Sometimes also called electronic jazz or future jazz.
Henrik Schwarz (Sonar Kollektiv, K7, Inner Visions!) remixed everyone from Michael Jackson to Steve Reich. His work is appreciated all over the world.
Bugge Wesseltoft is a pianist, composer and producer. He has his own label, Jazzland Records. Having started as a traditional Norwegian jazz pianist at the ECM label, he developed to a nu-jazz musician in the nineties. When he got succesfull, he toured all over the world, both in jazz and rock in contexts. With among others drummer Billy Cobham, singer Sidsel Endresen and saxophonist Jan Garbarek
He committed himself to electronic music, but would absolutely not be constrained by the existing genre boundaries: in his form of jazz he also incorporated hip hop, dance, techno, DJs and scratchers.
Dan Berglund played in the Esbjörn Svensson Trio, a very successful jazz piano trio with which he recorded many albums, did TV appearances and toured all over the world. After the death of frontman Esbjörn Svensson in 2008 Berglund founded in 2009 his own band Tonbruket with musicians outside the jazzscene, with which he took the path of fusion.