Brian Blade & The Fellowship Band
Modern Creative     zaterdag 11-7     17:30 Darling

Deel 6 in een serie van 10 blogs over het Northsea Jazz Festival 2015, dat zijn 40e editie beleeft op 10, 11 en 12 juli in Ahoy Rotterdam.

Drummer Brian Blade was vaak in Nederland als lid van de groep van de beroemde saxofonist Wayne Shorter. Hij leerde daarin dat je trouw moest zijn aan het idee om zonder angst muziek te maken. Dat uitgangspunt heeft hij ook toegepast toen hij met The Fellowship Band (die hij in 1997 oprichtte) begon aan de vierde cd van de groep, Landmarks (2014).
De muziek van Landmarks werd beïnvloed door de muzikale smeltkroes van Blade's geboorteplaats Shreveport, Louisiana. Er zijn hints naar de muziek uit die staat (New Orleans); vleugjes country, kerk- en spirituele muziek, en jazz.

Een van de dingen die goed zijn aan deze band van Brian Blade, is dat die niet gaat over de fantastische kwaliteiten en capaciteiten van de drummer/bandleider, maar dat de muziek in zijn geheel belangrijk is. Mooie harmonieën; stukken die langzaam tot ontwikkeling komen. Het is de bedoeling dat je iets anders ervaart dan alleen een soort afstandelijke bewondering.

In The Fellowship Band werkt hij nauw samen met pianist Jon Cowherd, zijn studiegenoot die mede-oprichter en co–bandleider is, composities levert én co-produceert. Daarnaast zijn er de saxofonisten Myron Walden en Melvin Butler, gitaristen Marvin Sewell en Jeff Parker en bassist Chris Thomas.
Brian Blade is een heel veelzijdig drummer; hij werkte met (jazz)musici als Joshua Redman, Kenny Garrett, and Bob Dylan. Zijn eerste eigen album bracht hij uit op 27 jarige leeftijd in 1998. Hij werd een veelgevraagd sideman, oa bij Joni Mitchell, Bill Frisell, en speelt in het Wayne Shorter quartet sinds 2000.

ENGLISH
Brian Blade & The Fellowship Band
Modern Creative 11-7 Saturday 17:30   Darling
Part 6 in a series of 10 blogs about the North Sea Jazz Festival in 2015, celebrating its 40th edition on 10, 11 and 12 July in Ahoy Rotterdam.
Drummer Brian Blade often played in the Netherlands as a member of the group of the famous saxophonist Wayne Shorter. There he learned that one should be faithful to the idea of making music without fear. This principle he applied when he recorded the fourth disc of the group The Fellowship Band (which he founded in 1997): Landmarks (2014).
The music of Landmark was influenced by the musical melting pot of Blade's birthplace Shreveport, Louisiana. There are touches of music from that state (New Orleans); hints of country, church and spiritual music, and jazz.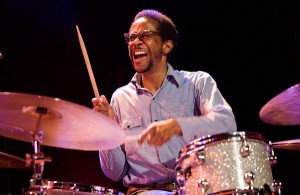 One of the things that are good about this band of Brian Blade, is that this is not about the wonderful qualities and abilities of the drummer/bandleader, but the music as a whole is important. Beautiful harmonies; pieces coming slowly to development. The idea is that you are experiencing something more than just a kind of distant admiration.
In The Fellowship Band, Blade works closely with pianist Jon Cowherd, his classmate who is co-founder and co-bandleader, provides compositions and co-produces. Then there are the saxophonists Myron Walden and Melvin Butler, guitarist Marvin Sewell and Jeff Parker and bassist Chris Thomas.
Brian Blade is a very versatile drummer; He worked with (jazz) musicians like Joshua Redman, Kenny Garrett, and Bob Dylan. His first album he released at age 27 in 1998. He became a much sought after sideman, for instance by Joni Mitchell, Bill Frisell, and he plays in the Wayne Shorter Quartet since 2000.