Rudresh Mahanthappa's Charlie Parker Project
Modern Creative     zondag 12-7     Madeira 15:30
Deel 8 in een serie van 10 blogs over het Northsea Jazz Festival 2015, dat zijn 40e editie beleeft op 10, 11 en 12 juli in Ahoy Rotterdam.
Er zijn altijd veel indiase invloeden in zijn muziek, veel noten, veel melodische versieringen en onregelmatige ritmes. Voor complexe patronen draait hij zijn hand niet om. Toch is wat hij maakt onmiskenbaar ook jazz.

Altsaxofonist Rudresh Mahanthappa eert op zijn nieuwe album Bird Calls zijn grote held Charlie Parker. Hij componeerde nieuwe stukken waarbij hij zich volledig liet inspireren door het werk van Parker. Voor elke compositie gebruikte hij een melodie of een solo van de legende.
De saxofonist nam de stukken vorig jaar zomer op in Brooklyn en in diezelfde periode beleefde dit Charlie Parker Project de livepremière op het Newport Jazz Festival. Mahanthappa, die van Indiase afkomst is, put vooral uit de progressieve en klassieke muziek uit Zuid-India.
Rudresh Mahanthappa – altsax; Adam O'Farrill – trompet; Matt Mitchell – piano; Francois Moutin – bass; Rudy Royston – drums.

Zelf zegt hij over dit project: "Je kunt makkelijk zeggen, dat Bird moderne muziek heeft beïnvloed, zonder dat begrip te ontleden. Dat wil ik graag aantonen … Zijn invloed is absoluut onuitwisbaar, en dit is waarom. Al deze muziek is direct geïnspireerd door Charlie Parker, maar het klinkt net zo modern als alle andere nieuwe muziek van vandaag".
Bird Calls is dus geen eerbetoon in de traditionele zin van het woord, er wordt niet één stuk van Parker gespeeld. Alle nieuwe composities van Mahanthappa zijn wel stuk voor stuk ontleend aan een melodie of solo van Parker.
In 2010 maakte Mahanthappa zijn debuut met het album Samdhi dat erg goed werd ontvangen. In de jaren daarna werkte hij regelmatig samen met Screaming Headless Torsos-gitarist David 'Fuze' Fiuczynski. In zijn muziek verwerkt hij naast Zuid Indiase invloeden ook regelmatig electrische funk en natuurlijk improvisatie.

Mahanthappa werkt ook veel met pianist Vijay Iyer; daarnaast heeft hij een quintet met altsaxofonist Steve Lehman (ook een musicus die goed thuis is in complexe structuren)

ENGLISH
Rudresh Mahanthappa's Charlie Parker Project
Modern Creative        Sunday 12-7        Madeira 15:30
Episode 8 in a series of 10 blogs about the Northsea Jazz Festival 2015, celebrating its 40e edition on 10, 11 and 12 july in Ahoy Rotterdam.
There always are a lot of Indian influences in his music, many notes, many melodic ornaments and irregular rhythms. Complex patterns are no problem for him. Yet IT'S unmistakably also jazz.
Alto saxophonist Rudresh Mahanthappa on his new album Bird Calls makes a tribute his hero Charlie Parker. The new pieces  he composed were inspired entirely by the work of Parker. For each composition he used a melody or a solo of the legend.
The saxophonist recorded the music last summer in Brooklyn and in the same period this Charlie Parker Project was premiered at the Newport Jazz Festival. 
Mahanthappa, who is of Indian descent, draws mainly from the progressive and classical music from South India.
Rudresh Mahanthappa – alto sax; Adam O'Farrill – trumpet; Matt Mitchell – piano; Francois Moutin – Bass; Rudy Royston – drums.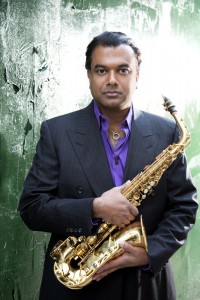 About this project he says: "It's easy to say that Bird influenced modern music without dissecting that notion," Mahanthappa says. "If I had any agenda for this album, it was to really demonstrate that. This music says, 'Yes, Bird's influence is absolutely indelible, and here's why.' This is music that is all directly inspired by Charlie Parker, but it sounds as modern as anything today."
Bird Calls is not a tribute album in the traditional sense. There isn't a single Parker composition to be found on the album, which consists entirely of new music penned by Mahanthappa for the occasion. But Bird's DNA is strongly present in every one of these pieces, each of which takes a particular Parker melody or solo as its source of inspiration.
In 2010 Mahanthappa made his debut with the album Samdhi which was very well received. In subsequent years he collaborated with Screaming Headless Torsos guitarist David "Fuze" Fiuczynski. In his music he uses in addition to South Indian influences also regularly electric funk and of course improvisation.
Mahanthappa also works extensively with pianist Vijay Iyer; and next to that he has a quintet with alto saxophonist Steve Lehman (also a musician who is well versed in complex structures)