Jazzfunk supergroove op steeldrums
Wanneer is de steeldrums te horen in Nederlandse concertzalen? Wij kennen het hier vooral van (buiten)festivals, zoals het 2 jaarlijkse Internationale Steelbandfestival. Nu is er een jonge nieuwe steelpan speler uit de USA die aanstekelijk funky nieuw leven in de steelpan blaast en dit najaar voor het eerst op tournee is in Europa met 4 concerten in Nederland.
Jonathan Scales bespeelt steelpan als een razende funkjazzy enthousiasteling. Zijn band Jonathan Scales Fourchestra is als een eigentijds jazztrio waarbij de piano is vervangen door steeldrums.
Scales wordt vergeleken met een andere vernieuwer van de steeldrums, Othello Molineaux, die furore maakte in de band van de legendarische bassist Jaco Pastorius.
Het trio maakt een vernieuwende mix van steeldrum, basgitaar en slagwerk. Jazzy, funky, bluesy met impro. Soms klinkt de muziek van dit trio zelfs als hedendaags gecomponeerde muziek.

30-10 TAC, Eindhoven; 31-10 TivoliVredenburg; 1-11 (17:00) LantarenVenster Rotterdam (festival Jazz International); 1-11  (21:45) Bimhuis Amsterdam (samenwerking met Stichting Tolhuistuin)
In Fourchestra is Cody Wright is de vingervlugge funky basgitarist, die (toch ook wel) aan Jaco Pastorius doet denken. Drummer Chaisary Schenk vervolmaakt het trio.
Mixtape Symphony is het meest recente album van Jonathan Scales Fourchestra. De band werkte eerder samen met o.a. Victor Wooten en Howard Levy (Béla Fleck and the Flecktones).
Othello Molineaux bracht de jazz in de steelpan en de steelpan in de jazz.
In onderstaande video de Jaco Pastorius band met oa Randy Brecker, Bob Mintzer en Othello Molineaux (steelpan solo vanaf 3'42)

Jonathan Scales  is dol op en ook geïnspireerd door de Amerikaanse banjospeler en bandleider Béla Fleck, vooral bekend van zijn in 1988 gevormde band Béla Fleck and the Flecktones. De muziek werd door hemzelf omschreven als een mix van akoestische en elektronische muziek met roots in folk, bluegrass, funk en jazz.
De Steel Pan kent haar oorsprong in de jaren 30 van de vorige eeuw in Trindad & Tobago, dat pas in 1962 onafhankelijk werd van Groot Brittanië. Steelpan muziek is in het hele Caribische gebied heel populair.
Ondanks de armoede werd er in Trinidad & Tobago toch carnaval gevierd. De eilandbewoners gebruikten afgedankte olievaten om ritmes op te slaan. Bij toeval ontdekte men dat er door het ontstaan van deuken in de oliedrums verschillende tonen ontstonden. Pas in 1944 werd de steelpan ontwikkeld zoals wij die nu nog kennen. Elliot Mannett maakte in 1946 de eerste Invader Steelpan en startte de Invaders Steelband. Deze Steelband bestaat nog steeds. (bron : website Steelshop)
ENGLISH
Jazz Funk super groove on steel drums
When can you ever hear the steel drums in Dutch concert halls? We mainly know steelbands from (outdoor) festivals, such as the International Steelband Festival. Now there is a new young steeldrum player from the USA breathing new catchy & funky life into the steeldrum and touring in Europe for the first time this fall with four concerts in the Netherlands.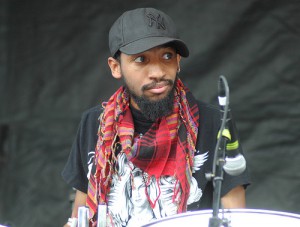 Jonathan Scales plays steeldrums like a raging funkjazz enthusiast. His band 'Jonathan Scales Fourchestra' is as a contemporary jazz trio where the piano has been replaced by steel drums. Scales is compared with another innovator of steel drums, Othello Molineaux, who caused sensation in the band of legendary bassist Jaco Pastorius.
The trio makes an innovative mix of steel drum, bass and percussion. Jazzy, funky, bluesy with improvisation. Sometimes the music of this trio even sounds like contemporary music.
30-10 TAC, Eindhoven; 31-10 TivoliVredenburg; 1-11 (17:00) LantarenVenster Rotterdam (festival Jazz International); 1-11 (21:45) Bimhuis Amsterdam ( in cooperation with Stichting Tolhuistuin).
In Fourchestra Cody Wright is the light-fingered funky bass player who does remind us of Jaco Pastorius. Drummer Chaisary Schenk completes the trio.
Mixtape Symphony is the latest album from Jonathan Scales Fourchestra. The band has worked with, among others Victor Wooten and Howard Levy (Bela Fleck and the Flecktones).

Othello Molineaux brought the jazz into the steeldrums in jazz, and the steeldrums into the jazz.
Jonathan Scales is very fond of and inspired by the American banjo player and bandleader Béla Fleck, best known for his band formed in 1988, Béla Fleck and the Flecktones. Flecks music was described by himself as a mix of acoustic and electronic music with roots in folk, bluegrass, funk and jazz.
The Steel Pan has its origins in the 30s of the last century in Trindad & Tobago, which only gained independence in 1962 from Britain. Steelpan music is quite popular in the entire Caribbean.
Despite poverty carnival in Trinidad & Tobago was always celebrated. The islanders used discarded oil drums to pound their rhythms. By chance, it was discovered that the formation of dents in the oil drums generated different tones. It wasn't untill 1944 the steeldrums was developed as we know it today. Elliot Mannett made in 1946 the first Invader steeldrums and started the Invaders Steelband. This Steelband still exists. (Source: website Steel Shop)