Scroll down for english version
Dynamische kamerjazz
Als een drummer een plaat maakt verwacht je misschien een hoofdrol voor de drums, het eigen instrument. Op het album The Bell van drummer Ches Smith, violist Mat Maneri en pianist Craig Taborn wordt eigenlijk nauwelijks gedrumd!
Het titelstuk begint met de klank van een bel, en van daaruit ontvouwt zich langzaam een soort serieuze kamerjazz met zorgvuldig geplaatste noten en klanken en ook stiltes.
Tamelijk abstracte, maar betoverende muziek, met in ieder stuk een lange opbouw, van (soms) kaal en leeg naar heel intens. Het is een improviserend trio, dat ook composities speelt – zo kun je het het beste zien. En zoals van deze musici bekend is wordt er op hoog nivo heel geconcentreerd vrij geïmproviseerd.
Het trio tourt dit voorjaar uitgebreid, maar komt pas op 8 juli 2016 spelen in het Bimhuis in Amsterdam.
De amerikaanse slagwerker en vibrafonist Ches Smith is een eigenwijze improvisator van de nieuwe generatie, die onderlegd is in jazz en moderne percussie en tegelijkertijd openstaat voor alternatieve rock, noise en metal.
Naast Jim Black is Ches Smith een van de best gewaardeerde slagwerkers in de improvisatiescene van Brooklyn en New York: ruimdenkend, klankrijk en met een originele visie op componeren.
Smith heeft een aantal eigen ensembles, bijvoorbeeld het nieuwe Ches Smith Trio met Jonathan Finlayson op trompet en Stephan Crump op bas. Een groep waarin het vooral over Ritme gaat.
Maar het beste kennen we hem in Nederland misschien toch van Marc Ribot's Ceramic Dog (met ook Shahzad Ismaily op bas en electronics). Een trio dat alle normen doet vervagen met een soort postpunkavantjazz repertoire. "I think its about to get really crazy", zegt Ches smith over dit trio.
Punkversie van Take 5!

Een andere eigen groep is'We All Break', met Daniel Brevil en Markus Schwartz op traditionele Haitiaanse percussie: Ches zelf op drums en ook Haitiaanse boula drum; Matt Mitchell op piano en percussie. Het kwartet speelt muziek van Smith waarin traditionele Hitiaanse ritmes en structuren wroden gebruikt; er worden ook voudou songs gezongen!
Ches Smith and These Arches, een ensemble waarin de nadruk ligt op collectieve improvisatie. Met Tim Berne, Tony Malaby, – saxen, Mary Halvorson – gitaar en Andrea Parkins – accordeon.
Ches Smith speelde verder nog met oa Trevor Dunn, John Zorn, Wadada Leo Smith, Fred Frith
ENGLISH
Dynamic chamber jazz
When a drummer makes a record you might expect a leading role for the drums, the own instrument. On the album The Bell drummer Ches Smith, with violinist Mat Maneri and pianist Craig Taborn, is hardly drumming!
The title song begins with the sound of a bell, and from there slowly unfolds a kind of serious chamber jazz with carefully placed notes, sounds and silences.
Rather abstract, but captivating music; in each piece a long buildup of (sometimes) bare and empty to very intense.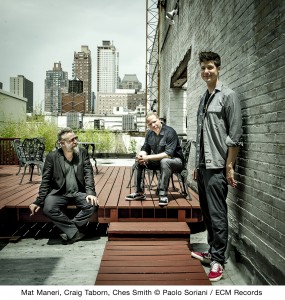 It is an improvising trio that plays compositions – that's the best way of looking at it.  Thee's a high level of very focused free improvisation, somthing which these musicians are known for
The trio is touring this spring, but will play on July 8, 2016 at the Bimhuis in Amsterdam.
The American vibraphonist and drummer Ches Smith is a willful improviser of the new generation, trained in jazz and modern percussion and at the same time with an open mind to alternative rock, noise and metal.
Next to Jim Black Ches Smith is one of the most esteemed artists in the improv scene of Brooklyn and New York: open-minded, rich in sound and with an original vision on composing.
Smith has a number of ensembles, such as the new Ches Smith Trio with Jonathan Finlayson on trumpet and Stephan Crump on bass. A group which mainly deals with rhythm.
But we probably know him in the Netherlands best as a member of Marc Ribot's Ceramic Dog (also with Shahzad Ismaily on bass and electronics). A trio that blurs all standards with a kind of post-punk avant jazz repertoire. "I think its about to get really crazy," said Ches Smith on this trio.
Another of his own ensenmbles is 'We All Break', with Daniel Brevil and Markus Schwartz on traditional Haitian percussion; Ches himself on drums and Haitian boula drum; Matt Mitchell on piano and percussion. The quartet plays Smith compositions with traditional Haitian rhythms and structures; also some Voudou songs are sung!
Ches Smith and These Arches, an ensemble focusing on collective improvisation. WithTim Berne, Tony Malaby – saxophones, Mary Halvorson – guitar and Andrea Parkins – accordion.
Ches Smith furthermore played with ao Trevor Dunn, John Zorn, Wadada Leo Smith, Fred Frith