English translation below
De Zweedse altsaxofonist Martin Küchen blijft maar leden toevoegen aan zijn Angles-ensemble, dat vergelijkingen oproept met andere levendige bigbands zoals de Vlaamse F.E.S. (Flat Earth Society) of Chris McGregor´s Brotherhood of Breath.
https://open.spotify.com/track/30k8jtCSNvgYxadnFtOyrJ
Avontuurlijk, enthousiast, energiek, speels en intens: zie daar de mogelijke beschrijving van deze band. Muzikale inspiratiebronnen zijn – naast jazz – ook volksmuziek uit Zweden, West-Afrika en de Balkan.
Te horen in het Bimhuis op 26-5-2016
https://youtu.be/wwSK_LfEpTE
Met Martin Küchen – altsax, Eirik Hegdal bariton/sopranino – sax, Goran Kajfes, Magnus Broo – trompet, Mats Äleklint – trombone, Alexander Zethson – piano, Johan Berthling – bas, Mattias Ståhl – vibrafoon, Andreas Werliin – drums
https://youtu.be/rGEqjBBQD1A
Bandleider saxofonist Martin Küchen houdt zich naast jazz & improv ook bezig met muziek voor theater, dans en film, en met sound installaties. In het verleden was hij straatmuzikant en werkte hij ook als circusmuzikant – harde leerscholen
.
Als artist-in-residence bij het Zweedse vorAnker speelde hij bijvoorbeeld met collega Mats Gustafsson in ondergronds Wenen.
https://youtu.be/V2nXBTDxlFE
Ook speelt hij baritonsax in het 28 leden tellende Fire! Orchestra van Mats Gustafsson, ook al zo'n energieke band.
https://youtu.be/3NOWIEPYHQY
ENGLISH
The Swedish alto saxophonist Martin Küchen keeps adding members to his Angles ensemble that evokes comparisons with other vibrant big bands such as the Flemish F.E.S. (Flat Earth Society) or Chris McGregor's Brotherhood of Breath.
Adventurous, enthusiastic, energetic, playful and intense: behold the possible description of this band. Musical inspirations are – in addition to jazz – folk music from Sweden, West Africa and the Balkans. To be heard at  Bimhuis 26-5-2016
Martin Küchen – alto saxophone, baritone Eirik Hegdal / sopranino – sax, Goran Kajfes, Magnus Broo – trumpet, Mats Äleklint – trombone, Alexander Zethson – piano, Johan Berth Ling – bass, Mattias Ståhl – vibraphone, Andreas Werliin – drums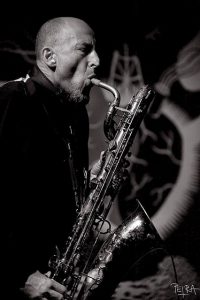 Bandleader saxophonist Martin Küchen works on music for theater, dance and film and sound installations. ( next to his jazz & improv off course). In the past he was a street musician for a while and he also worked as a circus musician – so, the hard way. 
As artist-in-residence at the Swedish vorAnker he did some underground improvising with colleague Mats Gustafsson in Vienna (watch video above)
He also plays baritone in the 28-member Fire! Orchestra of Mats Gustafsson, another energetic band.