Scroll down for English version
Jazz & beats van NU

Dominic J. Marshall is pianist/componist/beatmaker en een heel veelzijdig talent in de Amsterdamse jazzscene. Hij is een 26 jarige Engelsman, die als kind jarenlang klassiek pianoles had van zijn vader, en zich daarna ontwikkelde tot jazzpianist en componist op de conservatoria van Leeds en Amsterdam.
Daarnaast begon hij buiten de jazzscene ook nog een alternatieve carrière als zijn alter-ego 〄 DJM met zelfgeproduceerde beats. Hij gebruikt daarin niet alleen beats en broken beats, maar ook ontregelende offtune rifjes, filmmuziek, tekst.

Zowel in zijn jazz als zijn DJM muziek speelt hiphop een grote rol.
Dominic J richt zich op jazz-van-de-toekomst, fris en innovatief, zonder de jazzerfenis te laten vallen.
Hij heeft een sterk trio met drummer Jamie Peet en bassist glenn Gaddum jr. 
De muziek beweegt zich soepel tussen moderne jazz, hiphop en invloeden uit de klassieke muziek. Veel eigen werk, maar ook composities van anderen, bv. Thelonious Monk, George Shearing en Nick Drake. Ritmisch is het trio heel hecht: de broken beats van Jamie Peet, het percussieve spel van Marshall en de groovy bas van Gaddum jr. klinken samen krachtig en 'together'. Dit najaar is het trio op tournee en presenteert het nieuwe album Triolithic.
Dominic J Marshall piano, Glenn Gaddum jr bas, Jamie Peet drums 
Bimhuis 10-9-2016 (cd presentatie); 14-9 Paradox Tilburg; 24-9 LantarenVenster Rotterdam.
Dominic ontving in 2013 de Emerging Excellence Award uit handen van Jamie Cullum en BBC-dj's Gilles Peterson en Jez Nelson. Het jaar daarop won hij de Dutch Jazz Competition in de categorie beste solist. In 2015 gaf hij een concert op het North Sea Jazz Festival. Tegenwoordig combineert hij tijdens concerten zijn elektronische project DJM met zijn akoestische trio. Marshalls derde album Spirit Speech werd genomineerd voor een Edison in de categorie International Jazz.
In september komt zijn 4e album Triolithic uit op Challenge Records. Na zijn goed ontvangen optreden op Northsea Jazz in 2015 werd Dominic ook gevraagd mee te spelen in The Cinematic Orchestra (nu-jazz & electronica met vocals). Te zien op 13-11-2016 in de Rotterdamse Schouwburg.
ENGLISH
Jazz and beats of TODAY
Dominic J. Marshall is a pianist/composer/beatmaker and a very versatile talent in the Amsterdam jazz scene. He is 26 years old and from the UK; was taught classical piano as a child by his father, and thereafter developed into a jazz pianist and composer at the conservatories in Leeds and Amsterdam. Next to that he also made an alternative career utside the jazz scene as his alter-ego DJM 〄 with self-produced beats. He not only produces beats and broken beats, but also disrupting offtune riffs, film music, text.
Both in his jazz and his DJM hip hop music plays an important role.
Dominic J focuses on jazz-of-the-future, fresh and innovative, without forgetting the jazz legacy.
He has a powerful trio with drummer Jamie Peet and bassist Glenn Jr. Gaddum. The music moves smoothly between modern jazz, hip hop and influences from classical music. A lot of originals of their own, but also compositions by others, eg. Thelonious Monk, George Shearing and Nick Drake. Rhythmically, the trio is really tight: the broken beats of Jamie Peet, the percussive play of Marshall and groovy bass of Gaddum Jr. do sound powerful and 'together'. This autumn, the trio is on tour and will present the new album Triolithic.
Dominic J Marshall piano, Glenn Gaddum jr. bass, drums Jamie Peet 
Bimhuis 10-9-2016 (CD presentation); 14-9 Paradox Tilburg; 24-9 LantarenVenster Rotterdam.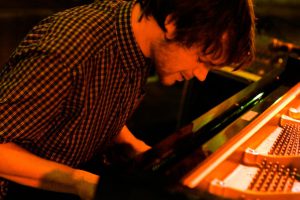 (photo by Dagmar Gerritse)
In 2013 Dominic received the Emerging Excellence Award from Jamie Cullum and BBC DJ Gilles Peterson and Jez Nelson. The following year he won the Dutch Jazz Competition as 'best soloist'. In 2015 he played at the North Sea Jazz Festival. Today, he combines his electronic project DJM during concerts with his acoustic trio. Marshalls third album Spirit Speech was nominated for an Edison Award in the category of International Jazz. In September, his 4th album Triolithic is released on Challenge Records. After his well-received performance at North Sea Jazz 2015 Dominic was also invited to play in The Cinematic Orchestra (nu-jazz and electronica with vocals). Listed on 13-11-2016 in Rotterdam theater.