Scroll down for English Version
Vandaag een dubbelblog over twee – hele verschillende – pianotrio's: Het Britse Gogo Penguin en het Moon Trio van Jeroen van Vliet
CD Man Made Object, Gogo Penguin
Twee jaar geleden blogde ik ook over Gogo Penguin.
"Het uit Manchester afkomstige Gogo Penguin kan gezien worden als het Britse antwoord op hedendaagse pianotrio's als E.S.T. en The Bad Plus; trio's die al vanaf de jaren 90 de traditionele rolverdeling hebben losgelaten. De ritmesektie is er niet om de pianosolist te begeleiden: de musici zijn gelijkwaardig.  Ze bedienden zich bovendien van allerlei muziek uit pop, rock en elektronische muziek, onder meer Aphex Twin en Massive Attack. Maar ook uit de klassieke wereld (Debussy). Dit trio kan daarmee ook goed overweg", stond er toen. Dat is gebleken! Ze zijn sinds die tijd een stuk bekender geworden, hun turbo pianojazz slaat aan. Onlangs tekenden ze voor een platendeal bij het beroemde label Blue Note.
Gogo Penguin brengt nu zijn 3e album uit: Man Made Object.  Chris Illingworth – piano, Nick Blacka – contrabas , Rob Turner – drums
. Het trio is te zien/horen op
16 -11 De Oosterpoort Groningen, 17-11 De Roma,Antwerpen, 18-11 LantarenVenster Rotterdam, 19 -11 JazzOUT!Heerlen, 20-11 Paradiso-Noord Tolhuistuin  Amsterdam
Hun handelsmerk is het mixen van minimal pianothema's met voortstuwende baslijnen en drums die een beetje klinken als electronische drums. Hun muziek is wel beschreven als 'acoustische electronica'. Pianist Chris Illingworth zegt het zo: "Wij re-creëren electronische muziek op acoustische instrumenten. Alsof je een door mensen gemaakt object (een ding) menselijk maakt."

Net als op de eerste twee albums (Fanfares en v2.0, waarvan de laatste werd genomineerd voor een Mercury Prize Album) grijpt de muziek van Man Made Object je meteen bij de strot en houdt bijna ononderbroken een upbeat groove vast.
Jazz is opnieuw in de kijker van een nieuw jong publiek gespeeld; ook artiesten als David Bowie, Kamasi Washington, Robert Glasper en Flying Lotus zorgden daarvoor, door de laatste jaren vaak jazz in hun muziek te betrekken.
Ergens in de afgelopen periode maakte Gogo Penguin ook een nieuwe score voor Godfrey Reggio's cultfilm Koyaanisqatsi .
In 1982 regisseur probeerde regisseur Godfrey Reggio de relatie tussen mens, natuur en techniek uit te leggen in zijn film Koyaanisqatsi. Hij liet een prachtige collage zien van schilderachtige landschappen en rollende wolken, met daaronder meeslepende muziek. In de hele film werd niet gesproken.

CD Earth Time van Moon Trio van Jeroen van Vliet

In de twee jaar nadat pianist Jeroen van Vliet de Buma Boy Edgarprijs kreeg heeft hij enorm aan de weg getimmerd. Met zijn nieuwe Zeeland Suite Revisited bijvoorbeeld, maar ook met zijn nieuwe Moon Trio.
Een van de kenmerken van dit trio is het gebruik van electronische effekten op zowel de piano als de bas. De muziek wil zowel groovy zijn als het mooie, acoustische pianogeluid laten horen. De composities zijn vaak eenvoudig, maar de muziek heeft een emotionele lading.
Jeroen van Vliet – piano en elektronica, Cord Heineking – contrabas, basgitaar en effecten, Mark Schilders – drums

Mountain Hike is daar een goed voorbeeld van: ingehouden groove, heel mooi neergezet door Mark Schilders en Cord Heineking, met daaroverheen een lekkere pianomelodie en solo.
In tegenstelling tot veel andere muziek worden hier niet meteen de grenzen van de dynamiek opgezocht. Het gaat niet van zacht naar heel hard, of van weinig noten tot heel veel, of van stiltes tot erupties. De muziek moet het hebben van een soort bestendige onderlaag en ingehouden subtitliteiten. (De keuze voor Mark Schilders op drums was mede daarom een hele goeie, want die kan dat ook, zoals enige tijd geleden bleek, toen hij zijn eigen album Fabrik uitbracht) De electronica gaat nergens overheersen en geeft de sound toch hier en daar wat bijzondere ruimte mee.
Hele mooie plaat. De CD wordt gepresenteerd op 9 oktober in Paradox Tilburg (15:00).
Jeroen van Vliet staat bekend als een lyrische jazzpianist die een sterk gevoel voor melodie en harmonie combineert met avontuur en experiment. Zijn muziek is eigenlijk altijd persoonlijk, intiem en sterk.
Van Vliet kan zowel heel mooi als veel rauwer spelen. Op fender rhodes in Gatecrash bijvorbeeld. Ook speelt hij met overtuiging volledig vrije improvisatiemuziek, oa met Trio OGU (met Bram Stadhouders- gitaar en Etienne Nillesen – slagwerk).
Hij maakte naam in de groepen van saxofonist Paul van Kemenade en bassist Eric van der Westen, en op Fender Rhodes ook in Eric Vloeimans' Gatecrash. Verder speelt Jeroen ook nog steeds solo; in Estafest (met Anton Goudsmit, Mete Erker en Oene van Geel; in trio OGU; en oa in de bands van Michiel Stekelenburg en Simin Tander.
Vorig jaar bracht hij een Zeeland Suite Revisited, opgedragen aan en vaak live uitgevoerd buiten in de provincie Zeeland. Met uiteraard referenties aan de Zeeland Suite die Leo Cuypers schreef in de 70-ies.

ENGLISH
Today a double blog about two very different pianotrio's:  British Gogo Penguin and the Dutch Moon Trio of Jeroen van Vliet
CD Man Made Object, Gogo Penguin
Two years ago I blogged about Gogo Penguin. "Gogo Penguin from Manchester can be seen as the British answer to contemporary piano trios as E.S.T. and The Bad Plus; trios who from the 90s on have changed traditional role patterns. The rhythm section is not there only to accompany the piano soloist: the musicians are equivalent. Moreover, they draw from all kinds of music: pop, rock and electronic music, including Aphex Twin and Massive Attack. An also from the classical music (Debussy). This trio can handle all of that "it said then. They proved this! Since then there fame increased, their turbo piano jazz catches on. Recently the trio signed a record deal with the famous Blue Note label.
Gogo Penguin now brings his 3rd album, Man Made Object
.  Chris Illingworth – piano, Nick Blacka – contrabas , Rob Turner – drums
16 -11 Oosterpoort Groningen, 17-11 De Roma, Antwerp, 18-11 LantarenVenster Rotterdam, 19 -11 JazzOUT Heerlen, 20-11 Paradiso North Tolhuistuin Amsterdam.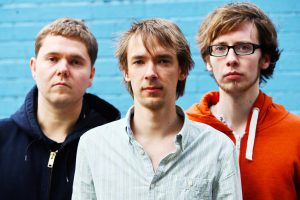 (photo by arlen connelly)
Their trademark is a mix of minimal piano themes with propulsive bass lines and drums that sound a bit like electronic drums. Their music has been described as' acoustic electronics'. Pianist Chris Illingworth says: "We are re-creating electronic music on acoustic instruments. Like making a man-made object human."
Just like on the first two albums (Fanfares and v2.0, which was nominated for a Mercury Prize Album) the music of Man Made Object grabs you right by the throat and holds an almost uninterrupted upbeat groove.
Jazz had been brought to the attention of a new young audience; artists like David Bowie, Kamasi Washington, Robert Glasper and Flying Lotus in the last few years often took jazz into their music.
Somewhere in the past period Gogo Penguin also made a new score for Godfrey Reggio's cult film Koyaanisqatsi.
In 1982 director Godfrey Reggio tried to explain the relationship between man, nature and technology in his film Koyaanisqatsi. He showed a beautiful collage of picturesque landscapes and rolling clouds, with compelling music to go with it. Throughout the film no words were spoken.
CD Earth Time van Moon Trio van Jeroen van Vliet

In the two years that followed winning the Buma Boy Edgar Prize pianist Jeroen van Vliet played himself in the spotlight quite well. With his new Zeeland Suite Revisited for example, but also with his new Moon Trio.
One of the features of this trio is the use of electronic effects at both the piano and the bass. The music wants to be groovy and beautiful (with the acoustic piano sound) at the same time. The compositions are often simple, but the music has an emotional charge. Jeroen van Vliet – piano and electronics, Cord Heineking – double bass, bass guitar and effects, Mark Schilders – drums
'Mountain Hike' is a good example of this: low-key groove, very well played by Mark Schilders and Cord Heineking, with a nice piano melody and solo on top.
Unlike in many other music here no extreme dynamics are explored. It does not go from soft to very loud, or from few notes to a lot, or from silences to eruptions. The core of this music is some sort of stable lower layer and retained subtleties. (The choice of Mark Schilders on drums is a good one for that matter, because he can do that, as showed when he released his own album Fabrik some time ago). The electronics never predominates, but gives the overallsound some more special space.
A very strong album. The CD will be presented on October 9 in Paradox Tilburg (15:00).
3 songs of the album can be found HERE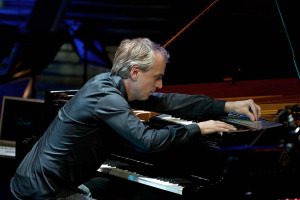 Jeroen van Vliet is known as a lyrical jazz pianist who combines a strong sense of melody and harmony with adventure and experimentation. His music is almost always personal, intimate and strong. Van Vliet can play very delictely as well as much rawer. He does that on fender rhodes for instance in Gatecrash, band of Eric vloeimans. He also plays completely free improvisation music concincingly, ao with Trio OGU (Bram Stadhouders- guitar and Etienne Nillesen – percussion).
He made his name in the group of saxophonist Paul van Kemenade and bassist Eric van der Westen, and on Fender Rhodes also with Eric Vloeimans' Gatecrash. Furthermore Jeroen also still plays solo; in Estafest (with Anton Goudsmit, Mete Erker and Oene van Geel), trio OGU, and ao in the bands of Michiel Stekelenburg and Simin Tander.
Last year he brought a Zeeland Suite Revisited, dedicated to (and often performed live outside in) the province of Zeeland. With references to the course Zeeland Suite Leo Cuypers wrote in the 70-ies.