Scroll down for English Version
It's Hard….
Op fotoos staan ze alledrie nogal eens norsig te kijken – alsof ze weinig zin hebben in de fotosessie… Maar zodra deze musici op het podium aan de slag gaan, is er sprake van een enorme concentratie, inzet en spelplezier. The Bad Plus geeft zijn geheimen pas na een tijdje prijs. Dat geld ook voor het nieuwe album dat nu wordt uitgebracht: It's Hard.
Met deze 11e studio opname "It's Hard" keert The Bad Plus terug naar het deconstrueren van popmuziek, waarmee ze hun eerste internationale erkenning kregen. Het album bevat popstukken uit de jaren 70 tot en met 2010, waaronder Time after Time (Cindi Lauper), I Walk the Line (Johnny Cash) en The Beautiful Ones (Prince).
In eerste instantie klinkt de muziek tamelijk eenvoudig of kalm. Bedrieglijk. De muziek blijkt complexer te zijn dan je dacht. Vaak is er een andere maatsoort of maatindeling gebruikt dan in het origineel; er zijn versnellingen of vertragingen, er is sprake van uitrekken of inkrimpen; er worden andere ritmes en harmonieën gebruikt. Daarmee wordt dan verder geïmproviseerd. Een effect dat The Bad Plus tot in de puntjes beheerst: complexe muziek maken op een soort onopvallende manier.
Uit de muziek van dit album blijkt eens te meer hoe goed deze musici elkaar kunnen volgen.
Reid Anderson-bas, Ethan Iverson-piano, David King-drums.
Dit najaar doet The Bad Plus weer een lange tour en speelt op 5-10 De Bijloke Gent; 7-10 Flagey Brussel; 17-10 Bimhuis Amsterdam
Samen met het Brad Mehldau Trio en Jason Morans Bandwagon wordt The Blad Plus vaak tot de beste pianotrio's van vandaag gerekend. The Bad Plus waren een van de eersten die het 'klassieke jazz-pianotrio' anders benaderden. Geen sprake meer van thema-solo-thema; geen dienende ritmesectie, die er vooral zit om de piano als solist te ondersteunen. Ze liepen voorop in die ontwikkeling. Hun insteek vanuit de jazz zorgt ervoor, dat ze altijd de muziek opnieuw uitvinden, herinterpreteren. Ze geven er hun eigen draai aan.
Al bijna 20 jaar trekt dit trio zich niets aan van jazzconventies. Van begin af aan speelden ze ook popliedjes, country- of klassieke/jazz stukken en bewerkingen van Ornette Coleman, Nirvana, Black Sabbath, Björk, Aphex Twin, Pink Floyd, David Bowie, Ligeti, Strawinsky en Gershwin. 
Ze ontrafelden die en gaven ze in een verbeterde versie aan de wereld terug! Door die eigenwijze houding en door hun energieke optredens over de hele wereld spreken deze drie Amerikanen al vele jaren een heel groot publiek aan.
Werd het trio aanvankelijk vooral bekend door hun aparte interpretaties van popcomposities, later speelden ze vaker hun eigen originals. Ook brachten ze een versie van Stravinsky's Le Sacre du Printemps. De laatste jaren vormen zij een kwartet met saxofonist Joshua Redman, waarin het gaat om een hechte, gelijkwaardige muzikale democratie. Redman was altijd al een hele goede jazz-saxofonist, maar in de muziek van The Bad Plus wordt zijn spel nog scherper. The Bad Plus kreeg er een nieuwe klankleur bij, die veel toevoegt aan hun eigen stukken.
ENGLISH
It's Hard…

They all can look a bit grumpy on photos – as if they don't feel like doing a photoshoot … But once these musicians get started on stage, there is a huge concentration, commitment and fun. The Bad Plus reveals its secrets only after a while. That also goes for the new album being released now: 'It's Hard'. On this 11th studio recording The Bad Plus returns to deconstructing pop music, that brought them their first international recognition. The album contains popsongs from the 70s to 2010, including Time after Time (Cindi Lauper), I Walk the Line (Johnny Cash) and The Beautiful Ones (Prince).
At first the music sounds fairly simple and calm. Deceptive. The music turns out to be more complex than you thought. Often another time signature is used than in the original; there are slow-donws or accelerations, there is stretching and shrinking; different rhythms and harmonies are being used. Then there is improvisation. An effect that The Bad Plus mastered to perfection: create complex music in a kind of discrete unnoted way.
This album shows once more how well these musicians follow each other.
Reid Anderson-bass, Ethan Iverson piano, David King on drums.
This fall, The Bad Plus is touring, they will perform at 5-10 De Bijloke Ghent; 7-10 Flagey Brussels; 17-10 Bimhuis Amsterdam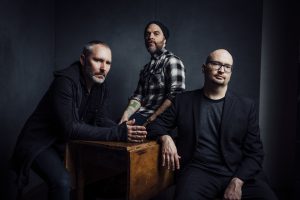 (photo Josh Coleman)
Along with the Brad Mehldau Trio and Jason Morans Bandwagon, The Bad Plus is regarded one of the best piano trios of today. The trio was one of the first to take a different approach to the 'classic jazz piano trio. No longer theme-solo-theme; no serving rhythm section, mainly supporting the piano soloist. They led the way in this development. Their jazz attitude ensures an never ending reinvention and reinterpretation of the music. They give it their own spin.
For almost 20 years, this trio takes no notice of jazz conventions. From the beginning they played pop songs, country- classical- and jazz pieces and arrangements of Ornette Coleman, Nirvana, Black Sabbath, Björk, Aphex Twin, Pink Floyd, David Bowie, Ligeti, Stravinsky and Gershwin. They deconstructed them it and came back with improved versions! This cocky attitude and their energetic performances aappeal to very large audience all over the world for many years now.
The trio was initially best known for their distinct interpretations of popcompositions; later on they played their own originals. They also performed a version of Stravinsky's Le Sacre du Printemps. In recent years they form a quartet with saxophonist Joshua Redman, which comes to a close, similar musical democracy. Redman has always been a very good jazz saxophonist, but in the music of The Bad Plus, his playing even gets sharper. For the Bad Plus a new timbre came into the music, which adds much to their own pieces.