Scroll down for English version
Trompettist Ambrose Akinmusire: een originele, poëtische virtuoos, die zowel liefhebbers van hedendaagse jazz als van pop weet aan te spreken.
Echte kenners, maar ook jonge nieuwe luisteraars vallen voor zijn diepe, donkere melodieën, gecombineerd met virtuoze solo's. Het is zorgvuldig gecomponeerde muziek, die genres overstijgt: modern klassiek, jazz, avant pop, spoken word. Met zijn composities en zijn spel bewijst hij één van de meest verrassende artiesten van zijn generatie te zijn.
Maandag 14 november 2016 Bimhuis Amsterdam
Akinmusire heeft een geweldige trompet techniek, maar 'alleen maar' virtuoos is hij niet: hij boort ook een diepere emotionelere laag aan. Inspiratie haalt hij uit allerlei muziek, van klassiek tot hiphop, maar ook uit actuele maatschappelijke onderwerpen. Al met al een progressieve (vooruitdenkende) musicus.
Als bandleider bracht hij tot nu toe drie albums uit, die allemaal lovende recensies kregen. De laatste daarvan heet The Imagined Savior is Far Easier to Paint.  Op die plaat zijn de vocale bijdragen van zangeressen Becca Stevens en Cold Specks een essentieel ingrediënt.
 Ambrose Akinmusire noemt daarvoor zangeressen als Joni Mitchell, Björk en Sarah Vaughan belangrijke invloeden.  De muziek op dat album is tamelijk uitgecomponeerd: dat wil zeggen, er is improvisatie, maar die is opgenomen binnen de composities. Voor Akinmusire was dat een nieuwe stap in zijn manier van muziek maken.
Hij ontwikkelde zijn eigen muzikale stijl door op zoek te gaan naar een dynamische manier van spelen en bovendien samen te werken met artiesten met hele verschillende achtergronden. Zo speelt hij bijvoorbeeld ook op het album To Pimp a Butterfly van de Amerikaanse rapper Kendrick Lamar. Een album met invloeden uit funk, spoken word en jazz.
Heavy stuff, maar wel heel jazzy

Ambrose Akinmusire groeide op in Californië, waar hij ontdekt werd door saxofonist Steve Coleman. Hij kreeg les van Herbie Hancock, Wayne Shorter en Terence Blanchard, en hij won de Thelonious Monk Competition in 2007. Hij werkte o.a. samen met Esperanza Spalding en Jason Moran, maar ook met Wolfgang Muthspiel, Kendrick Lamar en Snarky Puppy.
 In 2014 ontving hij de Paul Acket Award op het North Sea Jazz Festival.
ENGLISH
Trumpetplayer Ambrose Akinmusire: an original, poetic virtuoso, who appeals to both fans of contemporary jazz and pop.

Real connoisseurs, but also new young listeners fall for his deep, dark melodies, combined with virtuoso solos. It is carefully composed music that transcends genres: contemporary classical, jazz, avant pop, spoken word. With his compositions and his playing, he proves to be one of the most surprising artists of his generation.
Monday 14th Novermber 2016 Bimhuis Amsterdam
Akinmusire has a great trumpet technique, but 'only' virtuoso he is not: he broaches a deeper, more emotional layer. Inspiration he has all kinds of music, from classical to hip-hop, but also current social issues. Alltogether a forward thinking musician.
As a bandleader he released three albums so far, all of which received rave reviews. The last one is called The Imagined Savior's Far Easier to Paint. On that album, the vocal contributions of singers Becca Stevens and Cold Specks are essential. Ambrose Akinmusire calls singers like Joni Mitchell, Bjork and Sarah Vaughan important influences. The music on this album is fairly composed: that is to say, there is improvisation, but included within the compositions, not so much nesxt to it. For Akinmusire this was a new step in his way of making music.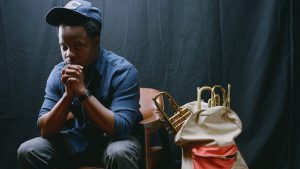 He developed his own musical style by searching for a dynamic style of playing and in addition to work with artists with very different backgrounds. For example he plays on the Kendrick Lamar To Pimp a Butterfly. An album with influences from funk, spoken word, but definitely also from jazz.
Ambrose Akinmusire grew up in California, where he was discovered by saxophonist Steve Coleman. He was taught by Herbie Hancock, Wayne Shorter and Terence Blanchard, and he won the Thelonious Monk Competition in 2007. He worked ao with Esperanza Spalding and Jason Moran, but also with Wolfgang Muthspiel, Kendrick Lamar and Snarky Puppy.
In 2014 he received the Paul Acket Award at the North Sea Jazz Festival.