Scroll down for English version
Urban avant jazz
Bassist Chris Lightcap is een 'muzikanten-musicus': collega's hebben hem hoog zitten en spelen graag met hem. Maar als bandleider is hij opvallender, en meer dan alleen een solide bassist, waar je op kunt bouwen. Binnenkort is hij in Nederland te horen met zijn quintet Bigmouth. Met daarin vier andere grootheden uit de Modern Creative vooruitstrevende nieuwe jazz: saxofonisten Tony Malaby en Chris Cheek, pianist/keyboardist Craig Taborn en slagwerker Gerald Cleaver.
De naam 'Bigmouth' komt aardig overeen met het geluid dat dit kwintet voortbrengt: dat is groot en grootsteeds. Urban Jazz, soms donker, soms lichter; soms jachtig en hectisch, soms stemmig. Neigend naar free jazz, maar ook met een duidelijke rockfeel.
19-3 Bimhuis Amsterdam, 20-3 LantarenVenster Rotterdam
Bigmouth's 3e album Epicenter (2015) is een ode aan Lightcaps stad New York en ieder stuk is geïnspireerd door een van de vele facetten van die meltingpot stad.
De openingstrack Nine South is krachtig en ingewikkeld; een Ornette Coleman-achtig stuk.
De twee tenorsaxen zorgen permanent voor een stevige sound, hoewel ze toch verschillend van karakter zijn: Malaby is wat barser, die van Cheek wat vriendelijker.
De onnavolgbare Caig Taborn speelt als altijd met gemak ingewikkelde patronen en solo's op piano of fender rhodes (of wurlitzer)
Hun bewerking van het avantgarde-popnummer All Tomorrow's Parties, van The Velvet Underground werd de hemel ingeprezen.
Velvet Underground's origineel
Lightcap houdt behalve van jazz, pop en avantgarde ook van West Afrikaanse muziek en hij geeft in zijn melodieën en harmonieën ruimte voor de band om met al die invloeden de diepte in te gaan.
Chris Lightcap werkt(e) samen met een heel scala aan jazzmusici uit de avantgarde scene, zoals Marc Ribot, Regina Carter, Craig Taborn,  Mark Turner, John Medeski, Jason Moran, Chris Potter, Paul Motian, John Scofield, Dave Liebman,  Anthony Braxton, Joe Morris, James Carter ea. Hij is te horen op meer dan 60 platen.

Chris Lightcap speelt ook in het quartet van Craig Taborn, die net een nieuw album heeft  uitgebracht bij ECM. Hier de trailer
ENGLISH
Urban avant jazz
Bassist Chris Lightcap is a musicians musician: colleagues praise him and like to play with him. But as a bandleader he sticks out, and is more than just a solid bass player that you can lean on. This month he will perform in the Netherlands with his quintet Bigmouth. With four other greats from the progressive new jazzscene: saxophonist Tony Malaby and Chris Cheek, pianist/keyboardist Craig Taborn and drummer Gerald Cleaver.
The name 'Bigmouth' is quite accurate to describe the sound produced by this quintet: it's big. Urban Jazz, sometimes dark, sometimes lighter; sometimes hectic, sometimes moody. Tending to free jazz, but also with a clear rock feel.
19-3 Bimhuis Amsterdam, 20-3 LantarenVenster Rotterdam
Bigmouth's 3rd album Epicenter (2015) is a tribute to New York City: each piece is inspired by the melting pot of the many facets of the city.
Their interpretation of the Velvet Underground avant-garde pop song All Tomorrow's Parties, was praised highly.
The CD opening track Nine South is powerful and complex, an Ornette Coleman-like piece.
The two tenor saxes permanently produce a solid sound, although they do differ in character: Malaby a little bit harsh; Cheek a little bit friendlier.
The inimitable Caig Taborn like always plays intricate patterns and solos with ease on piano and fender rhodes (or wurlitzer)
In addition to jazz, pop and avant-garde Lightcap also loves West African music and his melodies and harmonies leave room for the band to deepen all those influences.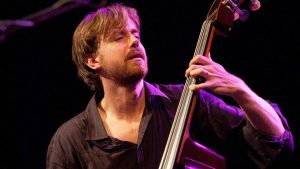 (photo Nada Žgank)
Chris Lightcap has a huge track record in the avant-garde scene,he worked with the likes of Marc Ribot, Regina Carter, Craig Taborn, Mark Turner, John Medeski, Jason Moran, Chris Potter, Paul Motian, John Scofield, Dave Liebman, Anthony Braxton, Joe Morris, James Carter and others. He can be heard on more than 60 albums.