Scroll down for English version
Modern creative urban jazz
De afgelopen jaren heeft trompettist Marquis Hill de Chicago jazzscène vernieuwd met zijn strakke benadering van moderne jazz met elementen van gesproken woord en hiphop.
Hij geldt als een 'grote belofte' voor nieuwe jazz, zeker sinds hij de Thelonious Monk International Jazz Competition won in 2014 (een competitie voor jonge jazzmusici). Enn dergelijke prijs helpt een jonge carrière flink vooruit. Hill kreeg hierdoor bijvoorbeeld een contract op bij Concord Records, waar hij vorig jaar het album The Way We Play uitbracht.
25-10 Paradox Tilburg, 27-10 Bimhuis Amsterdam, 28-10 LantarenVenster Rotterdam
Marquis Hill trompet, Josh Johnson altsax, Joel Ross vibrafoon, Jeremiah Hunt bas, Makaya McCraven drums
Anders dan op zijn eerdere albums, waarop alleen originele tracks van Hill te horen zijn, staan op dit album een handvol jazz-standards, die Hill leerde spelen toen hij op high-school zat. Hancocks Maiden Voyage, Monks Straight No Chaser en Donald Byrds Fly Little Bird Fly zijn er een paar.
Hill vernieuwde ze door zwaardere nadruk te leggen op de groove, waardoor de composities beter aansluiten bij een 21-eeuws jazz publiek. Maar ook zijn eigen composities zijn modern, strak en eclectisch in een samengaan van post-bop, hip-hop, R & B en Spoken Word.
Zijn trompetsound is heel warm. Hij gebruikt een techniek die vooral door saxofonisten wordt gebruikt: 'subtone spelen'. Dat betekent, dat je extra lucht door je instrument heen blaast, waardoor de sound extra ruis meekrijgt, iets rauwer klinkt en meestal ook als heel sexy wordt ervaren 😉
Chicago is van oudsher een bakermat van jazz. Sinds pioniers als Louis Armstrong, Jelly Roll Morton en King Oliver heeft de Windy City vele verschillende jazztitanen voortgebracht: van Benny Goodman en Bud Freedman tot aan Muhal Richard Abrams, Jack DeJohnette en Herbie Hancock. Marquis Hill past nu ook in dit lijstje.
In 2014 verhuisde hij naar New York – maar speelt nog steeds heel regelmatig in Chicago. Hij speelt verder oa ook in de band van drummer Makaya McCraven, (die op zijn beurt weer lid is van Hills Blacktet). Ook is hij wel sideman bij oa Marcus Miller en Joe Lovano.
In onderstaande video hoor je de radio uitzending op NPR die (bassist) Christian McBride over hem maakte. Met 3 stukken muziek hierin.
ENGLISH

Modern creative urban jazz
In recent years, trumpeter Marquis Hill has renewed the Chicago jazz scene with his tight approach to modern jazz with elements of spoken word and hip hop.
He holds true as a "great promise" for new jazz, especially since he won the Thelonious Monk International Jazz Competition in 2014 (a competition for young jazz musicians). A prestiguous award ikte that helps a young career a lot. So for example, Hill got a contract at Concord Records, where he released the The Way We Play album last year.
25-10 Paradox Tilburg, 27-10 Bimhuis, 28-10 LantarenVenster Rotterdam
Marquis Hill trumpet, Josh Johnson altsax, Joel Ross vibraphone, Jeremiah Hunt bass, Makaya McCraven drums
Unlike his previous albums, on which only original tracks from Hill are heard, this album contains a handful of jazz standards, which Hill learned when playing at high school. Hancocks Maiden Voyage, Monks Straight No Chaser and Donald Byrds Fly Little Bird Fly to name a few.
Hill actualised them by placing heavier emphasis on the groove, making the compositions more suitable for a 21st century jazz audience. But his own compositions are also modern, tight and eclectic in a combination of post-bop, hip-hop, R & B and Spoken Word.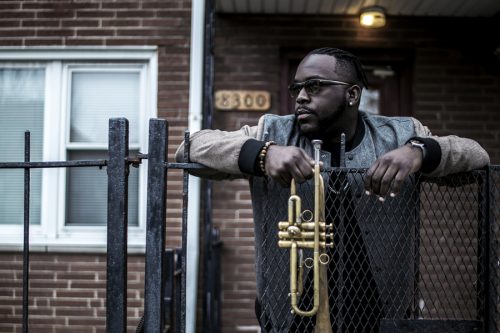 His trumpet sound is very warm. He uses a technique used primarily by saxophonists: 'subtone play'. This means that you blow extra air through your instrument, giving the sound extra noise, a somewhat rawer sound and usually also percieved as very sexy 😉
Chicago has traditionally been a cradle of jazz. Since pioneers like Louis Armstrong, Jelly Roll Morton and King Oliver, the Windy City has produced many different jazz titans: from Benny Goodman and Bud Freedman to Muhal Richard Abrams, Jack DeJohnette and Herbie Hancock. Marquis Hill is now also on this list.
In 2014, he moved to New York – but still plays very regularly in Chicago. He also plays in the band of drummer Makaya McCraven, who in turn is a member of Hills Blacktet. He is also a sideman with Marcus Miller and Joe Lovano.