Scroll down for English version
De 7e editie van het enige echte Amsterdamse jazzfestival, 17 maart in Studio/K.
Zo veel mogelijk Amsterdamse jazzmuzikanten uit verschillende stromingen op één avond, onder één dak samenbrengen. Met dat doel werd Jazzfest Amsterdam in 2011 geïnitieerd door jazzdrummer Felix Schlarmann en vocalist Norbert Kögging. 
Het draait bij Jazzfest niet zozeer om 'grote namen' maar om verrassingen en nieuwe combinaties op het podium. Het festival duurt 1 dag, maar die zit dan ook van 's middags tot 's nachts helemaal vol met 14 concerten in 4 zalen.
Het volledige programma vind je HIER
Toch staan er ieder jaar wel een paar grote namen op het festival, zeker in de categorie 'Bekend Maar Nog Niet Bekend Genoeg'.
Dit jaar bijvoorbeeld zangeressen Becca Stevens en ook Nora Fischer.
 De eerste gaat een samenwerking aan met kamerjazz trio Chambertones, en de tweede met pianist Tony Roe. In beide gevallen een première.
Verder speelt de Duitse pianist Pablo Held voor het eerst samen met Amsterdamse tenorsaxofonist Jasper Blom en gaat de Amerikaanse gitarist Peter Bernstein – die in die week toevallig in Amsterdam vertoeft als gastdocent aan het Conservatorium – spelen met zijn Nederlandse vakbroeder op gitaar Martijn van Iterson, drummer John Engels (die zijn hele leven al om de hoek van Studio/K woont) en bassist Tobias Nijboer.
Nieuwkomers zijn er ook: de Mexicaanse Fuensanta Méndez met haar poëtische, verfijnde en tegelijkertijd brutale composities; de Portugese vibrafonist Eduardo Cardinho; het kwartet van de virtuoze Spaanse trompettist Bruno Calvo, waarin ook Ben van Gelder meespeelt.
Het Floris Kappeyne Trio omarmt klassieke jazztradities met invloeden van o.a. McCoy Tyner en geldt als een van de grote beloftes. Al deze musici studeren – of zijn inmiddels afgestudeerd – aan het Conservatorium van Amsterdam.
Daarnaast het trio van ud-speler Mehmet Polat, over wie op deze site al een blog staat: zie hier
In dit blog worden zes acts van Jazzfest 2018 uitgelicht.
De wereldpremière van een nieuwe combinatie: Chambertones & Becca Stevens. Chambertones behoort tot de warmste ensembles van de Nederlandse jazzmuziek. Jesse van Ruller (gitaar), Clemens van der Feen (contrabas) en Joris Roelofs (basklarinet) maken uitgekiende kamerjazz.
Mede door de fijnzinnige bezetting van gitaar, bas en basclarinet is hun muziek is ruimtelijk en warm, maar ook uitbundig en ritmisch op z'n tijd.
De innemende Amerikaanse jazzzangeres, singer-songwriter en ukelele-speler Becca Stevens heeft een fluwelen, uit duizend herkenbare stem en ze schuwt geen vocale avonturen. De vier musici willen zoveel mogelijk open laten wat ze op het podium gaan spelen: zo ontstaat écht spannende muziek van het moment.
De carrière van Becca Stevens heeft in de afgelopen jaren een enorme vlucht genomen. In 2013 stond ze nog in een klein bovenzaaltje op het North Sea Jazz Festival. Ze was toen alleen nog in kleine kring bekend om haar vindingrijke mix van indiepop, jazz en Appalachen-folk. Inmiddels toerde Becca wereldwijd met grote artiesten als Brad Mehldau, Esperanza Spalding, Ambrose Akinmusire en Snarky Puppy.
Becca Stevens – zang, ukelele, Jesse van Ruller – gitaar, Joris Roelofs – klarinet, basklarinet, Clemens van der Feen – contrabas
Fuensanta Méndez

De eigenzinnige zangeres, songschrijfster en bassiste Fuensanta Méndez doet iets echt opmerkelijks. Geboren in Mexico liggen haar roots liggen in de Latijns-Amerikaanse muziek. Een voorliefde voor gedichten komt terug in haar songs: soms verfijnd en kleurrijk, soms avant-gardistisch en rauw. In 2016 won Fuensanta Méndez Quintet de Persprijs tijdens het Prinses Christina Jazz Concours.
 De andere muzikanten in het kwintet zijn eveneens afkomstig van het Conservatorium: de Israëlische drummer Guy Salamon, de Deense bassist Teis Semey, de Armeens/Russische pianiste Liya Grigoryan en de Italiaanse tenorsaxofonist Nicolò Ricci.
Nora Fischer, Tony Roe
De modern klassieke mezzosopraan Nora Fischer maakt regelmatig uitstapjes naar jazz. Ze maakte bijvoorbeeld deel uit van Reinier Baas' jazzopera Princess Discombobulatrix en The Secret Diary of Nora Plain, een liedcyclus van Morris Kliphuis en Lucky Fonz III. 
Pianist Tony Roe (Tin Men and the Telephone) en Nora Fischer ontmoetten elkaar bij Splendor, een muzikantencollectief in Amsterdam.
Beiden zijn klassiek geschoold maar houden er niet van zich te beperken tot één genre. (Nora is de dochter van de Hongaarse componist en dirigent Ivan Fischer). Als ze samen het podium betreden, en de muziek spelen van Maurice Ravel, Béla Bartók and Kurt Weill, weten ze van tevoren nooit precies hoe dat zal gaan klinken.
Over de creatieve en innovatieve Tony Roe is op deze site nog meer te vinden:
een blog over hem, en een blog over Tin Men & the Telephone.
Roe is ook industrieel ontwerper en bezig muziek creëren uit niet-muzikale elementen, zeker in het immer experimenterend en interactieve Tin Men & The Telephone.
Eduardo Cardinho
De vibrafoon gaat al heel lang mee in de jazz, maar echt véél vibrafonisten zijn er nu ook weer niet. Eduardo Cardinho is een veelgeprezen vibrafonist uit de Portugese jazz scene en studeert aan het Conservatorium van Amsterdam, waar overigens heel veel buitenlandse musici komen (zo'n 50 verschillende nationaliteiten). Cardinho weet zijn publiek te raken. Zijn kwintet speelt intens en de stukken zijn melodieus, harmonieus en energiek.
Eduardo Cardinho – vibrafoon, José Soares – altsaxofoon, Youngwoo Lee – piano, Mauro Cottone – bas, João Guerra – drums
Nóg een nieuwe samenwerking op Jazzfest in een geheel onverwachte combinatie: het duo van pianist Wolfert Brederode en gitarist en sound-experimentator Raphael Vanoli.
Zowel in het duo Knalpot (met drummer Gerri Jäger) als in zijn solo performances zoekt Raphael Vanoli naar een mengvorm van electronische en akoestische geluiden, die via zijn gitaar een nieuwe geluidstaal moeten opleveren. Hij creëert die muziek ter plekke (live.)
Wolfert Brederode maakt kalme, uiterst sfeervolle jazz met een hang naar klassieke muziek. Niet méér noten, maar minder! Hij bracht met zijn trio een album uit bij ECM.
Raphael Vanoli – gitaar, effecten, Wolfert Brederode – piano
Pablo Held
De Duitse pianist en rising star Pablo Held komt naar Jazzfest met zijn trio, en heeft de Amsterdamse saxofonist Jasper Blom als gastmusicus. Held is met zijn trio in Duitsland erg succesvol, heeft onlangs een plaat gemaakt met gitaarlegende John Scofield en speelde ook al eens met Chris Potter. In Nederland is het Pablo Held Trio nog 'aangenaam onontdekt' maar vast niet lang meer. Een jazz-piano-trio, maar steeds op zoek naar onverwachte wegen in de muziek.  
Pablo Held – piano, Jasper Blom – saxofoon, Robert Landfermann – bas, Jonas Burgwinkel – drums
ENGLISH
Jazzfest Amsterdam 2018

To bring together as many Amsterdam jazz musicians as possible from different movements and angles, one evening, one venue.

With this in mind, Jazzfest Amsterdam was initiated in 2011 by jazz drummer Felix Schlarmann and vocalist Norbert Kögging. Jazzfest is not so much about 'stars' but about surprises and new combinations on stage. The festival lasts for one day only, but from the afternoon until after midnidght it is completely packed with 14 concerts in 4 theaters. You can find the complete program HERE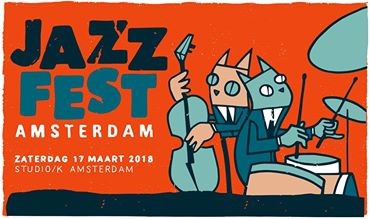 A few 'big names' can be found every year at the festival though, especially in the category 'Deserving Wider Recognition'.
This year, for example, singers Becca Stevens and also Nora Fischer. The first is working together with chamber jazz trio Chambertones, and the second with pianist Tony Roe. In both cases a premiere.
Furthermore, the German pianist Pablo Held performs together with Amsterdam tenor saxophonist Jasper Blom for the first time. American guitarist Peter Bernstein – who happens to be in Amsterdam as a guest teacher at the Conservatory – will play with his Dutch professional equal on guitar Martijn van Iterson, together with drummer John Engels and bassist Tobias Nijboer.
There are also newcomers: the Mexican Fuensanta Méndez with her poetic, refined and at the same time cheeky compositions; the Portuguese vibraphonist Eduardo Cardinho; the quartet of the virtuoso Spanish trumpeter Bruno Calvo, in which altosax player Ben van Gelder participates. 
The Floris Kappeyne Trio that embraces classical jazz traditions with influences from, a.o. McCoy Tyner and is one of the great promises. All these musicians are studying – or have graduated – at the Conservatorium van Amsterdam. 

In addition, the trio of ud player Mehmet Polat, who already has a blog on this site: here.
In this blog six acts of Jazzfest 2018 are highlighted.
The world premiere of a new combination: Chambertones & Becca Stevens. Chambertones is one of the warmest ensembles of Dutch jazz music. Jesse van Ruller (guitar), Clemens van der Feen (double bass) and Joris Roelofs (bass clarinet) make sophisticated chamber jazz. Partly due to the subtle line-up of guitar, bass and bass clarinet, their music is spacious and warm, but also exuberant and rhythmic in its time. The engaging American jazz singer, singer-songwriter and ukulele player Becca Stevens has a velvet, one-out-of-1000 voice and she does not shy away from vocal adventures. The four musicians want to leave open what they are going to play on stage as much as possible: that is how really exciting music is created in the moment.
Becca Stevens' career has grown fast in recent years. In 2013 she was still performing in a small upstairs room at the North Sea Jazz Festival. At that time she was only known in a small circle for her inventive mix of indie pop, jazz and Appalachian folk. Meanwhile, Becca toured worldwide with great artists such as Brad Mehldau, Esperanza Spalding, Ambrose Akinmusire and Snarky Puppy.
Becca Stevens – vocals, ukulele, Jesse van Ruller – guitar, Joris Roelofs – clarinet, bass clarinet, Clemens van der Feen – double bass

Fuensanta Méndez

The quirky singer, songwriter and bassist Fuensanta Méndez does something really remarkable. 
A preference for poems is reflected in her songs: sometimes refined and colorful, sometimes avant-garde and raw. Born in Mexico, her roots lie in Latin American music. In 2016, Fuensanta Méndez Quintet won the Press Award at the Princess Christina Jazz Competition. The other musicians in the quintet also come from the Conservatory: the Israeli drummer Guy Salamon, the Danish bassist Teis Semey, the Armenian / Russian pianist Liya Grigoryan and the Italian tenor saxophonist Nicolò Ricci.
Nora Fischer, Tony Roe
The modern classical mezzo-soprano Nora Fischer regularly dives into jazz projects. She participated in Reinier Baas' jazz opera Princess Discombobulatrix and The Secret Diary of Nora Plain, a song cycle by Morris Kliphuis and Lucky Fonz III. Pianist Tony Roe (Tin Men and the Telephone) and Nora Fischer met at Splendor, a musicians collective in Amsterdam. Both are classically trained but do not like to confine themselves to one genre. (Nora is the daughter of the Hungarian composer and conductor Ivan Fischer). When they enter the stage together, and play the music of Maurice Ravel, Béla Bartók and Kurt Weill, they never know exactly how it will sound beforehand. 

About the creative and innovative Tony Roe you can find more on this site:
a blog about him, and a blog about Tin Men & the Telephone.
Eduardo Cardinho
The vibraphone has been involved in jazz for a long time, but tehn again, we don't see a lot of vibraphonists climbing the jazz stage. Eduardo Cardinho is a highly acclaimed vibraphonist from the Portuguese jazz scene and studies at the Conservatorium van Amsterdam, where a lot of foreign musicians zre to be found(about 50 different nationalities). Cardinho knows how to hit his audience. His quintet plays intensely and the pieces are melodic, harmonious and energetic.
Eduardo Cardinho – vibraphone, José Soares – alto saxophone, Youngwoo Lee – piano, Mauro Cottone – bass, João Guerra – drums

Another new collaboration at Jazzfest in a completely unexpected combination: the duo of pianist Wolfert Brederode and guitarist and experimenting sound-designer/guitarist Raphael Vanoli.

In the duo Knalpot (with drummer Gerri Jäger) as well as in his solo performances, Raphael Vanoli is always searching for a mixture of electronic and acoustic sounds, producing a new sound language trough his guitar. He creates that music on the spot (live) 

Wolfert Brederode makes calm, extremely atmospheric jazz with a classical touch. Not one muscial note to many! He and his trio released an album with ECM.

Raphael Vanoli – guitar, effects, Wolfert Brederode – piano

Pablo Held

The German pianist and rising star Pablo Held comes to Jazzfest with his trio, and Amsterdam saxophonist Jasper Blom is his guest musician. Held is very successful with his trio in Germany, has recently made a record with guitar legend John Scofield and also played with Chris Potter. In the Netherlands, the Pablo Held Trio is still kind of undiscovered, but that won't last much longer… A jazz piano trio, but always looking for unexpected paths in music.

Pablo Held – piano, Jasper Blom – saxophone, Robert Landfermann – bass, Jonas Burgwinkel – drums