Scroll down for English version
Twee giganten
Op de laatste editie van Jazzfest Amsterdam in november speelden bassist Ernst Glerum en gitarist Jasper Stadhouders – voor het eerst – als duo. Een geweldig concert!
Het duo speelde stukken van oa Sean Bergin, Ornette Coleman, Eric Dolphy.
Duidelijke composities met een kop en een staart. Deze twee musici gingen daar uiterst creatief mee om. Ze speelden niet alleen de composities, ze speelden ook mèt de composities: thema's, harmoniën, tempi konden worden uitgerekt of opgejaagd; kaler gemaakt of juist verdicht; gebracht met veel dynamiek. Hier is natuurlijk nog geen plaat van gemaakt….. misschien gebeurt het in de nabije toekomst. Wel  is er deze video van Jasper Stadhouders, waar hij Lonely Woman (Ornette Coleman ) speelt. Die geeft een indruk van hoe het er ook aan toe ging bij het duoconcert.
Vandaag een blog over recente releases van beide musici.

CD Handful, Glerum Omnibus

Groovy jazz
Bassist Ernst Glerum (oa bekend van ICP Orchestra) heeft een klein eigen label, Favorite Records, speciaal bedoeld om zo nu en dan albums uit te brengen van eigen projecten.
Handful is het 10e album op het label.
Glerum Omnibus is een band met een wisselende line-up.
Hier bestaat het trio uit Ernst Glerum – bas, Timothy Banchet – piano en Jamie Peet – drums.
Vijf van de 10 stukken op de CD zijn van Glerum zelf: het zijn de sterkste stukken, groovy en jazzy tegelijk.
Ernst Glerum is niet alleen bassist in talloze jazz & impro groepen (o.a. ICP, Benjamin Herman),
hij speelt ook regelmatig als pianist, èn hij houdt van strijken op zijn contrabas.
Op Favorite records bracht hij vorig jaar een EP uit met de virtuoze pianist Uri Caine.
(op deze site staat daarover ook een blog, zie HIER)
Glerum werd in de jaren 90 lid van het ICP (Instant Composers Pool Orchestra van Misha
Mengelberg en Han Bennink) en maakte deel uit van groepen van o.a. pianist Guus Janssen,
saxofonist Sean Bergin, Bennink/Borstlap/Glerum, Available Jelly.
Jamie Peet is een jonge en strak spelende drummer die zijn hand niet omdraait voor moderne (broken) beats. Hij speelt behalve met Ernst Glerum verder oa in het trio van pianist Dominic J Marshall en is steeds vaker een veelgevraagd sideman.
Jamie Peet met een andere moderne urban alleskunner Lars Dietrich

Naast het freelance spelen met verschillende formaties in uiteenlopende stijlen heeft Timothy Banchet een eigen trio. Deze groep (met Danny William en Jamie Peet) probeert alle muzikale geluiden die ze tot nu toe hebben gehoord, met name jazz en moderne urban music, samen te voegen tot een geheel.
Timothy speelde tot nu toe o.a. met: Reinier Baas, Benjamin Herman, Jesse van Ruller, Maarten Hogenhuis.
CD Sounds in a Garden, Wolter Wierbos/Jasper Stadhouders/Tim Daisy
(resp. trombone, gitaar, drums)
Een opname uit Chicago waar deze 3 musici een geheel geïmproviseerde set opnamen.
Muziek die concentratie vereist. Dat loont wel – want de drie musici spelen heel goed samen;
ze buigen met elkaar mee in verschillende richtingen, soms hard en knetterend, soms zacht en subtiel. Het zijn alle drie echte onderzoekers, die ook solo optredens doen, altijd geheel geïmproviseerd.
Jasper Stadhouders zoekt de extreme kant op met zijn gitaar. Hij besteedt veel tijd aan klankonderzoek en nieuwe technieken. Hij speelt solo impro concerten;
hardcore impro in Cactus Truck en keiharde complexe rock impro in Spinifex.
 Hij speelt al
vanaf zijn 8e jaar gitaar op het podium (net als zijn broer Bram Stadhouders).
Daarnaast is hij ook te vinden in oa het Stadhouders/Govaert/De Joode Trio en Lily's Déjà Vu,
en af en toe in het gebied van dans, theater en hedendaags gecomponeerde muziek.

Wolter Wierbos heeft een enorme staat van dienst, met name op het gebied van vrije improvisatie
en instrument-onderzoek. Hij wordt wereldwijd beschouwd als een van de meest toonaangevende trombonisten. Hij speelde in talloze ensembles, waaronder het ICP, Available Jelly, JC Tans & Rockets, Theo Loevendie Quintet, Guus Janssen Septet, Loos (Peter van Bergen), Maarten Altena Ensemble en Podiumtrio. Ook speelt hij meer dan eens in theater, film- en dansprojecten.

Tim Daisy is een drummer uit Chicago, vooral aktief  in het gebied van geïmproviseerde en gecomponeerde muziek. Ook is hij marimbaspeler, en componeert hij.

ENGLISH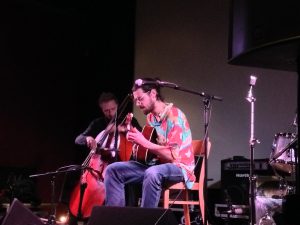 Two Giants
Bassist Ernst Glerum and guitarist Jasper Stadhouders  recently played as a duo- for the first time.
A great concert! The duo played pieces by Sean Bergin, Ornette Coleman, Eric Dolphy.
Distinct compositions with a beginning and an ending. These two musicians handled them in a very crreative way. They not only played the pieces, they also played WITH the compositions: themes, harmonies, tempos could be stretched or speeded up; thinned or condensed or properly; using dynamics. There is no video to be found of this performance – maybe in the near future…
However, there is this video of Jasper Stadhouders where he playsLonely Woman (Ornette Coleman). It gives an idea of how the duo concert sounded.
Today, a blog about recent releases of both musicians.
CD Handful, Glerum Omnibus
groovy jazz
Bassist Ernst Glerum (ICP Orchestra) has a small record label, Favorite Records, meant to release albums of his own projects. 'Handful' is the 10th album on the label. Glerum Omnibus is a band with
a changing line-up. Here, the trio consists of Ernst Glerum – bass, Timothy Banchet – piano and
Jamie Peet – drums. Five out of 10 pieces on the CD are originals by Glerums: they are the
strongest pieces, groovy and jazzy.
Ernst Glerum not only plays the bass in numerous jazz and improv groups (ao ICP, Benjamin Herman), he also regularly plays as a pianist, and he loves to use the bow on his bass.
On Favorite Records he released an EP last year with the virtuoso pianist Uri Caine.
(On this site  there's a blog about it,  HERE)
Back in the 90's Glerum became a  member of the ICP (Instant Composers Pool Orchestra of Misha Mengelberg and Han Bennink) and was bassplayer in different ensembles, ao of pianist Guus Janssen, saxophonist Sean Bergin, Bennink /Borstlap/Glerum, Available Jelly.
Jamie Peet is a young and tight playing drummer who easily plays all kinds of urban (broken) beats. Next to plahying with Ernst Glerum, he's a member of the trio of pianist Dominic J Marshall,
and he is more and more a sought after sideman.
Besides freelance playing with different formations in varying styles Timothy Banchet has its own trio. This group (with Danny William and Jamie Peet) tries  to merge all the musical sounds they have heard so far, especially jazz and modern urban music, into one.
Timothy has played with, ao: Reinier Baas, Benjamin Herman, Jesse van Ruller, Maarten Hogenhuis.
Sounds CD in a Garden Wolter Wierbos/Jasper Stadhouders/Tim Daisy
(Resp. trombone, guitar, drums)
A recording from Chicago where the three musicians improvised a whole set of music.
Music that requires concentration. It works – because the three musicians play very well together;
they bend along with each other in different directions, sometimes loud and crackling, sometimes soft and subtle. All three are genuine researchers, who also play completely improvised solo performances.
Jasper Stadhouders looks for the extreme with his guitar. He spends a lot of time on sound research. and extended techniques. He plays improvised solo concerts; hardcore improv in Cactus Truck; complex rock improvisation in Spinifex.
He's been performing on stage since he was 8 years guitar (like his brother Bram Stadhouders).
He is also to be found in Trio Stadhouders/Govaert/De Joode and Lily's Déjà Vu, and occasionally
in the fields of dance, theater and contemporary music.
Wolter Wierbos has a tremendous track record, particularly in the field of free improvisation and instrument research. He is considered worldwide as one of the leading trombonists. He played in numerous ensembles, including the ICP, Available Jelly, JC Tans & Rockets, Theo Loevendie Quintet, Guus Janssen Septet, Loos (Peter van Bergen), Maarten Altena Ensemble and Podium Trio.
He often played in theater, film and dance projects.
Tim Daisy is a drummer from Chicago, primarily active in the field of improvised and composed music. He is also a marimba player, and composes as well .