Subtiel, melancholiek, ritmisch en MOOI

'Achter de horizon is alles mogelijk!' is het motto van het Horizon Trio bestaande uit Steven Kamperman, Nederlands altklarinettist; Sanem Kalfa, betoverend Turkse zangeres en George Dumitriu, groovend Roemeense gitarist/violist.
Hun eerste CD uit: 'Catch it if You Can' (Zennes records), wordt op 8 november gepresenteerd in De Roode Bioscoop in Amsterdam. Composities van Steven Kamperman op poëtische teksten van de jonge Turkse dichter Orhan Günes.
Sleepless Cat: een breekbaar, mooi liedje. Onder de video de Engelse vertaling van de liedtekst

'Just in front of the window, The sleepless cat.Wet as the street.Obviously, she's scared…
Folksy, thin, like feather.Running away from rain, just like me
Just before the moon. The dauntless cat. I run away from darkness, She does from rain
Obviously, we are both crazy… Our eyes meet each other, hey, sleepless cat!!!'
Hoe te schrijven voor een bezetting van altklarinet, gitaar/viool en zang? De stukken op de plaat zijn door Steven Kamperman ingenieus gecomponeerd. Mooie melodielijnen, groovende ritmes, 'open' geschreven, maar ook voldoende ingevuld in harmonie. Klarinet en viool en gitaar hanteren een wisselende rolverdeling: soms meegaand met de melodie, soms ritmische begeleidend, soms allebei baslijnen spelend. Het resultaat is Kamerwereldjazz (nieuw woord!) – mooi, soms breekbaar,  subtiel, melancholisch, ritmisch, en steeds met ruimte voor improvisaties.
Titelstuk van de CD is een ritmisch en snel stukje, waarin ruimte is voor vocale improvisatie.
Het trio speelt op 8 november in de Roode Bioscoop Amsterdam, 21:00
15 november Ujazz in Mirlton, Utrecht, 20.30
24 november Grounds Rotterdam, 15:00
Penguin

The rain was shouting. Then the moon appeared. To the penguins that waddled ashore. Silvery lights crowned the night. Single love triangles in their pockets .With painful faded colors Thousands of silent penguins. Colored their bodies
That was a dream. The face of the sky and the earth was eternal
Both of us, Crushing stones with our patient hearts. Walked like penguins From our old lives
Altklarinettist Steven Kamperman was jarenlang actief met wereldjazz-ensemble Baraná. Zangeres Sanem Kalfa won in 2010 het internationale Montreux Jazz Vocalisten Concours. Gitarist George Dumitriu won in zijn jeugd verschillende prijzen als klassiek violist voordat hij zich ontwikkelde tot een avontuurlijke jazzgitarist.
In 2002 was Steven Kamperman medeoprichter van het Turks-Nederlandse wereld jazz ensemble Baraná met zanger Behsat Üvez. Baraná maakte een serie aantal heel goed ontvangen projecten, tot aan de dood van Behsat Üvez in 2012.
Sinds 2011 heeft Kamperman ook een duo met de Franse draailier virtuoos Valentin Clastrier, en een zijn acoustisch kwartet Carrousel (met pianist Jeroen van Vliet, bassist Meinrad Kneer en drummer Andreas Pichler). Steven Kamperman doet ook solo klarinet optredens met zijn programma Dialogues. Het is een serie gesprekken tussen "dit" en "dat". 'Dit' kan een klarinet en zijn 'dat' een stem, of 'dit' kan een standpunt en 'dat' het tegendeel.
ENGLISH VERSION
Horizon Trio: Chamber World Jazz
Beautiful, subtle, melancholic , rhythmic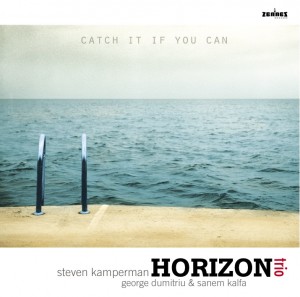 The name of the Horizon trio is taken from the (musical) motto: "Behind the horizon, anything might happen." The trio consists of Steven Kamperman, Dutch altoklarinettist; Sanem Kalfa , enchanting Turkish singer and George Dumitriu, grooving Romanian guitarist/violinist.
They released their first CD, " Catch it if you can" (Zennes records). With compositions by Steven Kamperman on poetic texts of the young Turkish poet Orhan Gunes .
How to write for an ensemble with alto clarinet, guitar/violin and vocals? The pieces are ingeniously composed by Steven Kamperman. Beautiful melodies , groovy rhythms, 'open' music , but also sufficiently completed in harmony. Clarinet and violin and guitar switch roles: sometimes going along with the melody, sometimes accompanying rhythmicly , sometimes both playing bass lines. The result is Chamber World Jazz (new word ! ) – Beautiful, sometimes fragile , subtle, melancholis, rhythmic, and always with room for improvisation .
Altoklarinettist Steven Kamperman was active for many years with world jazz ensemble Baraná. Singer Sanem Kalfa won the 2010 Montreux International Jazz Vocal Competition. Guitarist George Dumitriu won in his youth severals prices as a classical violinist before he developed into an adventurous jazz guitarist.
In 2002, Kmaperman co-founded the Turkish-Dutch World Jazz ensemble Baraná with singer Behsat Üvez. Baraná succesfully created several well-received projects, untill the death of Behsat Uvez in 2012.
Since 2011, Kamperman has also been performing in a duo with the French hurdy-gurdy virtuoso Valentin Clastrier, and with his acoustic quartet Carrousel (with pianist Jeroen van Vliet, bassist Meinrad Kneer and drummer Andreas Pichler).
Steven Kamperman performs solo alto clarinet with his program Dialogues. It is a series of conversations between 'this' and 'that'.
'This' may be a clarinet and 'that' a voice, or 'this' may be one point of view and 'that' the contrary.