Opwekkende mix van jazz, indierock, roots en impro


Day of the Tentacle: vrolijke pop met af en toe een gekke twist (met Kliphuis op cornet), en een paar heftige soloos van gitaar en cornet.
Deze week verschijnt het 2e album van trio Kapok: 'Kapok' (buzz, challenge records)
'Jong, fris, spontaan, innovatief, origineel,energiek, hongerig talent, ideeënrijk'; de superlatieven buitelden haast over elkaar heen voor de vorige (debuut) CD 'Flatlands'.
Met deze 2e plaat bevestigt het trio zijn snel opgebouwde reputatie. Opnieuw een opwekkende mix van jazz, afro, pop, rock en impro in een bezetting zonder bas.
Morris Kliphuis – hoorn, cornet; Timon Koomen – gitaar; Remco Menting – drums, percussie.
Americana: opgewekt en in een lekker tempo

Kapok combineert elementen uit heel verschillende genres en tradities: de energie en compacte vorm van pop en funk, de grooves en percussie van (afro)rootsmuziek, de interactie en abstracte geluiden van vrije improvisatie, en de frasering en harmonieën van jazz. Ook de line-up is ongebruikelijk – er is geen bas en het melodie-instrument is een Franse hoorn.
De gitaar wisselt permanent van rol: dan weer bas, dan weer slaggitaar, dan weer solist. De hoorn (of soms cornet) speelt melodie, maar ook impro, ook solo. De drummer zorgt voor de steady ritme/beat-basis.
The Long Way Home: met snelle optimistische afro-gitaartokkel

Vanaf 31-1 op tournee door heel Nederland. 21 concerten, o.a. 6-2 in Kapitaal, Utrecht (presentatie CD), 6-3 Bird, Rotterdam, 14-3 Paard van Troje, Den Haag, 21-3 Bimhuis, Amsterdam en 22-3 Spieghel, Groningen.
De 8 stukken op de plaat (van ofwel Kliphuis, ofwel Koomen) variëren erg: zoals gezegd: poppy, afro, americana, maar ook wel vrije improvisatie.  Binnen een stuk kan opeens de sfeer 'omslaan' van opgewekte pop in vrije impro en terug.

'Kapok"'is de opvolger van 'Flatlands' uit 2011).
Dat debuutalbum sloeg enorm aan. Sinds die tijd speelde het trio o.a. op het London Jazz Festival, North Sea Jazz Festival, Oerol, in het Bimhuis en Paradiso en won Kapok niet alleen de Dutch Jazz Competition maar ook de European Jazz Competition. 
Kapok excels in originality and virtuosity. They are able to pair joy and a sense of humor with improvisation built up within an exciting performance." – Jury rapport European Jazz Competition 2013
opnames van de cd in april 2013

ENGLISH VERSION
Kapok
Exciting mix of jazz, indie rock, roots and improvisation
This week the 2nd album of trio Kapok is being released: "Kapok" (buzz, challenge records)
"Young, fresh, spontaneous, innovative, original, energetic, hungry talent, imaginative ': superlatives wer being used for the previous (debut) CD 'Flatlands'.
With this 2nd album, the trio confirms its rapidly accumulated reputation. Again an exciting mix of jazz, afro, pop, rock and improvisation in a band without bass .
Morris Kliphuis – horn, cornet; Timon Koomen – guitar; Remco Menting – drums, percussion .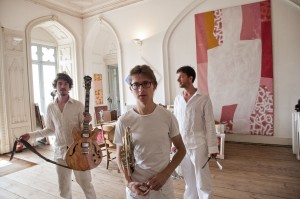 Kapok combines elements from many different genres and traditions : the energy and compact form of pop and funk, the grooves and percussion of (afro) roots music, interaction and abstract sounds of free improvisation, and the phrasing and harmonies of jazz  The line-up is unusual – there 's no bass and the melody instrument is a French horn .
The guitar changes roles permanently: then bass, then rhythm guitar, then a soloist. The horn (or sometimes cornet) plays melody, but also improvises and plays solo's . The drummer ensures steady rhythms.
The eight pieces on the album (written by Kliphuis or Koomen) vary widely. As said: poppy , afro , americana, but also free improvisation . Within a piece the atmosphere can suddenly change from pop generated in free improvisation and back .
'Kapok' succeeds  Flatlands' (2011). That debut album was a big hit. Since that time the trio played at the London Jazz Festival, North Sea Jazz Festival, Oerol Festival, in the Bimhuis and Paradiso. Kapok won not only the Dutch Jazz Competition but also the European Jazz Competition.
"Kapok excels in originality and virtuosity . They are bootable to pair joy and a sense of humor with improvisation built up within an exciting performance " – . Jury report European Jazz Competition 2013