Lyriek, kale grooves en schurende improvisaties
Een trio dat groter en leniger klinkt dan het aantal van 3 musici doet vermoeden.
CD Back and Fort, van trio Dimami (eigen beheer)
Wendbaar, inventief en onvoorspelbaar zijn termen waarmee de muzikale attidude van Dimami goed te beschrijven is. Slimme groovejazz, waarin bedachtzaam samenspel en experiment belangrijk zijn. Lyrische harmonieën, soms rauwe improvisaties.
Dimami noemt zichzelf een experimenteel jazztrio, en maakt muziek die aan de ene kant geworteld is in de jazzgeschiedenis en aan de andere kant nieuwe, persoonlijke muzikale toevoegingen maakt. Miguel Boelens – alt- en sopraansaxofoon, Dion Nijland – contrabas, Makki van Engelen – drums
In 2014 bestaat Dimami (Dion, Makki,Miguel) 15 jaar. Deze week verschijnt een 'best of' album Back and Forth, met drie nieuwe stukken en vijf oudere.

Muzikaal wijzer en rijker na samenwerkingen met gitarist Anton Goudsmit, tenorsaxofonist Mete Erker en trombonist Joost Buis, keert het trio terug naar de oervorm: drums, contrabas en altsax.
Concerten: 2 maart Lux, Nijmegen; 7 Maart Luxor Live Arnhem; 21 Maart Mirliton Theater U Jazz, Utrecht; 23 maart, Platformtheater, Groningen; 18 april,Toonzaal, Den Bosch
Dimami bracht tot nu toe 4 cd's uit die steeds hele goede recensies kregen. In 2011 kwam kwam de cd Shadow of a Cloud uit, met hierop Joost Buis als gastspeler. In 2006 deed de groep de Young Vip Tour. Miguel Boelens speelde verder o.a. ook met/in New Rotterdam Jazz Orchestra, Seven Eleven, the Groove Troopers, Raise the Roof!, New Cool Collective en The Jazzinvaders. Sinds 2010 is hij hoofdvakdocent  het conservatorium Arnhem waar hij zelf in 1996 afstudeerde. Daarnaast componeerde hij muziek voor film en theater.
Dion Nijland speelt o.a. met Talking Cows, Trio met corrie van Binsbergen en Yonga Sun, en De Bende van Drie. Ook speelt hij mee in verschillende muziektheaterproducties
Makki van Engelen speelt in Carmen Gomes Inc. en het Mete Erker trio. Hij speelde verder o.a. met The Groove Troopers en Jasper van het Hof

ENGLISH VERSION
Lyricism, bare grooves and grinding improvisations
A trio that sounds bigger and more flexible than the number of three musicians suggests. Agile, inventive and unpredictable are terms that describe the musical attidude of Dimami. Smart groove jazz , where thoughtful interaction and experiment are important. Lyrical harmonies, sometimes raw improvisations. Dimami calls itself an experimental jazz trio, rooted in jazz history, but on the other hand making new personal musical additions. Miguel Boelens – alto and soprano saxophone, Dion Nijland – bass, Makki van Engelen – drums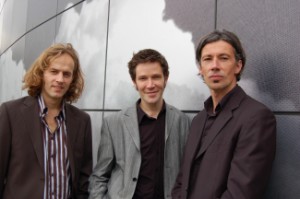 In 2014 Dimami (Dion, Makki, Miguel) celebrates its 15th anniversary. This week, a 'best of' album  is released: Back and Forth, with three new pieces and five older ones.
Musically wiser and richer after co-operations with guitarist Anton Goudsmit, tenor saxophonist Mete Erker and trombonist Joost Buis  the trio returns to the original form: drums, bass and alto sax .
Concerts : March 1 Lux Nijmegen; March 7 Luxor Live Arnhem; 21 March Mirliton Theatre U Jazz  Utrecht; March 23, Platform Theatre Groningen; April 18, Toonzaal Den Bosch
Dimami made 4 CDs, that got very good reviews every single time. In 2006 they did the Young VIP tour. Miguel Boelens also played with ao  New Rotterdam Jazz Orchestra, Seven Eleven, the Groove Troopers  Raise the Roof!, New Cool Collective and The Jazz Invaders. He is professor of Arnhem Conservatory where he graduated in 1996 himself. He also composed music for film and theater. Dion Nijland plays with Talking Cows, trio with Corrie van Binsbergen and Yonga Sun , and de Bende van Drie . He also plays in various musical theaterpieces.
Makki van Engelen plays wiht Carmen Gomes Inc. and Mete Erker trio. He also played with The Groove Troopers and Jasper van t Hof.