Ode aan de wereldjazz van Behsat Üvez
Baraná Orchestra brengt een mooie ode aan de Groningse muzikale alleskunner Behsat Üvez, die begin 2013 overleed. Üvez stond met rietblazer Steven Kamperman aan de wieg van het veelgeprezen wereldjazzensemble Baraná.

Twintig coryfeeën uit de Nederlandse wereld- en improvisatiemuziek brengen een programma waarin Turkse melodieën, verrassende solo's en bigband-arrangementen elkaar afwisselen. In het orkest spelen o.a. cellist Ernst Reijseger, de Iraanse percussionist Afra Mussawissade, vocalisten Mehmet Uludağ en Sanem Kalfa en vele anderen.
3 april Oosterpoort Groningen, 9 april  Bimhuis Amsterdam,12 april Rasa Utrecht, 13 april LantarenVenster Rotterdam
Dit is eveneens het startschot van het internationale Baraná Festival, dat van 3 tot 12 april 2014 plaatsvindt in wereldculturencentrum RASA in Utrecht.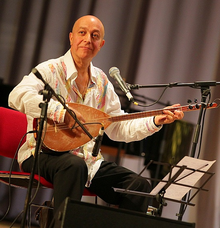 Een van de grootste dromen van Behsat Üvez was dat de muziek van Baraná ten gehore werd gebracht met een groot, professioneel orkest. Om hem te eren heeft Baraná besloten om zijn droom te realiseren en om Baraná Orchestra op te zetten, bestaande uit de muzikanten waar hij mee speelde. 
Om de tribute aan Behsat Üvez te kunnen bekostigen is er een crowdfunding gestart.

Steven Kamperman: altklarinet, sopraansax, directie
Sanem Kalfa vocals
Mehmet Uludag: vocals, baglama
Hasan Kazan: vocals, baglama
Monique Lansdorp: viool
George Dumitriu: viool
Cengiz Baytemür: ney, kaval, zurna
Paul Weiling: altsax
Akos Laki: tenorsax
Henk Spies: baritonsax
Stanislav Mitrovic: basklarinet
Bert Lochs: flügelhorn
Kees Adolfsen: trombone
Ernst Reijseger: cello
Bart Lelivelt: accordeon
Erman Dirikcan: gitaar
Jeff Sopacua: gitaar
Meinrad Kneer: contrabas
Sebastian Demydczuk: drums
Vier jaar oud – maar daarom niets minder mooi:

Een van de laatste optredens van Behsat Uvez

Het Turks-Nederlandse ensemble Baraná bouwde in tien jaar tijd een internationale reputatie op met spannende mengvormen van jazz, improvisatie en elementen uit Turkse muziek.
Zanger, saz-speler en percussionist Behsat Üvez werd geboren in Ankara en speelde tot 1984 bij het Turkse Staatsensemble. Eind jaren tachtig verhuisde hij naar Groningen, waar hij in contact kwam met de Nederlandse muziekscene. Hij gaf vele jaren lang les aan de Groningse Muziekschool.
Met Baraná toerde hij over de hele wereld, van Mexico tot Siberië. De optredens en albums werden gewaardeerd met lovende recensies. In 2011 werd Üvez benoemd tot Ridder in de Orde van Oranje-Nassau, als bruggenbouwer tussen westerse en niet-westerse muziek. Voorjaar 2013 overleed hij aan kanker, op 53-jarige leeftijd.
ENGLISH VERSION
Ode to the world of jazz Behsat Üvez

Baraná Orchestra brings a beautiful ode to the musical all-rounder Behsat Üvez, who died in early 2013. Üvez founded the world jazz ensemble Baraná together with reed player Steven Kamperman. Twenty celebrities from the Dutch world- and improvised music now bring a show in which Turkish melodies, surprising solos and big band arrangements alternate. In the orchestra ao cellist Ernst Reijseger, Iranian percussionist Afra Mussawissade, vocalists and Mehmet Uludağ Sanem Kalfa and many others .
April 3 Oosterpoort Groningen , April 9 Bimhuis Amsterdam , April 12 Rasa Utrecht , April 13 LantarenVenster Rotterdam. This is also the launch of the international Baraná Festival, from 3 to April 12, 2014 place in world culture center RASA in Utrecht .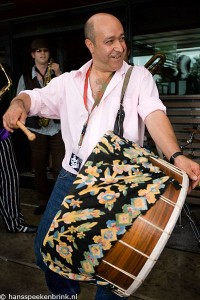 Photo Hans Speekenbrink.
One of the biggest dreams of Behsat Üvez was that the music of Baraná could be played with a large professional orchestra  To honor him Baraná decided to realize his dream and to set up Baraná Orchestra, consisting of the musicians he played with. To pay tribute to the Behsat Üvez a crowdfunding action is started.
Steven Kamperman : alto , soprano sax, management
Sanem Kalfa: vocals
Mehmet Uludag : vocals , baglama
Hasan Kazan : vocals , baglama
Monique Lansdorp : violin
George Dumitriu : violin
Cengiz Baytemür : ney , kaval , zurna
Paul Weiling : alto sax
Akos Laki : tenor sax
Henk Spies : baritone
Stanislav Mitrovic : bass clarinet
Bert Lochs : flugelhorn
Kees Adolfsén : trombone
Ernst Reijseger : cello
Bart Lelivelt : accordion
Erman Dirikcan : guitar
Jeff Sopacua : guitar
Meinrad Kneer : bass
Sebastian Demydczuk : drums
The Turkish-Dutch ensemble Baraná in ten years built up an international reputation with exciting blends of jazz, improvisation and elements of Turkish music.
Singer, saz player and percussionist Behsat Üvez was born in Ankara and played until 1984 in the Turkish State Ensemble. In the late eighties he moved to Groningen, where he came into contact with the Dutch music scene. He spent many years teaching at the music school in Groningen .
With Baraná he toured all over the world, from Mexico to Siberia. The performances and albums were appreciated by the critics. In 2011 Üvez was appointed Knight of the Order of Orange – Nassau, as a bridgebuilder between Western and non-Western music. He died of cancer in february 2013 at the age of 53 .