Beautiful Dreamers: lay-back, melancholisch, ruimtelijk en sferisch
Er zit altijd een zekere melancholie in zijn muziek; de timing is lay-back, er zijn mooie melodieën en thema's, en er is geen noot teveel.

Bill Frisell zit in de top drie van jazzgitaristen – samen met Pat Metheny en John Scofield – en hij won met ruime voorsprong de meest recente Downbeat Critics Poll.
Country en Americana komen voor in zijn muziek, maar ook blues en jazz uit het Amerikaanse Songbook, en popliedjes, bijvoorbeeld van The Beatles en John Lennon (zie video hieronder). 
Op een of andere manier ademt zijn muziek vaak rust; je ziet door de filmische muziek als het ware de weidse landschappen voor je. (Bij de video van Embraceable You hierboven staat op Youtube:  "It's a song I've been hearing my whole life, but I just started trying to play it yesterday," Frisell admitted during the taping. He could have fooled us")

De Amerikaanse gitarist speelt met altviolist Eyvind Kang en slagwerker Rudy Royston. Een bezetting van gitaar, viool en drums is in jazz niet erg gangbaar, maar klopt wel weer in bluegrass en folksongs, die zijn muziek ook beïnvloeden. Samen vormen zij een hecht trio met een intiem en tegelijk bijzonder rijk geluid. De muziek wordt nooit te vol of te druk. Altijd smaakvol.
Het trio speelt werk van de CD Beautiful Dreamers uit 2010, die goed ontvangen werd in de internationale muziekpers. 9 april, Paradox Tilburg; 10 april Bimhuis Amsterdam

In de meer dan 25 jaar dat Bill Frisell actief is speelde hij op meer dan 200 platen, waarvan ongeveer 30 onder zijn eigen naam. Hij werkte samen met veel toonaangevende musici waaronder John Zorn en Elvis Costello. Bill Frisell is een van de meest toonaangevende jazzgitaristen sinds de jaren 80. Hij maakte een eclectische vorm van jazz, pop/rock, blues, country, bluegrass, en klassieke muziek. Een van de kenmerken van Frisell's gitaarspel is het gebruik van effectpedalen.
Een paar van zijn ensembles zijn het 858 Quartet (oorspronkelijk opgericht  door inspiratie van 8 schilderijen van de Duitse schilder Gerhard Richter) (Gerhard Richter paintings (858, 1-8). Bill Frisell's John Lennon Tribute Band; trio met drummer Kenny Wolleson en bassist/gitarist Tony Scherr. Frisell speelde ook veel met drummer Joey Baron en verder met o.a. John Scofield, Vernon Reid, Wayne Horvitz, Paul Bley, Ronald Shannon Jackson en vele anderen. Hij maakte ook veel filmmuziek.
fotoos: Monica Frisell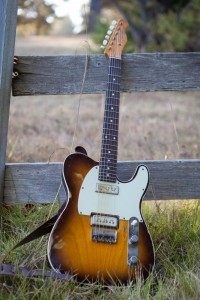 ENGLISH VERSION
Beautiful Dreamers: layback, melancholic and spherical
There is always a certain melancholy in his music, the timing is lay back, there are beautiful melodies and themes, and there is not a note too many .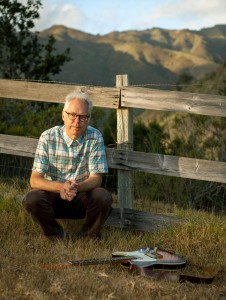 Bill Frisell is in the top three jazz guitarists – along with Pat Metheny and John Scofield – and he won the most recent Downbeat Critics Poll, again.
Country and Americana are found in his music, but also blues and jazz from the American Songbook, and pop songs, such as The Beatles and John Lennon (see videos)
Somehow his music often breathes tranquility; because of the cinematic music, you can see – as it were – the vast landscapes.
Bill Frisell will be playing in the Bimhuis on April 10 with violist Eyvind Kang and drummer Rudy Royston. A cast with guitar, violin and drums in jazz is not very common, but is more likely in bluegrass and folk songs, which also influence his music. Together they form a solid trio with an intimate and yet very rich sound. The music is never too full or too busy. Always tasteful .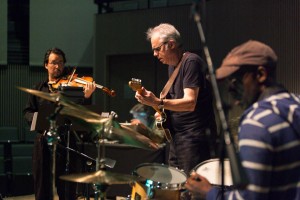 The trio plays work of the CD Beautiful Dreamers – released in 2010 –  which was well received in the international music press. In more than 25 years Bill Frisell played on over 200 records, of which about 30 under his own name. He has worked with many leading musicians like John Zorn and Elvis Costello .
Bill Frisell is one of the leading jazz guitarists since the '80s. He made an eclectic form of jazz, pop/ rock, blues, country, bluegrass, and classical music. One of the features of Frisell 's guitar playing is the use of effects pedals .
A few of his ensembles are '858 Quartet '(originally founded by inspiration of 8 paintings by the German painter Gerhard Richter ) (Gerhard Richter paintings  858 , 1-8); Bill Frisell 's John Lennon Tribute Band; Trio with drummer Kenny Wolleson and bassist/guitarist Tony Scherr. Frisell also played a lot with drummer Joey Baron and next to all this with great musicians like John Scofield, Vernon Reid, Wayne Horvitz, Paul Bley, Ronald Shannon Jackson and many others.
He also made many film scores.