Strak en No-Nonsense

De Amerikaanse trompettist Roy Hargrove speelt deze week met zijn quintet in Nederland. De man met de strakke no-nonsense stijl was vorig jaar nog een van de publiekstrekkers op North Sea Jazz. Hargrove is een van de belangrijkste vertegenwoordigers van de hardbop: de melodieuze en bluesvolle variant van bebop.
https://www.youtube.com/watch?v=Uwk5tuYfh4s
Roy Hargrove – trompet/bugel, Justin Robinson – altsax/fluit, Sullivan Fortner – piano, Ameen Saleem – bas, Quincy Phillips – drums
Bimhuis 24 april (uitverkocht), LantarenVenster 25 april  (uitverkocht)
26 april Porgy & Bess Terneuzen
Hij ontpopte zich als een zeer avontuurlijke en veelzijdige jazzmusicus, die nu een echte ster mag worden genoemd. Jazz en bop zijn belangrijke pijlers in zijn muziek, maar inmiddels kun je ook met recht zeggen dat funk, hiphop en latin voor hem net zo belangrijk zijn. Altijd op zoek naar nieuwe uitdaging in zijn spel, weet hij iedere keer een onuitwisbare indruk te maken. Hij  speelde met velen, maar heeft ook meerdere eigen bands en projecten, die qua stijl van elkaar verschillen.
Met zijn quintet laat hij straight ahead-jazz horen.
https://www.youtube.com/watch?v=uIi0xm_tlCU
RH Factor (waarin hij ook zingt!): funk en hiphop
https://www.youtube.com/watch?v=SW945K-qRF0
Met zijn Afro Cubaanse groep Crisol
https://www.youtube.com/watch?v=CjJnGfm6rEc
Hij leidt ook een bigbandjazz
https://www.youtube.com/watch?v=70g85lr79cY
Als tiener begon hij zijn loopbaan in de band van Wynton Marsalis en al snel koos hij zijn eigen pad. Roy Hargrove vindt zijn weg in elk genre, van bigbandjazz tot r&b, en daarmee toont hij zich een waardige opvolger van collega-trompettisten als Lee Morgan en Freddie Hubbard. Roy maakte zichzelf geliefd met een felle, no-nonsense stijl die volstrekt op zichzelf staat en weinig verwantschap vertoont met voorgangers. Zijn eerste concert in Nederland gaf bij in 1986. Inmiddels kan Roy een echte ster worden genoemd. Hij is een publiekslieveling van vele festivals, concertzalen en clubs. Alleen al als bandleider heeft hij meer dan 20 albums op zijn naam staan.
Hargrove speelde met grote jazznamen als Joe Henderson, Stanley Turrentine, Johnny Griffin, Joshua Redman, en Branford Marsalis. Hij won zijn 1e Grammy Award in 1998 voor het album Habana met zijn Afro-Cubaanse band Crisol. De 2e Grammy kwam in 2002 voor Directions in Music met Herbie Hancock and Michael Brecker. Hij werkte samen met D'Angelo, Macy Gray, Erikah Badu en andere soulartiesten.
https://www.youtube.com/watch?v=LmhJ78Co-g0
ENGLISH VERSION
Tight  and No- Nonsense

American trumpeter Roy Hargrove is in the Netherlands this week with his quintet. The man with the tight, no-nonsense style was one of the attractions at the North Sea Jazz last year. Hargrove is one of the main representatives of hard bop: the melodic and bluesy version of bebop.
Roy Hargrove – trumpet / flugelhorn , Justin Robinson – alto sax / flute, Sullivan Fortner – Piano Ameen Saleem – bass , Quincy Phillips – drums
Bimhuis April 24 (sold out) , LantarenVenster April 25 (sold out)
April 26 Porgy & Bess Terneuzen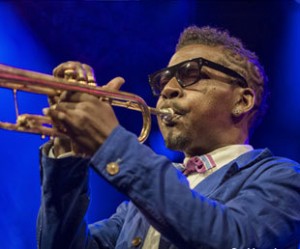 He turned out to be a very adventurous and versatile jazz musician , who now may be called a real star. Jazz and bop are key elements in his music, but you can also say that funk, hip hop and latin are just as important to him. Always looking for new challenges in his playing, he knows how to make an ineffaceable impression every single time. He played with many musicians but also has several own bands and projects , which differ in style.
With his quintet he leaves straight ahead jazz to hear. His RH Factor (in which he sings too!)  it's all about funk and hip-hop. He also has an Afro-Cuban group Crisol and leads a jazz big band.
As a teenager, he began his career in the band of Wynton Marsalis and soon he chose his own path . Roy Hargrove finds its way into every genre, from big band jazz to R & B, and thus he proves himself a worthy successor to fellow trumpeter Lee Morgan and Freddie Hubbard. Roy made himself popular with a fierce, no-nonsense style that totally stands on its own and has little kinship with predecessors. His first concert in the Netherlands he did in 1986. Meanwhile, Roy can be called a true star. He is a favorite at many festivals, concert halls and clubs. As a leader alone has more than 20 albums to his name
Hargrove played with great musicians like Joe Henderson, Stanley Turrentine, Johnny Griffin , Joshua Redman and Branford Marsalis. He won his 1st Grammy Award in 1998 for the album Habana with his Afro – Cuban band Crisol. The 2nd Grammy came in 2002 for 'Directions in Music' with Herbie Hancock and Michael Brecker. He worked with soul artists D' Angelo, Macy Gray and Erikah Badu.