Onverwachte afslagen, dribbelswing & ontregelende jazz
CD Blue Lines Trio (Casco, distributie Toondist)
Het Blue Lines Trio werd in 2012 gevormd door pianist Michiel Scheen. Het brengt drie generaties van improvisatoren bijeen. Met veel overtuiging stort de groep zich in situaties waarbij er niet persé richting en houvast zijn: muzikaal op avontuur dus. Ergens beginnen en niet weten waar je uitkomt. Het trio is erg aan elkaar gewaagd. Alle drie kunnen ze de muzikale vrijheid aan;  ze blijven ook in de vrije improvisaties heel goed naar elkaar luisteren en samen-spelen.
Michiel Scheen – piano; Raoul van der Weide – bas, kraakdoos, geluidsobjecten en George Hadow – drums.
Vrijdag 10 Oktober 2014 – Mirliton Theater, Zaterdag 11 Oktober 2014 – Plusetage, Baarle Nassau
https://www.youtube.com/watch?v=LimMYwLEH8A
De muziek op deze debuut- cd is een selectie uit het ruime repertoire van het trio, dat vol zit met muzikale wendingen, onverwachte afslagen, ontregelende muziek, dribbelswing en vrije klankexploraties.
Dat Michiel Scheen schatplichtig is aan de hoekige swing en van Thelonious Monk en de ontregelende jazz van Misha Mengelberg is goed te horen in een aantal stukken, bijvoorbeeld in Solid.
https://www.youtube.com/watch?v=lNwzy4oroic
Ook vrije improvisaties op de cd
https://www.youtube.com/watch?v=Mikq1vlzE3A
In de jaren 1986 tot 1999 werkte Michiel Scheen samen met vele music in de vrijere improvisatiemuziek. Hij speelde o.a. met Ab Baars, Han Bennink, Jaap Blonk, Anthony Braxton, Tobias Delius, Cor Fuhler,  Gerry Hemingway, Wiek Hijmans, Guus Janssen, George Lewis, Misha Mengelberg, Roscoe Mitchell, Butch Morris.
Na een retraite van een aantal jaren formeerde Scheen in 2004 een kwartet met Ab Baars, Han Bennink en Ernst Glerum. Op het ogenblik speelt hij regelmatig in duo-formatie met saxofonist en klarinettist Tobias Delius en met het Jan Nijdam Kwartet.
https://www.youtube.com/watch?v=fRiEdhKPVik
ENGLISH
Unexpected turns, dribbling swing & unsettling jazz
CD Blue Lines Trio (Casco, distribution Show Dist)
The Blue Lines Trio was formed in 2012 by pianist Michiel Scheen. It brings together three generations of improvisers. With great belief, the group plunges into situations where there is not necessarily direction and guidance: musical adventure it is. To start somewhere not knowing where you end up. The trio is very evenly matched. All three musicians can handle the musical freedom;  they keep listening very carefully to each other in free improvisations. Michiel Scheen – piano; Raoul van der Weide – bass, crystal box, sound objects and George Hadow – drums.
Friday, 10 October 2014 – Mirliton Theatre, Utrecht; Saturday 11 October 2014 – Plus Etage, Baarle Nassau
The music on this first album is a selection from the wide repertoire of the trio, which is full of musical twists, unexpected turns, unsettling music, dribble swing and sound explorations.
Michiel Scheen very clearly is indebted to the angular swing of Thelonious Monk and unsettling improvising jazz of Misha Mengelberg. It can be heard in a number of pieces, such as Solid.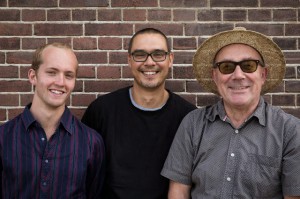 In the years 1986 to 1999 Michiel Scheen worked with many musicians in the free improvisation department. He played with Ab Baars, Han Bennink, Jaap Blonk, Anthony Braxton, Tobias Delius, Cor Fuhler, Gerry Hemingway, Wiek Hijmans, Guus Janssen, George Lewis, Misha Mengelberg, Roscoe Mitchell, Butch Morris. After a retreat of several years Scheen formed a quartet in 2004 with Ab Baars, Han Bennink and Ernst Glerum. At the moment he plays regularly in duo format with saxophonist and clarinetist Tobias Delius and in the Jan Nijdam Quartet.