In de serie '1 track only' dit keer 4 recent uitgebrachte CD's: wereldjazz van the Noo Ones; solodrums van Fred van Duijnhoven, oddmeterfunk & worldgrooves van Naked Ears en vrije impro op hoog nivo van Büyükberber, Nabatov, Hemingway.
CD Nieuwe Haring van The Noo Ones (Strotbrock, distr. Toondist)
Wereldjazz.
De Rotterdamse bassaxofonist Klaas Hekman bracht opnieuw een aparte combinatie van musici, instrumenten en stijlen bij elkaar. De musici komen uit India, Suriname, Schotland, India, Nederland en China. Het resultaat is kleurrijk, avontuurlijk, open, speels en dynamisch. Wereldjazz.
Klaas Hekman – bassaxofoon; Joost Buis trombone, lapsteel; Andro Biswane – gitaar; Satyakam Mohkamsing- Indiase viool; Alan Purves – percussie, speelgoedinstrumenten; en de beroemde Wu Wei (uit Shanghai)  – sheng (mondorgel)
CD 'Breuk' (PJJ, 2013) van Fred van Duijnhoven
Ik neem vrijwel nooit teksten van anderen over als het gaat om het beschrijven van muziek, maar dit keer doe ik dat bij wijze van uitzondering wèl. Eddie Determeijer schreef in jazzmagazine Draai Om Je Oren een recensie over cd CD Breuk van drummer Fred van Duijnhoven. Ik kon het niet beter formuleren dan hij het hier deed:
"Fred van Duijnhoven is bepaald niet de gemiddelde drummer. In zijn lange carrière heeft hij zijn werk voor vaste ensembles steeds afgewisseld met soloprojecten die hem vaak naar ongebruikelijke locaties voeren, zoals de Telpost langs de Rijn bij Millingen en de maïsakkers van Klein-Amerika buiten Groesbeek. Ook de bands die hij van een ritmische ondergrond voorziet, zijn nooit de dertien-in-het-dozijn-combo's, maar avontuurlijke tot experimentele groepen, zoals I Compani en het onvolprezen Bo's Art Trio met saxofonist Bo van de Graaf en pianist Michiel Braam. In een meer recent verleden vormde Fred met zijn broer Martin en de percussionisten André Groen en Eugène Flören de groep Wyler 4, een kwartet waarin het melodisch slagwerk centraal staat.
Wat opvalt in elke muzikale context waarin Van Duijnhoven figureert, is dat hij niet alleen het ritme voor zijn rekening neemt, maar een dimensie toevoegt vanuit een impulsieve beeldende kracht, een vermogen om via het samenspel van ritmepatronen en de puur expressieve klankenrijkdom die aan trommelvellen en deksels ontlokt kan worden, stemmingen op te roepen en de fantasie van de luisteraar in werking te stellen. Dat deze effecten worden bereikt met minimalistische middelen is een kwaliteit die kenmerkend is voor zijn soloalbums, waarvan er tot nu toe drie zijn verschenen. 'Breuk' is daarvan de meest recente, na 'Bellbird' (1996) en 'Bird's Nest' (2003). De titels verraden het al: hier is een drummer-vogelaar aan het werk, die net als de componist Olivier Messiaen gefascineerd is door de vloeiende overgang tussen de georganiseerde muzikale context en de vrije, onbeheerste klankwereld van de vogel in zijn natuurlijke omgeving."

CD  Icebear (Speedwelltracks) van Naked Ears
oddmeterfunk, nujazz en worldgrooves

Bassist Jasper de Beer (bekend van o.a Amsterdam Klezmer Band, Oruga, Bernie's Lounge) heeft een nieuwe groep: Naked Ears. Een band die verschillende stijlen steeds benadert met een hoge dosis funk. De debuut CD heet "Icebear", en zelf noemen ze het een mix van oddmeterfunk, nujazz en worldgrooves.
Amsterdams muziekcollectief Naked Ears werd in 2012 opgericht door Jasper de Beer met leden uit de Amsterdam Klezmer Band, Monsieur Dubois, Bernie's Lounge en J.D. Construction.
De eigen composities zijn geïnspireerd op  70's funk & jazz en verrijkt met elementen uit de wereldmuziek zoals afrobeat, ethiojazz, sambasoul, ska, reggae en balkan. Dansbare rare maatsoorten, pompende drum&bass loopjes, gelikte gitaarriffs, funky blazers en vintage toetsengeluiden.

Jasper de Beer- basgitaar, Stormvogel- keys, Gil Lopez- gitaar, Dirk Beets- trompet, Remko Smid- tenorsax, Mark Eshuis- drums. Er doen veel gastmusici mee op de plaat, w.o. Jos de Haas (percussionist bij o.a New Cool Collective) en drie gastvocalisten Joseph Bowie (trombonist uit o.a. Defunkt/Art Ensemble of Chicago), de in Nederland wonende Ethiopische zangeres Minyeshu en en Job Chajes (zanger en saxofonist Amsterdam Klezmer Band)
De CD kwam tot stand met behulp van crowdfunding (Voor de Kunst)
Het label Speedwell Tracks is door 4 musici opgericht en houdt zich bezig met actuele ongepolijste instrumentale moderne Nederlandse jazz (!)
CD Büyükberber, Nabatov, Hemingway (Trytone records)
Vrije impro op hoog nivo.

Toen het Istanbulse Akbank Festival in 2010 een carte blanche gaf aan (bas- en contrabas) clarinettist Büyükberber, formeerde hij een trio met Simon Nabatov (piano) en Geryy Hemingway (slagwerk). Er ontstond meteen een goede verstandhouding, want alle drie de musici voelen zich als een vis in het water bij de vrije improvisatie.
In 2012 kreeg Büyükberber nog eens een Carte Blanche, nu in het Bimhuis, waar hij met dit trio opnieuw optrad. Voor deze CD is een keuze gemaakt uit de concertopnames.
Oguz Büyükberber werd geboren in Istanbul en woont in Amsterdam. Hij is aktief in de hedendaagse jazz en improv scene in Europa en doet ook veel met electronica.
Simon Nabatov (geboren in Moskou, woonachtig in Duitsland) staat bekend als een improviserend klavierleeuw. Hij speelde/speelt o.a. met sopraansaxofonist Stave Lacy, trombonist Nils Wogram, cellist Ernst Reyseger. Gaf/geeft ook veel solo recitals.
Gerry Hemingway (USA) speelde o.a. veel met Ray Anderson (trombone) en Mark Helias (bas) in improviserend trio Bassdrumbone; verder ook in groepen van Frank Gratkowski (altsax, clarinet) en Ellery Eskelin (tenorsax).
hier op contrabasclarinet

ENGLISH
In the series '1 track only'  4 recently released CDs: world jazz by the Noo Ones; solo drums by Fred van Duijnhoven, oddmeterfunk & worldgrooves by Naked Ears and high level free improvisation by Büyükberber, Nabatov, Hemingway.
CD Nieuwe Haring, The Noo Ones (Antistrot Brock, distr. Show Dist)
Remarkable sound, playful and dynamic music: world jazz of The Noo Ones.
The Rotterdam based bassaxophonist Klaas Hekman again brought together unusual musicians, instruments and styles. The musicians come from India, Suriname, Scotland, India, Netherlands and China. The result is colorful, adventurous, open, playful and dynamic. Klaas Hekman – bass saxophone; Joost Buis trombone, lap steel; Andro Biswane – guitar; Satyakam Mohkamsing- Indian violin; Alan Purves – percussion, toy instruments; and the famous Wu Wei (from Shanghai) – sheng (mouth organ)
Fred van Duijnhoven – Breuk (PJJ, 2013)
I almost never use written text from other people when it comes to describing music, but this time I'll make an exception. Eddie Determeijer wrote a review in jazz magazine Draai Om Je Oren on 'Breuk', solo album of drummer Fred van Duijnhoven. I couldn't formulate it any better than he did here:
"Fred van Duijnhoven certainly is not the average drummer. In his long career, he alternates his work for ensembles with solo projects, which often take him to unusual locations such as the Telpost along the Rhine at Millingen and maize fields of Little America outside Groesbeek. The bands that he plays the drums in are never the thirteen-in-the-dozen combos, but adventurous experimental groups, as I Compani and Bo's Art Trio with saxophonist Bo van de Graaf and pianist Michiel Braam. In a more recent past Fred with his brother Martin and percussionists Andre Groen and Eugene Flören formed group Wyler 4, a quartet in which the melodic percussion prevails.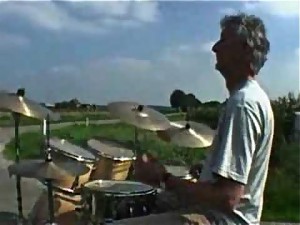 What stands out in any musical context in which Van Duijnhoven features, is that he is not only the rhythm caretaker; he adds a dimension arising from an impulsive visual strength; an ability to cause different moods and imagination of the listener through his rhythm patterns and expressive sounds of his drums. These effects are achieved with minimal resources and that is a quality that is characteristic of his solo albums, of which three have been released. 'Breuk' is this the most recent, after 'Bellbird' (1996) and "Bird's Nest" (2003). The titles reveal here's a drummer-birdwatcher at work, who, like composer Olivier Messiaen is fascinated by the smooth transition between organized musical context and free, uncontrolled sound world of birds in their natural environment."
CD Icebear (Speedwell Tracks) Naked Ears
Oddmeterfunk, nujazz and world grooves
Bassplayer Jasper de Beer (known from Amsterdam Klezmer Band, Oruga, Bernie's Lounge) has a new group: Naked Ears. A band that always approaches different styles with a high dose of funk. Their debut CD "Icebear" was released recently, and they themselves call it a mix of oddmeterfunk, nujazz and world grooves.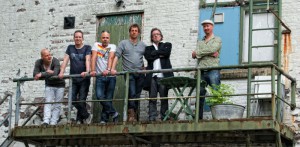 Amsterdam music collective Naked Ears was founded in 2012 by Jasper Bear with members of the Amsterdam Klezmer Band, Monsieur Dubois, Bernie's Lounge and JD Construction.
The compositions are inspired by 70's funk & jazz and enriched with elements of world music such as afro beat, ethiojazz, samba soul, ska, reggae and Balkan. Danceable odd rhythms, pumping drum & bass riffs, slick guitar riffs, funky horns and vintage keys sounds. Jasper the Beer-bass, Stormvogel-keys, Gil Lopez guitar, Dirk Beets- trumpet, Remko Smid- tenor sax, Mark Eshuis- drums. A lot of guest musicians play along on the album, oa Jos de Haas (percussionist with New Cool Collective) and three guest vocalists Joseph Bowie (tromboneist at Defunkt, Art Ensemble of Chicago,) living in the Netherlands Ethiopian singer Minyeshu and Job Chajes (singer and saxophonist at Amsterdam Klezmer Band) 
Record label Speedwell Tracks was founded by 4 musicians and is hosting some of today's unpolished instrumental modern jazz growing from the Dutch soil.
CD Büyükberber, Nabatov, Hemingway (Trytone records)
Free improvising at a high level.
When the Istanbul Akbank Festival in 2010 gave carte blanche to (bass and bass) clarinetist Oguz Büyükberber, he formed a trio with Simon Nabatov (piano) and Geryy Hemingway (percussion). There was an instant connection, because all three musicians feel like a fish in the water in the field of free improvisation.
In 2012 Büyükberber again did a Carte Blanche, now in the Bimhuis, where he performed with this trio. This CD is a selection from the concert recordings.
Oguz Büyükberber was born in Istanbul and lives in Amsterdam. He is working in the contemporary jazz and improv scene in Europe and also works a lot with electronics.
Simon Nabatov (born in Moscow, living in Germany) is known as an improvising virtuoso. He played /plays ao with soprano saxophonist Stave Lacy, trombonist Nils Wogram, cellist Ernst Reyseger. Also he gives many solo recitals.
Gerry Hemingway (USA) played lot with Ray Anderson (trombone) and Mark Helias (bass) in improvising trio BassDrumBone; also in groups of Frank Gratkowski (alto sax, clarinet), and Ellery Eskelin (tenor sax).