Een nieuwe opwindende verbinding tussen jazz en latin
Altsaxofonist Miguel Zenón werd geboren in Puerto Rico, maar kwam in New York terecht: hij weet hoe het voelt om tussen twee culturen te leven. Voor zijn nieuwe project interviewde hij inwoners in 'El Barrio', ofwel Spanish Harlem, over hun ervaringen. De muziek is gebaseerd op hun manier van spreken en is daardoor een uitdagende synthese tussen jazz, latin en het ritme van de menselijke stem.
Met zijn kwartet speelt hij op 12-2-15 in het Bimhuis Amsteram en op 13-2 in Paradox Tilburg.
Miguel Zenón – altsax, Luis Perdomo – piano, Hans Glawischnig – bas, Henry Cole – drums
https://www.youtube.com/watch?v=TCZAC27aKRc
Zenón heeft een heldere, krachtige toon op zijn altsax; hij kan fel uit de hoek komen, maar ook opeens weer zacht en ingehouden spelen. 
Hij behoort tot de generatie saxofonisten die verder kijken dan de jazz, en andere muzikale culturen en stijlen als jazz, latin, klassieke muziek en folk in hun muziek integreren.
https://www.youtube.com/watch?v=QJ3OjPvE-8o
Ieder jaar gooit Zenón hoge ogen in de Downbeat Critics Polls en keer op keer verrast hij met nieuwe projecten, waarmee hij de grenzen van de jazz verkent. Vorige keer speelde hij in het Bimhuis in een bezetting met Indiase tabla en cello. Nu presenteert hij zijn CD Identities Are Changeable, met muziek geïnspireerd door de Puerto Ricaanse gemeenschap in New York.
Over polyritmiek:
Zenón houdt ervan om ritmes/beats te stapelen. Niet omdat het 'nieuw' is, maar ook omdat hij iets wil vertellen over meerdere nationale identiteiten
https://www.youtube.com/watch?v=_Y4KPYjfcl4
Hij was een van de drijvende krachten achter het 'San Francisco Jazz Collective', waarin o.a. Robin Eubanks, Mark Turner, Avishai Cohen, Bobby Hutcherson, Joe Lovano, Joshua Redman, Brian Blade, Nicholas Payton, Dave Douglas en Eric Harland hebben gespeeld ( of dat nog steeds doen). In de video een heel concert:
https://www.youtube.com/watch?v=VQwsTLX-p58
Als sideman speelde hij met/in David Sanchez, Danilo Perez, Kenny Werner, Charlie Haden, Bobby Hutcherson, Jeff Ballard, Steve Coleman, de Mingus Big Band,  David Murray Big Band en het Village Vanguard Orchestra.
Als bandleider bracht hij 9 cd's uit. In 2011 richtte hij Caravana Cultural op, een project waarbij gratis jazzconcerten  worden gegeven op het platteland van Puerto Rico.
https://www.youtube.com/watch?v=p1AMsi9a8LA
ENGLISH
A new exciting connection between jazz and Latin
Alto saxophonist Miguel Zenón was born in Puerto Rico, but ended up in New York, so he knows what it feels like to live between two cultures. For his new project, he interviewed people in "El Barrio", or Spanish Harlem, about their experiences. The music is based on their way of speaking and is therefore a challenging synthesis of jazz, Latin and rhythm of the human voice.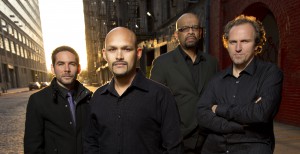 With his quartet he plays on 12-2-15 in the Bimhuis Amsteram and 13-2 in Paradox Tilburg.
Miguel Zenón – alto saxophone, Luis Perdomo – piano, Hans Glawischnig – bass, Henry Cole – drums
Zenón has a clear, powerful tone on the alto sax; he can play fiercely and then again soft and restrained. He belongs to the generation of saxophonists who look beyond jazz and integrate other musical cultures and styles like Latin, classical music and folk.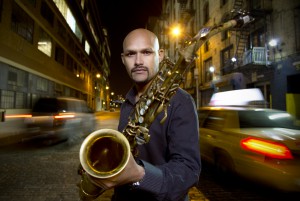 Every year Zenón scores highly in the Downbeat Critics Polls and time and again he surprises with completely new projects, in which he explores the boundaries of jazz. Last time he played at the Bimhuis with Indian tabla and cello. Now he presents his CD Identities Are Changeable, with music inspired by the Puerto Rican community in New York.
He was one of the driving forces behind the "San Francisco Jazz Collective," which included Robin Eubanks, Mark Turner, Avishai Cohen, Bobby Hutcherson, Joe Lovano, Joshua Redman, Brian Blade, Nicholas Payton, Dave Douglas and Eric Harland played (or still do). As a sideman he played with David Sanchez, Danilo Perez, Kenny Werner, Charlie Haden, Bobby Hutcherson, Jeff Ballard, Steve Coleman, the Mingus Big Band, David Murray Big Band and the Village Vanguard Orchestra.
As a bandleader he released nine CDs. In 2011 he founded Caravana Cultural, a project where free jazz concerts are held in rural Puerto Rico.